Aims and Motives of China's Recent Missile Defense Test
Publication: China Brief Volume: 10 Issue: 2
By: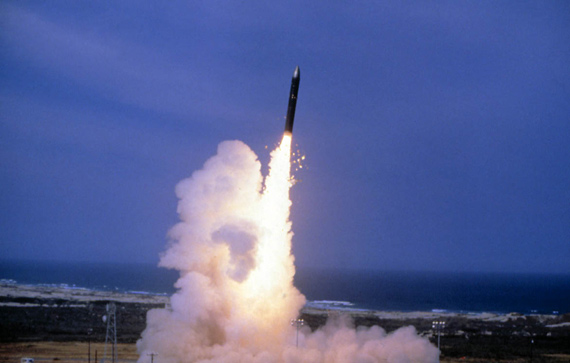 The U.S. government announced on January 6 that it awarded the defense manufacturer, Lockheed Martin, a contract to build the Patriot Advanced Capability-3 (PAC-3) missiles for Taiwan. The agreement is part of an arms package that the United States agreed to sell to Taiwan in 2008 (eTaiwan news, January 7). The Indian government also recently declared that it was expanding its anti-ballistic missile system to include an anti-satellite program (ASM) (Space News, January 4). Following these announcements the People's Republic of China (PRC) announced on January 11 that it had successfully tested a "ground-based, midcourse missile interception technology." The Chinese government made the announcement via a short news report featured in the official Xinhua News Agency, which stated that a missile defense test was carried out "within its [Chinese] territory." Xinhua noted that "the test has achieved the expected objective," adding that it was "defensive in nature and is not targeted at any country." No further details of the test were released through official channels, except for a statement made by Chinese Foreign Ministry Spokesperson Jiang Yu. Jiang said that "the test would neither produce space debris in orbit nor pose a threat to the safety of orbiting spacecraft" (Xinhua News Agency, January 11; January 14; January 19; China Review News, January 15).
While the announcement by the Chinese government is a welcome improvement to Beijing's muted response following the anti-satellite (ASAT) test in January 2007, Chinese officials failed to offer any explanation about the interceptor or intention of the recent test. "We did not receive prior notification of the launch," said Pentagon spokeswoman Major Maureen Schumann. "We detected two geographically separated missile launch events with an exoatmospheric collision also being observed by space-based sensors. We are requesting information from China regarding the purpose for conducting this interception as well as China's intentions and plans to pursue future types of intercepts," Schumann said (AFP, January 12).
Beijing's refusal to provide further details about the missile defense test was followed by the release of a series of analysis by Chinese military experts assessing the possible aims, motives and targets of the test. For example, a recent article in Liao Wang—a weekly news magazine published by Xinhua—described the missile defense test as one that Beijing was forced to undertake. Without directly pointing a finger at the United States, the article's author emphasized that if it were not for some Western power developing anti-ballistic missile systems, militarizing space, and undertaking strategic defense planning deep in China's airspace and sea-lanes, it would not have been necessary for China to embark on the anti-missile interception test. The article was written by Wu Tianfu, a professor at the Second Artillery Corps Command College, the premier educational institution for the PLA unit that controls China's strategic missile forces. In the article, Wu emphasized that the success of China's ground-based mid-course missile defense (GMD) test demonstrates that the Chinese military has made significant strides in the development of "hit-to-kill," rapid, precision-strike, guided and missile identification technologies (Wen Wei Po [Hong Kong], January 19).
According to Yang Chengjun, a senior Chinese military strategist, "China needs an improved capability and more means of military defense as the country faces increasing security threats." Yang noted that, "compared with a previous test of anti-satellite technologies, the missile interception system is more advanced as the targets are moving objects and the satellite was flying within a preplanned orbit" (English.sina.com, January 12). A PLA military analyst cited by the Hong Kong-based Ta Kung Pao, suggested that India may be the likely target of the missile defense test. The report noted that India's Agni missile has a range of 5,000 kilometers, which can reach Beijing. Moreover, the analyst added that while anti-missile technology is proliferating throughout East Asia, it is necessary for Beijing to develop its own anti-missile technology to enhance China's homeland security (Ta Kung Pao [Hong Kong], January 18).
The editor of the Taiwan-based Defense Technology Monthly, Bi Yuan-ting, explained that the motive behind the test is probably directed at countering the ballistic missile threats facing China. Bi also believes that the reason behind Beijing's unprecedented announcement may be to convey a political signal to the United States linking the test with the recent U.S. announcement of arms sales (BBC [Chinese], January 12). Arthur Ding, a research fellow and China specialist at Taiwan's National Chengchi University, agreed that the test is meant to send a "political signal to the United States and to other countries that China is prepared for air operations, full-scale operations by whatever country" (AFP, January 12).
According to China's National Defense University professor, Senior Colonel Du Wenlong, the midcourse interception method was selected because the exoatmosphere offers a smoother flight environment for the missile. Du noted at that stage in trajectory, the warheads that are carried by the incoming missile have not been released yet and therefore an interception at that point could neutralize the threat completely. Du also indicated that during this flight period there could be multiple interception points as well. In an interview with the Chinese newspaper Global Times, Senior Colonel Wang Mingzhi, pointed out that the mid-course interception system is different from the PAC missiles, adding that mid-course interception is at a higher altitude and is subsequently more effective. Contrary to some Western assessments of the test, Chinese experts claim that the missile defense system tested was not the HQ-9 surface-to-air missile system (China Review News, January 15; Xinhua News Agency, January 14; January 19).
In the final analysis, this test appears to be an important milestone in Chinese defense capabilities and demonstrates the growing maturation of its missile defense system. It is also apparent that the test has clear implications for the military modernization of the People's Liberation Army (PLA) which may challenge U.S. strategic posture in the Asia-Pacific region (See "Advances in PLA Air Defense Capabilities Challenge Strategic Balance in Asia," China Brief, October 23, 2008; China Times, January 12).