Ankara Reverts to Obstruction on Azerbaijan's Gas Pricing and Transport
Publication: Eurasia Daily Monitor Volume: 6 Issue: 109
By: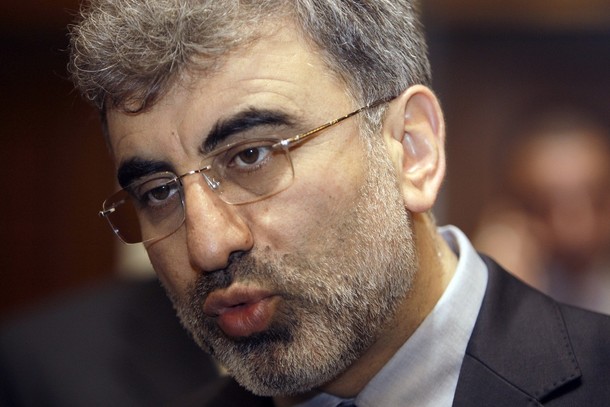 Participants in the Caspian oil and gas forum, just held in Baku, confirmed that Turkey's AKP government has reverted to obstruction of the Nabucco project for Caspian gas to Europe (Trend Capital, Day.az, Turan, Reuters, June 3-5). The government in Ankara seemed to have adopted a more constructive position during the last two months, but has relapsed into its stalling tactics on Nabucco since the May 17 meeting of the Russian and Turkish prime ministers in Sochi. The AKP government's position threatens to delay the signing of the inter-governmental agreement on Nabucco, which had been planned for May, then June, and now faces a further postponement.
While the immediate object of those tactics is again Azerbaijan, the wider effects jeopardize the overall prospects of the Southern Energy Corridor to Europe, even as that concept and its elements -Nabucco in the first place- should reach the start of implementation.
The AKP government once again demands the right to lift off (retain pre-emptively in Turkey), at a preferential price, 15 percent of the Azerbaijani gas volume that would cross Turkey through the planned Nabucco pipeline to Europe (EDM, June 4). Meanwhile, Ankara is stalling the negotiations with Azerbaijan on current gas deliveries, for which Turkey pays a preposterous price of $120 per 1,000 cubic meters under a 2001 agreement with Azerbaijan that lapsed in April 2008. Furthermore, the AKP government has not fully consented to European-standard terms for the transmission of Azerbaijani gas -and, prospectively, other Caspian gas- to Europe via Turkey.
On these issues, Ankara's position is deemed unacceptable by gas producers in Azerbaijan and all the members of the Nabucco consortium. Azerbaijan's State Oil Company vice-president Elshad Nasirov, RWE business development head Jeremy Ellis, and other speakers made this clear at the energy forum in Baku. While practically all other issues have been settled, the AKP government's demands once again bedevil the negotiations on the intergovernmental agreement (Trend Capital, June 4; Platts Commodity News, June 5).
The AKP government's new Energy Minister, Taner Yildiz, might well have learned the words nyet and da during his first visit to Sochi, alongside Prime Minister Recep Tayyp Erdogan on May 17. There, Russian Prime Minister Vladimir Putin and Gazprom promised the Turks to reinstate the Blue Stream Two project, which Moscow had suspended since 2007 to Turkey's chagrin. The Turkish participants said a delighted da to Gazprom's Blue Stream Two project, which might have induced them to revert to nyet tactics on the E.U.-backed Nabucco as a quid-pro-quo.
Blue Stream Two's updated version would supposedly carry 16 billion cubic meters (bcm) of gas from Gazprom's existing pipeline, Blue Stream One on the seabed of the Black Sea, into a continuation pipeline, Blue Stream Two, to run overland north-south across Turkey's Anatolia. This dubious Russian promise attempts to address Turkish needs and ambitions regarding consumption, storage, and re-export of gas.
The AKP government is not content to ensure adequate gas supplies for Turkey's consumption. Additionally, it aspires to turn Turkey into a gas-trading "hub country" that stores and re-exports gas, although Turkey lacks gas resources of its own. Putin and Gazprom have made "hub" promises to half a dozen countries across Europe from Turkey to Germany, inducing some to either join Russian pipeline projects or undermine E.U.-backed projects, such as Nabucco and by implication the Southern Corridor. Those promises are misleading because Gazprom lacks the export potential to turn these countries into "hubs" for any meaningful gas volumes.
Turkey's only chance to become a "gas hub country" will only materialize if the Southern Corridor operates at full volume, including Turkmen gas, potentially totalling up to 100 bcm of gas annually flowing east-west via Turkey for many years ahead. However, the AKP government's short-sighted policy threatens to hold up Azerbaijan's gas exports via Turkey into Europe, thereby holding up the Nabucco project and blocking progress on the Southern Corridor. The outlook for the Southern Corridor had improved remarkably until the AKP government reverted to obstruction, affecting both Turkic countries Azerbaijan and Turkmenistan.
Ankara has yet to agree firmly on European legal and commercial terms for transit and purchase of Azerbaijani gas, the only supply source for Nabucco thus far. Nabucco consortium member countries and companies as well as the European Commission support Azerbaijan in this regard.
Without Azerbaijan, Nabucco is a non-starter. And without Turkmenistan, the Southern Corridor also becomes a non-starter. Although this project is a top E.U. priority and the AKP government presumably aspires to E.U. accession, Ankara treats the Nabucco project as an opportunity to exert leverage on the E.U. in its problematic accession negotiations.
The AKP government's tactics are delaying the intergovernmental agreement, which was expected to be signed this month. The now-likely postponement will in turn delay the signing of project support agreements by the Nabucco participating countries and companies. It might also discourage Turkmenistan from seeking access to Europe via Turkey as an alternative to the Russian monopsony. Ankara's reluctance to provide fair transit for Azerbaijani gas, and its apparent choice of strategic partnership with Russia, can also result in Turkmenistan's continued isolation from Europe. This is equally detrimental to Azerbaijan, Turkmenistan, and European countries in their common goal -supported by the E.U.- to establish direct commercial relations between gas producers and consumers.
E.U. and Nabucco consortium officials had tried hard -and with due account to all sensitivities- for almost two years to persuade Ankara to adhere to European legal and commercial terms on the Nabucco project. These patient efforts seemed to have borne fruit by the time of the E.U.'s summit on May 7-8 in Prague. At that juncture, the AKP government was no longer advancing extortionate demands on Azerbaijan and had appeared to comprehend that Turkey's own interests are far better served by opening the way for the Southern Corridor.
During the Caspian oil and gas forum in Baku, officials from Azerbaijan's government and State Oil Company made clear that Turkey is not the sole option as a gas export route from Azerbaijan. It is now up to the E.U. and gas producers in Azerbaijan to do likewise and list the other options for the negotiations with the AKP government.