Armenia's Involvement With NATO Helps It Strengthen Relations With Georgia
Publication: Eurasia Daily Monitor Volume: 15 Issue: 114
By: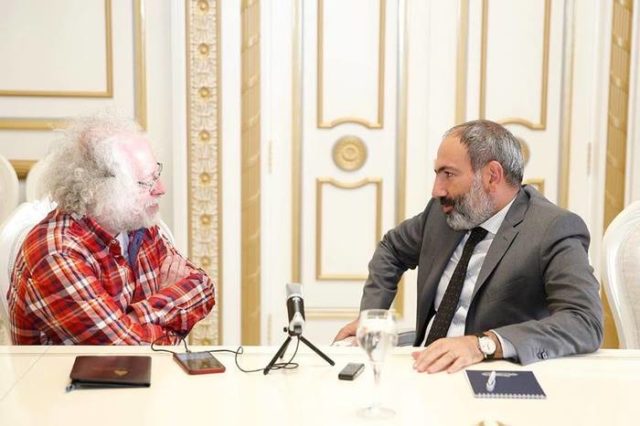 Russian and Western analysts often view the pursuit of contacts with the North Atlantic Treaty Organization (NATO) by countries between Russia and the Alliance as a zero-sum game—particularly, as far as Moscow is concerned. Consequently, such reorientations tend to be discussed exclusively in terms of East-West relations: choosing to move closer to NATO is liable to be seen as the country rebuffing its links to and/or rejecting dominance by Russia. But Nikol Pashinyan, the new prime minister of Armenia, has made clear that for his country, pursuing close relations with NATO may be less about positioning itself with regard to Moscow. Rather, the aim is to maintain ties with nearby countries that have chosen to pursue NATO membership—a goal that, the Armenian leader stressed, is not currently part of Yerevan's agenda.
In an interview with Aleksei Venediktov of Ekho Moskvy, Pashinyan said that relations between Moscow and Yerevan must be "relations without dark corners." This "does not mean that we will always agree on everything," he explained, but that "we will be sincere with one another." The Russian government has made it abundantly clear that it opposes Armenia's cooperation with NATO. Nevertheless, Armenia has been working with the Western alliance for some time, "not against anyone" as full membership might imply, but in order to make a contribution to some common cause, such as, as for example, peacekeeping missions in Afghanistan and Kosovo (Ekho Moskvy, July 25).
"We [NATO and Armenia]," he continued, "have certain common programs […] we are cooperating with NATO not for the first year. This has lasted quite a long time, and it will persist." That does not mean, however, that Armenia is interested in pursuing NATO membership; it is not. Armenia remains a member of the Moscow-led Collective Security Treaty Organization (CSTO). Indeed, the government in Yerevan, Pashinyan contended, is convinced that only Russia is in a position to ensure Armenia's security and to prevent tensions with Azerbaijan over Karabakh from exploding into a new major war.
But at the same time—and here is the crux of the innovative nature of the Armenian prime minister's remarks—cooperation with various NATO projects is, for Armenia, a key means for pursuing "regional cooperation." In such projects, he told Ekho Moskvy, "we cooperate also with Georgia." Since Armenia and Georgia "have different foreign policies [with regard to NATO]," with Tbilisi actively pursuing full membership in the Alliance, while Yerevan is not, "we need to balance this situation. And for us, in the NATO framework, our relations with Georgia are very important," the Armenian leader asserted
It may be tempting to dismiss what Pashinyan is saying as little more than an effort on his part to sound more accommodating to a Russian audience given the rising tide of hostility in Moscow toward his government's position and especially his attendance at the recent NATO summit in Brussels, on July 11–12 (Kommersant, July 25). Alternatively, his explanation may represent an Armenian counterpart to Azerbaijan's "balanced foreign policy," which President Ilham Aliyev had long made the centerpiece of Baku's international relations strategy (see EDM, December 5, 2017; May 8, 2018). It is, in fact, likely that both of these factors play into Pashinyan's thinking. But there may be even more to it, with important implications for NATO's potential future security role in the region.
By focusing on the centrality of NATO as a forum for interacting with the Republic of Georgia and thus for being an essential feature of regional security for Armenia, Pashinyan is pointing to something all too often overlooked by both those who advocate NATO enlargement eastward and those who oppose it. Every time another country joins the Alliance and every time NATO develops new partnership programs with neighboring non-members, the Euro-Atlantic political-military bloc ends up casting a "penumbra of security" over an increasingly wider region.
Armenia, for understandable reasons, is unlikely to ever pursue NATO membership. A Russian base is located on its territory, Russian troops guard its border with Turkey, and Moscow will remain, at least for now, Yerevan's main ally given the latter's fraught history with Baku and Ankara. But as Pashinyan has pointed out—and in a Russian publication to underline that fact—Armenia benefits from its involvement in NATO projects both directly as a participant and indirectly as a country that can expand its ties with others in the region.
The logic of his position means that once Georgia is taken in as a NATO member—an outcome that the last Alliance summit reiterated is a question of when not if—Yerevan will have even more reason to interact with Tbilisi via the venues NATO provides. Thus, Armenia will grow ever more cooperatively involved with the Western alliance, even assuming it retains its position of not seeking membership.
It seems clear from his remarks that Pashinyan understands all of this. In turn, that means his approach may open the way for NATO's influence to expand even further to the east than its modestly growing membership might suggest.