As Putin's Grasp on Power Weakens, His Foreign Policy Is Slackening
Publication: Eurasia Daily Monitor Volume: 16 Issue: 88
By: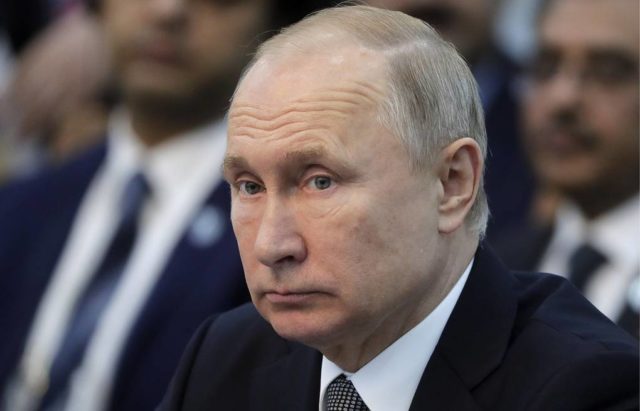 Something quite extraordinary happened in Russia last week: a loud public outcry forced the authorities to set free Ivan Golunov, an investigative journalist crudely framed by the police for drug possession. Neither the motley crowd of activists who joined ranks in protest against this selective punishment, nor the legion of propagandists, always ready to approve any repression, had expected such a swift resolution. Without a doubt, the decision was directly ordered by President Vladimir Putin. On June 11, just five days after the publicly advertised detention, Interior Minister Vladimir Kolokoltsev announced that the case against Golunov had been dropped and two police generals had been fired (Carnegie.ru, June 12). Such a retreat was entirely out of character—Putin usually refuses to give in to pressure from the street as a matter of principle. Some keen observers thus sought to explain Putin's backtracking as evidence of an irreversible crisis within his corrupt, repressive regime (Colta.ru, June 14).
This may be an opinion too far. In fact, the regime then moved to reassert control by unleashing riot police against protesters on June 12, since that day's rally in downtown Moscow was not officially approved (Novaya Gazeta, June 12). Nevertheless, the opposition of various persuasions is not at all discouraged by the demonstration of brutal force and is keen to build on this small victory and to connect it with the determined protests in other regions, particularly in Yekaterinburg and Arkhangelsk (Riddle, June 13; see EDM, April 29, May 28, 31). The Golunov case is particularly important for restoring a modicum of media freedom. Indeed, the Latvia-based and rather little-known in Russia Meduza, for which Golunov works, managed to mobilize support from the usually cautious and business-oriented Kommersant as well as Vedomosti and other mainstream Russian media (Meduza.io, June 14). For Putin, this setback was especially irritating because it spoiled the carefully prepared show of the St. Petersburg International Economic Forum (see EDM, June 10) and revealed the interplay between his weakening control over the domestic agenda and increasingly hesitant foreign policy (Forbes.ru, June 7).
The habitually pompous high-level foreign policy was on display in Bishkek, Kyrgyzstan, where Putin traveled recently for the summit of the Shanghai Cooperation Organization (SCO) (Kommersant, June 15). The content of the presidential get-together is difficult to find, but the location was haunted by the specter of revolution—Bishkek saw two regime changes by public uprisings since 2005 (Nezavisimaya Gazeta, June 13). Nursultan Nazarbayev, the irreplaceable leader of Kazakhstan, sought to prevent such turmoil by transferring some of his power to Kassym-Zhomart Tokayev; but the presidential elections earlier this month were disturbed by protests, and hundreds were detained (Svoboda.org, June 9; see EDM, May 16, June 12). China, which has learned how to effectively control the Shanghai proceedings, pretends that its regime is free from the threat of revolution. But even the state-owned Russian media found it appropriate to reflect upon the Tiananmen Square protests of 30 years ago (Rossiiskaya Gazeta, June 12). Putin finds little comfort in President Xi Jinping's reassurances of friendship because Chinese investments do not follow the Kremlin's exaggerated discourse. Whereas, analysts in Beijing cannot avoid comparisons between protests in Moscow and Hong Kong (Nezavisimaya Gazeta, June 10).
The most urgent international crisis that the SCO dared not to touch is ripening in the Gulf. The Russian foreign ministry pinned the blame for the escalating tensions there solely on the United States' "Irano-phobic" policy (Mid.ru, June 14). Putin, however, took up a more obscure stance, avoiding expressing any support for Iran, despite how important this partner is to Russia in waging the Syrian war and executing the long-planned offensive against the rebel-held Idlib province (Rosbalt, June 14). At the moment, Putin is most concerned with minimizing the impact of any spoilers before his much-anticipated and still poorly prepared meeting with US President Donald Trump at the G20 summit in Osaka, Japan, in just a few days (Kommersant, June 14). The intensity of anti-American propaganda has been moderated, and one recent opinion poll registered a drop in Russians' views that the US is deeply hostile to Russia—down to 67 percent from 78 percent a year ago (Levada.ru, June 14).
Seeking to establish rapport with Trump, Putin sends ambivalent signals about Russia's presence in Venezuela and refuses to confirm Nicolás Maduro's visit to Moscow in the coming weeks (RIA Novosti, June 12). Even within the post-Soviet space, the Kremlin has seemingly shown restraint in manipulating the crisis of governance in Moldova and actually joined forces with the European Union and the US in organizing the removal of the notoriously corrupt "owner" of the ruling party, Vladimir Plahotniuc (Kommersant, June 15). Ukraine has warned its Western allies about the risk of Russian interference in Chisinau. But Moscow is confident in its ability to curtail the pro-Western inclinations of the new Moldovan government of Prime Minister Maia Sandu (Nezavisimaya Gazeta, June 10).
Russia has been less constrained when it comes to interfering in Ukrainian affairs. Notably, it has gone ahead with its announced plan to issue Russian passports to Ukrainians living in the Donbas war zone (Interfax, June 14). The intention behind this creeping annexation of the occupied territories is to discredit the newly elected President Volodymyr Zelenskyy and to aggravate the confusion in Ukrainian politics during the run-up to the snap parliamentary elections (Polit.ru, June 15). In parallel, Moscow has increased pressure on Belarus to accept its plan for "deeper integration" (Belorussky Partisan, June 15).
Yet, even in these assertive actions, Russia's behavior shows little actual conviction, as if the Kremlin is simply going through the motions without real determination to achieve the intended results. Even if Putin attains his desired face-to-face with Trump in Osaka, this will not miraculously deliver Russia from its stagnation, aggravated by sanctions. Moscow is stuck with its self-made role of opportunistic trouble-exploiter on the international stage. But presently, the sum total of minor troubles in Russian domestic affairs goes beyond the Kremlin's ability to manage them. Putin does not want to deal with any of the matters causing public discontent; but so far he has not entirely delegated responsibility over them either. Thus, his appointees at various levels of the bureaucratic pyramid prefer to err on the side of heavy-handed enforcement of "order." And even as the influence of these "enforcers" grows, their performance is increasingly ineffectual, primarily as a result of unchecked systemic corruption. The Kremlin cannot extricate itself from the trap of a thousand irritants—and foreign policy offers no escape.