Kazakhstan's New President Faces Street Protests, Tough Choices Ahead
Publication: Eurasia Daily Monitor Volume: 16 Issue: 87
By: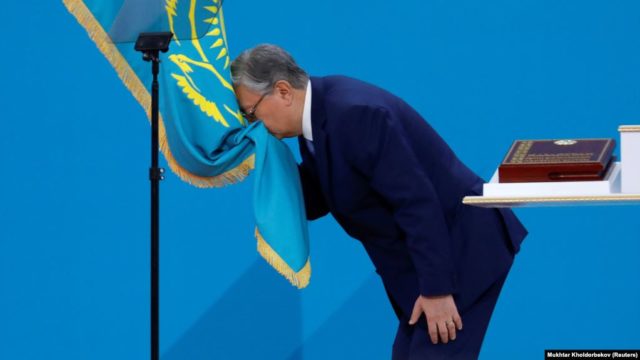 Kassym-Zhomart Tokayev was inaugurated as the second president of post-Soviet Kazakhstan, on June 12, following his confident victory a few days before. Though the results were as unsurprising as in all previous votes, the 2019 presidential election was unmistakably remarkable in one respect: having stepped down in March and immediately designated Senate Speaker Tokayev as his constitutional successor, the long-time leader Nursultan Nazarbayev was no longer in the running. Speaking on April 23 at an extraordinary congress of the ruling Nur Otan party, in the capital city of Nur-Sultan (which had been known as Astana until a month earlier), Nazarbayev again explained his choice. He called Tokayev his "loyal associate who has always supported all [of Nazarbayev's] initiatives and projects," an "experienced" and "modern" "statesman," as well as a "respected citizen." "I have full confidence in him," Nazarbayev said, adding that he had been mulling over his own succession for at least three years before making the final move for the exit from the presidential palace (Kursiv.kz, Kapital.kz, June 12; Kazinform, Tengrinews, Sputnik News Kazakhstan, April 23; Akorda.kz, Informburo.kz, Vlast.kz, March 19; see EDM, March 27).
In hindsight, Nazarbayev's choice of Tokayev did not come as much of a shock. The now-former speaker of the parliament's upper chamber has always professed personal loyalty to Nazarbayev, while steering clear of power politics and habitual intrigues. As Nazarbayev has often repeated in recent months, Tokayev made a brilliant diplomatic career, which culminated in his appointment as director general of the United Nations Office in Geneva in 2011; he is well-known on the world stage. As an added bonus, he has been spared any serious scandal or controversy and, if not admired by the majority of the population, he is at least not personally disliked. Nevertheless, the choice of Tokayev poses certain difficulties, making him a potentially problematic successor. For one thing, he has no power base of his own and, domestically, has the reputation of an uncharismatic technocrat, owing all he has achieved to Nazarbayev. Last but not least, he is 66 and hardly fits into Nazarbayev's oft-cited strategy of handing power over to the younger generation (see EDM, March 27).
On June 9, Tokayev scored close to 71 percent of the vote against six other candidates—three nominees of pro-government political parties (Ak Zhol, Auyl and the Communist People's Party of Kazakhstan) and three representatives of civil associations. Four of the losing candidates won less than 2 percent of the vote. Only Amirzhan Kossanov, widely presented as the only "true" opposition candidate, managed to secure more than 16 percent of popular ballots cast. Tokayev's margin of victory was certainly large but not as wide as Nazarbayev's in any election year except 1999, when the former president scored 81 percent against his Communist opponent's 11.9 percent. In 2011, Nazarbayev won over 95 percent of the vote; and in 2015, he was triumphantly reelected by more than 97 percent of the electorate. Kossanov's candidacy has since raised questions about his degree of autonomy. In fact, most if not all outspoken opposition activists in Kazakhstan have been consistently denied public platforms to express their views (Kazinform, 365info.kz, Bnews.kz, June 9).
The Organization for Security and Cooperation in Europe (OSCE) made public its usual criticisms of how the election was run, which contrasted with the high praise coming from the Russian-led observer missions sent in by the Shanghai Cooperation Organization (SCO) and the Commonwealth of Independent States (CIS). However, the biggest challenge to Tokayev's young presidency has materialized not within the international community, where he is already seen as the natural and legitimate successor to Nazarbayev, but from Kazakhstani society. Since Nazarbayev left office three months ago to assume the lifelong chairmanship of the national Security Council, while remaining the chair of Nur Otan, the country has been rocked by ongoing protests (see EDM, May 16). Most of them have taken place in Nur-Sultan and the former capital of Almaty, which is also the country's largest city. Protest activity was especially sharp on May 1 and 9, both public holidays; and more than 500 people were arrested by police on Election Day alone. Some journalists were beaten and amateur footage appeared to show numerous instances of brutality by law enforcement (Svoboda.org, Tengrinews.kz, Vz.ru, June 9; Radio Azattyk, May 1, 9).
The authorities blame the exiled former banker and Nazarbayev's political opponent, Mukhtar Ablyazov, currently living in France, of stoking turmoil in his home country. In 2017, Ablyazov was convicted in absentia of massive fraud and sentenced by a Kazakhstani court to 20 years in prison, followed last year by a life sentence for ordering the murder (allegedly disguised as manslaughter) of a businessman in 2004. In March 2018, Ablyazov's movement, the Democratic Choice of Kazakhstan (DVK), was recognized as extremist and banned from the country. It is true that Ablyazov has repeatedly taken to YouTube, calling on Kazakhstanis to take to the streets to protest the preordained result of the recent election and various wrongdoings he attributes to Nazarbayev and his family. In order to restrict the population's access to his appeals, the government has resorted to blocking popular social media websites such as Facebook, YouTube and VKontakte as well as the widely used WhatsApp messenger—angering active Internet users (Kommersant, November 28, 2018; Zakon.kz, March 13, 2018; Informburo.kz, June 7, 2017).
However, the real problems before Tokayev stem from Kazakhstan's protracted period of low economic growth, which dates back to 2014, combined with growing demands for equality and social justice. In his inaugural address, the new head of state laid out ten priorities reflecting the ongoing societal challenges. They include: 1) raising household incomes; 2) fighting corruption; 3) reforming the judiciary and law enforcement; 4) creating new jobs with "decent" wages; 5) providing enough housing; 6) implementing fair social policies; 7) fostering regional development; 8) protecting traditional values; 9) pursuing a balanced, multi-vector foreign policy; and 10) making young people the driving force of progress. The recently elected president has already designated 2019 the Year of the Youth and ordered the creation of the National Council of Public Trust, where youth organizations should have pride of place. It remains to be seen how Tokayev can inspire change without root-and-branch reforms of the political system, over which Nazarbayev still hovers as the ultimate arbiter (Akorda.kz, Nur.kz, Today.kz, June 12).