Azerbaijan and Georgia Still Cannot Agree on Border
Publication: Eurasia Daily Monitor Volume: 15 Issue: 134
By: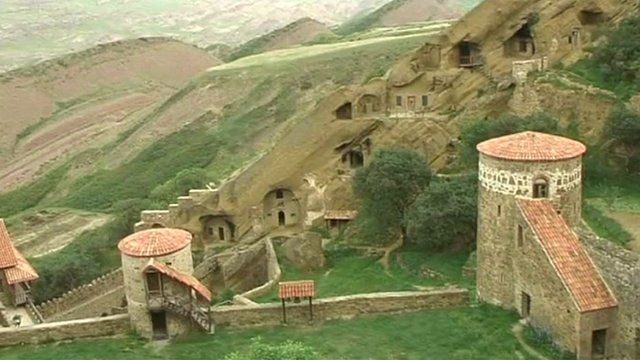 Of all the international borders in the Caucasus, the one between Azerbaijan and Georgia would appear to be the least problematic. The two countries have good relations as partners within GUAM (the loose political association of Georgia, Uzbekistan, Azerbaijan and Moldova). And several key east-west pipelines and a railway from Azerbaijan passes through Georgia. But despite that, the two countries have not agreed on the delimitation of the border between them or its demarcation, even 27 years after recovering their independence (Azernews, July 25, 2017). According to one Western commentator, the situation is both a literal and a symbolic "mine field" (EurasiaNet, September 20, 2018). While such rhetoric is perhaps overblown, the border between them is a recurring problem and will remain so until Baku and Tbilisi can overcome their own concerns and succeed in preventing third parties, including both the Russian Federation and Armenia, from exploiting this situation and keeping them from reaching an accord and acting on the basis of it.
Neither Azerbaijan nor Georgia made the delimitation and demarcation of their borders with each other or, indeed, with other countries a priority. On the one hand, Azerbaijan has been locked in a conflict with neighboring Armenia and has moved relatively slowly even to mark its border with the Russian Federation, something it did not complete until earlier this year (EADaily, May 10). Moreover, Azerbaijan's involvement in the war with Armenia has cast a shadow on its border with Georgia, leading Baku to mine more than two million square meters along this frontier, including within Georgia, as a defensive measure against Armenia. Until there is a resolution of the Karabakh dispute with Armenia, Azerbaijan has not been willing to allow anyone to demine the region, even though the 4,400 people who live there sometimes become victims of the buried explosives. At the same time, Georgia has been unwilling or perhaps unable to challenge Baku's position in that regard. Moreover, Baku has a special interest in the more than 500,000 ethnic Azerbaijanis of Georgia, most of whom live in the border region and have close ties with their kin in Azerbaijan (Jam-news.net, April 5).
Georgia has also not prioritized the delimitation of this border—defining its borders is not included in any of the basic security documents Tbilisi has released over the last quarter century (Researchgate.net, February 2011). This is despite the threat to Georgia's territorial integrity posed by Russia and the latter's support for the breakaway republics of Abkhazia and South Ossetia. Given Georgia's dependence on Azerbaijani energy supplies and transit, Tbilisi has largely deferred to Baku's concerns about Armenian military actions. Yet, at the same time, Tbilisi has not been willing to concede to Baku two territories. One of these areas includes an important historical church center, the Davud Garedzh Monastery, closely tied to Georgian history. The other has become part of Azerbaijan not by agreement but because of a change in the flow of a river that has historically marked the border.
Following the recovery of independence, neither country rushed to create a border delimitation commission. That arose only in 1996 and remained relatively inactive ever since. Indeed, some suggest that its role as far as the Azerbaijani-Georgian border is concerned was downgraded when Georgia decided to combine its negotiating teams on all that country's borders into one, thus almost certainly guaranteeing that the Azerbaijani portion would receive less attention.
The two countries did make some progress early on, with about 300 kilometers of the 480-kilometer border delimited by 2010, largely on the basis of a 1938 Soviet administrative-territorial map. But that map is hardly definitive: its scale is 1:500000, and many of the details of the border can be seen only on a 1942 Soviet map, whose scale is 1:100000 (Uef.fi, accessed September 25). Those were the easy parts, which generally followed mountain crests or rivers; the other portions of the border remained without any resolution, even though both countries have routinely asserted that there are "no territorial disputes" between them. In fact, "they admit that there in fact are [unresolved disputes]." And in addition to the two regions mentioned above, there is the question of how the ethnic Azerbaijanis should relate to Azerbaijan, both in terms of having special border-region passes and in terms of loyalty. Indeed, Azerbaijani forces have occasionally crossed into regions Georgia claims, and Azerbaijani police have even kidnapped ethnic Azerbaijanis there as well (Dfwatch.net, May 18, 2012; EurasiaNet, January 15, 2018).
For almost a decade, the European Union has been pushing both Azerbaijan and especially Georgia to reach a border accord as part of its EU neighborhood policy; but so far that outside pressure has not borne fruit. Last December, Azerbaijan's Deputy Foreign Minister Khalaf Khalafov said that Baku "probably will intensify talks with Georgia starting in early 2018." To date, however, Georgia has not responded, at least not publicly. And there have been no public reports of progress, an indication that this issue likely will continue to simmer well into the future. As long as the delimitation issue remains unresolved, the danger will remain of ethnic groups on either side of the border or outside powers trying to exploit the situation to create problems for one or both countries (Trend.az, December 12, 2017).