Uzbekistan and Tajikistan Conduct First Joint Military Exercises
Publication: Eurasia Daily Monitor Volume: 15 Issue: 134
By: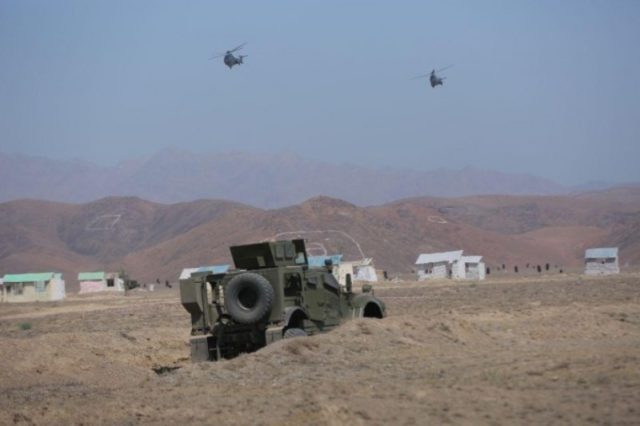 A notable aspect of the foreign policy of Uzbekistan's first president, Islam Karimov, was its increasing aloofness from engaging in joint military maneuvers with post-Soviet neighbors. Notably, Karimov's Uzbekistan twice withdrew from the Collective Security Treaty Organization (CSTO). But since his death, in September 2016, Karimov's successor, President Shavkat Mirziyoyev, has moved to repair ties with all neighboring states (see EDM, October 26, 2016; March 16, 2017; September 18, 2017; March 12, 2018). In one of the more striking illustrations of Tashkent's desire for improved relations, on September 18, 600 Uzbekistani troops joined 17,000 Tajikistani soldiers and practiced anti-terrorism operations at the Chorukhdarron military training ground, in Tajikistan's Sughd Region, 200 miles north of Dushanbe (Toptj.com, September 21, 2018). According to the head of Tajikistan's defense ministry press center, Major Orif Nozimov, the troops involved in the exercise used not only light weaponry but unmanned aerial vehicles (UAV), tanks, armored vehicles, helicopters and mortars, as well (News.tj, September 20).
The Unbreakable Fraternity 2018 military exercise is emblematic of a concern to both countries: possible terrorist attacks emanating from Afghanistan, spilling across their borders. This mid-September military operation followed a smaller bilateral exercise held in August (Sputnik-tj.com, September 21).
Uzbekistan has long been concerned about rising extremism in Afghanistan, especially as jihadists from the Islamic Movement of Uzbekistan relocated there. Nevertheless, the late president Karimov's heavy skepticism toward engaging in regional military maneuvers precluded joint anti-terrorist operations with Turkmenistan and Tajikistan, who also share a border with northern Afghanistan. Further complicating relations between Tajikistan and Uzbekistan were the latter's worries about hydroelectric development in Tajikistan's Pamir Mountains, whose spring runoff is essential for irrigating Uzbekistan's agricultural output—primarily, cotton. Uzbekistan was especially concerned about the development of two post-Soviet hydroelectric dam projects, Nurek and Rogun, as their completion would not only divert waters needed to fill the reservoirs, but subsequently reduce the regular or downstream releases of water needed for agricultural output. In the past year, however, Mirziyoyev's government has actually declared its willingness to join the Rogun Dam project (President.tj, March 9; see EDM, March 12).
Among those Central Asian countries that share a border with Afghanistan—Turkmenistan, Uzbekistan and Tajikistan—Tajikistan's is the longest, stretching nearly 850 miles. The poverty along the Tajikistani-Afghan border, combined with the rough and mountainous terrain, result in a largely porous frontier, with people, contraband, weaponry, and drugs flowing easily across it. During the Soviet era, Moscow's concern about Tajikistan being the Union of Soviet Socialist Republics' (USSR) "soft underbelly" led it to establish there the 201st Motorized Rifle Division, which participated in Soviet military operations in Afghanistan. The division remained there after the collapse of Communism, in 1991, as a foreign Russian military base. Subsequently, this unit participated in the 1992–1997 Tajik Civil War, assisting the government against the Islamist-supported United Tajik Opposition (Krasnaya Zvezda, June 4, 2008). More recently, the 201st Motorized Rifle Division has been involved in anti-terrorism operations and exercises. As recently as September 22, 400 Russian troops and 40 pieces of equipment carried out drills to destroy a simulated terrorist base at the Laura testing range, which had earlier been "detected" by a UAV (Mil.ru, September 22).
Adding to regional instability today is Afghanistan's rising opium production, much of which is exported via the so-called "northern route," running through the Tajikistani-Afghan border. Afghan heroin and opium traveling along this route enter "black markets" in Central Asia and, from there, move northward and westward to Russia and Europe. According to the United Nations Office on Drugs and Crime (UNODC), in 2017 Afghanistan had its largest ever opium harvest, resulting in the production of 550–900 tons of heroin of export quality, with a 50–70 percent purity rate. The production generated an estimated $4.1 billion–$6.6 billion in 2017, representing 20–32 percent of Afghanistan's GDP, far exceeding the value of Afghanistan's licit exports of goods and services, which made up roughly 7 percent of GDP (Unodc.org, May 21).
This past May, Radzhabali Rakhmonali, the commander of Tajikistan's Border Guard Service, warned that up to 7,000 Taliban militants were believed to have been recently transferred from the south to the north of Afghanistan and were now deployed at 29 training bases in the provinces of Balkh, Kunduz, Takhor and Badakhshan, scattered along the Tajikistani-Afghan border. Rahmonali added that many of these militants were allegedly of Central Asian origin (Radio Ozodi, May 3). On August 27, Dushanbe's concerns over the situation brewing along its border exploded: Tajikistan's air force conducted an airstrike in the Darqad district of Afghanistan's northern Takhar province against Taliban drug smugglers, who had earlier killed two Tajikistani border guards (Pajhwok.com, August 27).
The beginning of joint military exercises between Uzbekistan and Tajikistan underline growing regional awareness that the thirty-year Afghan civil war, fueled by a lethal mix of militancy and drug money, shows no sign of ending anytime soon, and growing belief that collective security initiatives are the best way to at least constrain the chaos to Afghanistan itself. While none of the former Soviet regional actors—Russia, Turkmenistan, Uzbekistan or Tajikistan—have committed "boots on the ground" in Afghanistan, increasingly they are viewing collective security as preferable to isolationism, the policy that was pursued by the late Uzbekistani president. Tajikistan, in particular, appears to welcome this trend, particularly given the country's poverty and porous southern frontier, both of which could provide fuel for rising chaos within the country itself. Beyond warming military relations with Uzbekistan, Tajikistan ostensibly has, as a backup, the 201st Motorized Rifle Division, Russia's largest military base beyond its frontiers. Under an October 2012 agreement, the Russian presence on its soil can remain there until 2042, by which time Afghanistan will hopefully be pacified.