Azerbaijan Learns Important Lessons From Israel-Hamas War
Publication: Eurasia Daily Monitor Volume: 20 Issue: 177
By: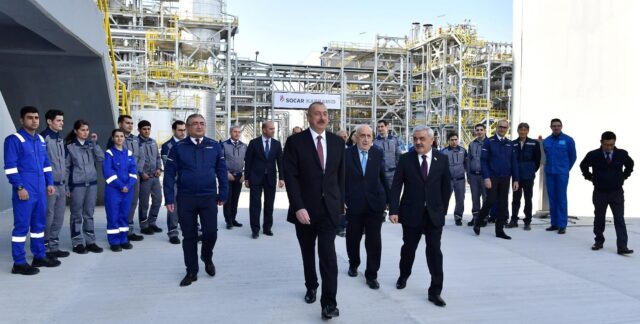 On October 29, the Israeli government granted a tender to the State Oil Company of the Republic of Azerbaijan (SOCAR) for gas exploration in Israel's Exclusive Economic Zone in the Mediterranean Sea (Azvision.az, October 30). The deal came two days after Turkish President Recep Tayyip Erdogan gave an anti-Israeli speech at a pro-Palestinian rally in Istanbul, in which he criticized Tel Aviv's military actions in Gaza (Al Jazeera, October 28). On the one hand, Türkiye is one of Azerbaijan's closest allies. On the other hand, Israel has provided Azerbaijan with arms that have played a key role in helping Baku achieve its geopolitical goals (see EDM, November 10, 2020). The Israel-Hamas war is challenging Baku's traditional foreign policy, as close regional allies stand on opposite sides of the conflict.
The gas exploration deal is a massive development for Israeli-Azerbaijani relations. Over the years, SOCAR has received significant state funding but is still in significant debt. This has drawn much public criticism, including from Azerbaijani President Ilham Aliyev (President.az, August 6, 2020). SOCAR's overseas activities have been restricted to the downstream industry—namely refining, distributing, and selling oil products. The deal with Israel marks the first step toward the development of overseas upstream operations, including exploration, drilling, and extraction.
SOCAR won the tender as part of an international consortium with BP and NewMed Energy. This will constrain its operations somewhat. The consortium has been granted six exploration licenses for three years that can be extended to a maximum of seven years (Amerikaninsesi.org, July 18; Offshore-Enery.biz, October 30). In addition, SOCAR has reportedly joined BP in acquiring a 50-percent share of Israeli gas producer NewMed Energy. The deal is pending confirmation until the resolution of the war in Gaza (Turan.org, October 12).
News about the exploration deal passed largely unnoticed in Azerbaijan. The Israel-Hamas war has dominated headlines and transformed the expansion of energy cooperation between Tel Aviv and Baku into a geopolitical issue. Before the war, such a deal would have been celebrated as a great achievement throughout Azerbaijan.
Israel's premature announcement of the tender was seen by some as a political message, rather than a simple mistake. Israeli Minister of Energy and Infrastructure Israel Katz echoed the politics behind the deal, declaring that gas exploration deals, like the one with Azerbaijan, would contribute to "strengthening Israel's energy security [and] Israel's international ties" (Globes.co.il, October 30). Tel Aviv has actively promoted its legitimacy as a central developer of the rich gas fields in the Mediterranean Sea. Some Turkish commentators have used the fighting in Gaza to highlight Israel's alleged intentions to deprive the Palestinians of any access to the offshore gas fields (HidropolitikAkademi.org, October 18; Strasam.org, October 19). Erdogan brought up this issue with Aliyev on the sidelines of the Organization of Turkic States summit on November 3 in Kazakhstan. The Turkish president told his Azerbaijani counterpart that the "world needs to send stronger messages to ensure that Israel acts by the international law" (Aa.com.tr, November 3). No further details of that meeting have been made public.
The vulnerability of Israel's energy security has become more apparent with the war in Gaza. In early November, Supreme Leader of Iran Ayatollah Ali Khamenei called on Muslim nations to "stop the export of oil and other commodities to the Zionist regime" to make Israel "promptly stop the bombardment of Gaza" (Shana.ir, November 1). Iranian Foreign Minister Hossein Amir-Abdollahian made an almost identical statement during his most recent visit to Ankara. Tehran's position is also a warning to Azerbaijan, as a major oil supplier to Israel. Iranian media outlets have lashed out at Baku for continuing to send oil to Israel since the war began (News.am, October 30; Musavat.com, November 2).
Paradoxically, Azerbaijan has received heavy criticism from pro-Israeli circles. These groups urge Israel to stop supplying weapons to Azerbaijan and accuse Baku of supporting Hamas. Some have referred to the Azerbaijani government's use of the term "Islamic solidarity" as evidence of this position. Those familiar with the delicate nuances of relations between Iran and Azerbaijan know that Baku has used the term "Islamic solidarity" for years as a euphemism to condemn Tehran's support for Armenia and as a response to Tehran's criticism of Azerbaijan's relations with Israel. In addition, the Azerbaijani government uses this concept to address sectarian divisions and related hostilities within the wider Islamic world (Mfa.gov.az, December 19, 2021; Azertag.az, October 18; Aei.org, October 23).
Azerbaijan's position on the Israel-Hamas war has brought two observations to light. First, geopolitically, Azerbaijan is learning through the conflict how to pursue its national interests while balancing relations with opposing allies. Second, sociologically, the differing attitudes of the Azerbaijani public on the war in Gaza highlight an important trend: whether sympathizing with Israel or Hamas, the population's reactions are based on emotion. These tensions are bubbling under the surface for now but could come to light if not properly managed (Adalet.az, October 30; Musavat.com, October 24, November 2; Facebook.com/Meydan_TV, November 3).
The Azerbaijani government is striving to present a pragmatic, well-informed position to its citizens. As the war in Gaza continues, it will become increasingly challenging for Baku to fine-tune the balance between relations with Israel and the broader Muslim world. Tel Aviv may be dissatisfied with this posturing, but it is careful not to exacerbate the sensitivities and vulnerabilities of Azerbaijan's position (Inss.org.il, January 4, 2015; see EDM May 14, 2018, November 10, 2020). In granting the gas exploration tender to SOCAR, Israel is signaling that Azerbaijan remains a key geopolitical ally, not merely another economic partner.