The Kremlin Prepares for Winter in Ukraine
Publication: Eurasia Daily Monitor Volume: 20 Issue: 178
By: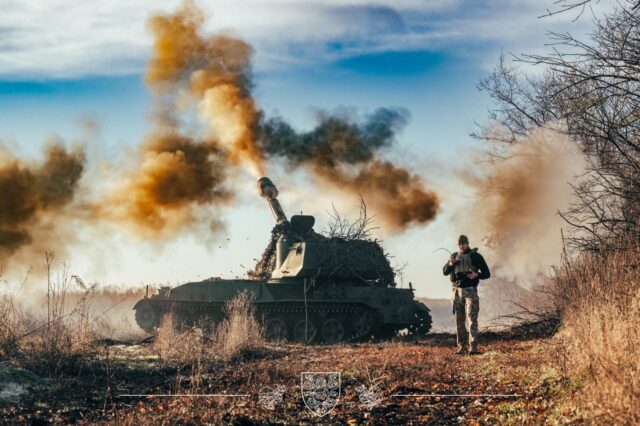 Many observers of Russia's war against Ukraine have been discussing what they term "an impending stalemate" on the battlefield (Kyiv Post, August 28; Euromaidan Press, November 4; The Moscow Times, November 11). Others have pushed for peace talks and formulated a future "Korea scenario" for Ukraine (Kyiv Post, February 13; Uacrisis.org, August 28; TASS, August 30). The Kremlin, however, seems to be losing its demonstrative optimism in pushing back Ukrainian forces, as Kyiv's slow, but steady counteroffensive presses on (see EDM, November 15; Ukrinform, November 16 [1], [2]). The Russian military is scrambling to prepare for the worst possible scenarios as the winter campaign begins.
Several recent developments highlight Moscow's heightened concerns. First, local officials in some regions have increased payments for those who agree to sign service contracts with the Ministry of Defense. This measure likely means the number of volunteers has been much lower than expected. Second, more evidence has surfaced that the reported 410,000 contracted soldiers and volunteers recruited in 2023 does not come close to the real numbers. Third, discontent is growing among the wives and mothers of those soldiers mobilized a year ago. They do not demand a stop to the war altogether, but rather call for the regular rotation of troops along the front to allow their husbands and sons to come home for a time. Fourth, Nikolai Patrushev, secretary of the Russian Security Council, recently required regional governors to develop plans for economic mobilization at the local level (Citeam.org, November 8; NGS.ru, November 9; Youtube.com, November 10; Istories.media, November 15; T.me/CITeam; TASS, November 16).
All these developments testify to the fact that the Kremlin assumes a ceasefire will not be accepted in Kyiv. Such a scenario would allow the Russian military to at least partially restore its manpower along the front and improve its defensive fortification for the winter. Russia's deteriorating position on the battlefield is pushing Moscow to consider extreme domestic measures, including another wave of mass mobilization and full mobilization of the domestic economy to support the war.
A series of official reports covering military recruitment in the Russian army began to be released in May. On November 9, Deputy Head of the Russian Security Council Dmitry Medvedev declared that 410,000 contracted soldiers had been recruited since January (Kommersant, November 9). This number seemingly includes contracted soldiers who serve as "volunteers" (including prisoners and migrant workers) in regular units, as well as those who signed short-term contracts with the Ministry of Defense to serve in separate volunteer formations (see EDM, October 31). That assumption is quite likely, as Medvedev had earlier clarified on October 25 that 305,000 contracted soldiers and about 80,000 volunteers have been recruited (Kommersant, October 25). The Kremlin has inflated these statistics in the past to feign that everything is going as planned with recruitment efforts.
Most "newly recruited" personnel have been forced to stay in the army after their service contracts expired. Their new contracts characterize them as fresh conscripts or volunteers, further inflating recruitment statistics (see EDM, September 28). Russian Defense Minister Sergei Shoigu confirmed in October that some of these "volunteers," including prisoners and migrant workers, completed their first service term and signed their second contracts sometime between January and September (RBC.ru, October 5; see EDM, November 8). Simply speaking, the Kremlin is double-counting many of its recruits, and this practice continues, though it may come home to roost as Russian forces suffer heavy losses on the frontlines (Euromaidan Press, October 11; Kyiv Independent, November 2; Radio Free Europe/Radio Liberty, November 15).
Moscow officials, nevertheless, continue to act as if all is well. Moscow Mayor Sergey Sobyanin announced that the city had fully executed its recruitment plan for 2023 of 22,000 contracted soldiers ahead of schedule. That pronouncement rings false as 25,000 military-age men had already been recruited between February and December 2022, and a significant number of Russians fled the area to avoid the "partial mobilization" last year (Interfax, November 15). Additionally, considering that almost one in every ten Russian citizens lives in Moscow and that the city's officials needed to forcibly recruit migrant workers from Central Asia, the total number of recruited contracted soldiers and volunteers in Russia for 2023 hardly comes close to 200,000 (Svoboda.org, October 26). Some of the "newly contracted" soldiers are set to serve in branches of the Russian Armed Forces that will likely never directly participate in the war, casting further doubt on the Kremlin's reported numbers.
Russia still suffers from a severe deficit of manpower in Ukraine. Only the current positional nature of combat has allowed Russian forces to maintain their defensive lines along the front. If the Ukrainian Armed Forces, with adequate assistance from the West, returns to maneuver warfare, the Kremlin will face tough decisions, including potentially abandoning the occupied territories and full mobilization of manpower and the economy. Another wave of mass mobilization threatens to exacerbate already fragile sentiments in some regions and risks widespread turbulence and instability within Russia's city centers, which could demonstrably derail Moscow's war effort.