Russia and China Develop New Grain Corridor
Publication: Eurasia Daily Monitor Volume: 20 Issue: 178
By: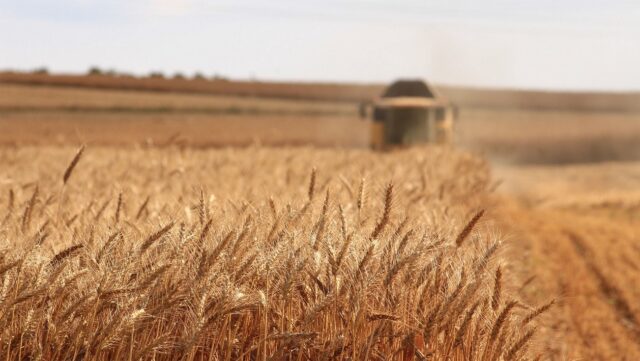 During the most recent Belt and Road summit in Beijing, Russia agreed to supply China with 70 million tons of grain, legumes, and oilseeds worth 2.5 trillion rubles (about $25.7 billion) over the next 12 years (TASS, October 17). Head of the Russian company New Overland Grain Corridor, Karen Ovsepyan, declared, "We are definitely more than replacing the lost volumes of Ukrainian exports thanks to Siberia and the Far East." The Kremlin claims that the main corridor for transiting these supplies between Russia and China will open at the end of November. To meet the terms of the agreement, part of this volume will have to be taken from the temporarily occupied territories in Ukraine. Moscow has been actively exploiting the agricultural output of Ukraine's southern regions to meet the export demands of its allies.
The grain deal highlights joint efforts between Russia and China to expand trade and transit cooperation. Particular emphasis is being placed on developing effective infrastructure that will allow for the transportation of a high volume of goods and cargo in both directions. The Russian government has included the construction of the North Siberian Railway in its Siberian development plan and the resumption of the Kyzyl-Kuragino railway project as key initiatives (TASS, August 31, October 12). The Kremlin also seeks to develop a transit route to China via the Altai Republic in southern Siberia and additional corridors passing through Mongolia. At the moment, these projects have only been proposed. Assessments need to be carried out on both sides to determine their feasibility. According to some Russian experts, Moscow seeks "all roads to China," and it is important to start developing these routes as soon as possible (Kommersant, October 23).
The Russian-Chinese relationship looks similar to that of Germany and Ukraine in 1918. Russia has become a sort of "resource and food colony" for Beijing (see EDM, February 6). Since signing an agreement on increased agricultural cooperation in February 2022, Russia has been an equal competitor with other countries exporting grain to China. The Russian side can now sell wheat from all regions, not just the seven eastern regions named in the previous agreement (South China Morning Post, February 24, 2022). According to the Russian Agricultural Ministry, in 2022, the volume of its grain exports increased by 12 percent (Interfax, June 27). Türkiye, Iran, Egypt, and Saudi Arabia became the largest buyers of Russian wheat, and China increased its purchases by 78 percent (Izvestia, May 24).
Four Russian regions were initially authorized to send exports to China's wheat market in 2015. After several negotiations with Beijing, the number of Russian regions involved in this trade gradually expanded. Today, all Russian regions have been given permission to supply spring wheat and barley to China. Moscow is currently negotiating with Beijing on the possibility of supplying winter wheat and barley as well (Sfera.fm, May 31)
Steadily increasing agricultural cooperation paved the way for the October grain deal between Russia and China. New Land Grain Corridor, the Trans-Baikal Grain Terminal, and Guangdong BestCon Intelligent Equipment signed a contract to create a specialized overland grain fleet at the Eighth Eastern Economic Forum in September. Over 22,000 specialized containers manufactured will transport up to 600,000 tons of grain at one time (up to 8 million tons per year). Thanks to the specialized design, the universal transport system will function in both directions (Ussurmedia.ru, September 12).
These developments come after Russia pulled out of the Black Sea Grain Initiative in July (Kyiv Independent, July 17). China began importing significant volumes of Ukrainian grain as part of that deal. In February alone, a record number of 25 ships were sent from Ukraine to China carrying 1.2 million tons of grain (Worldcrunch.com, April 9). As of March, Ukraine had exported 24.5 million tons of grain by sea, of which 5.3 million tons were shipped to China (Carnegie Politika, March 7). The volumes of grain shipments over the past year and a half are among the highest in the history of Ukrainian-Chinese agricultural trade.
Over the past decade, China's annual demand for corn has been growing steadily, reaching almost 300 million tons in 2022 (Agricensus.com, September 12). The country can only produce about 270 million tons domestically, forcing Beijing to rely on imports to cover the 10-percent deficit (Global Times, November 17, 2022). From June 2022 to February 2023, China imported 9.2 million tons of corn, of which almost 4 million tons came from Ukraine (Worldcrunch.com, April 9). When Moscow agreed to extend the grain corridor for 120 days in May, China benefited from reduced prices for Russian and Ukrainian grain.
The Ukrainian grain going to China is trading at a significant discount due to security risks. Although Kyiv is not entirely thrilled that Beijing has been the main beneficiary of low grain prices, the Ukrainian government has little room for maneuver. The Black Sea corridor remains the most effective export route, accounting for about 60 percent of sales abroad (Informer.od.ua, accessed November 15). Only about 1 million tons of cargo per month can pass through the Ust-Danube Commercial Seaport, while the rest would have to be delivered by rail and road, causing severe delays (24tv.ua, October 29; Gmk.center, November 5). These alternatives are further complicated by disagreements with Kyiv's neighbors over flooding their domestic markets with Ukrainian grain (see EDM, June 19, September 27).
Ukrainian military actions in the Black Sea and Crimea have forced Russia to withdraw its naval vessels from the western coastal areas (see EDM, November 15). As a result, Ukraine was able to establish an informal maritime corridor with help from Türkiye and Romania and without Russian participation. As of the end of October, 53 ships have already passed through the corridor (Interfax-Ukraine, October 30). Several Chinese ships have been contracted to deliver more Ukrainian grain via this route in November and December (Apk-inform.com, September 29). The diminishing strikes on critical port infrastructure in the area and the absence of a Russian blockade points to possible coordination between Beijing and Moscow, though Ukrainian drones and missile strikes provide a serious deterrence. The Russians have the capabilities to cut off maritime traffic but have been unable or unwilling to do so. Curiously, the Russian military has not kept the MiG-31K supersonic jets equipped with Kinzhal missiles at the airbases in Mozdok and Akhtubinsk on standby to potentially intercept Ukrainian grain shipments (T.me/war_monitor, November 7).
With the recent deal between Beijing and Moscow, China seems to be transitioning from Ukrainian exports to Russian grain. If Russian exports are insufficient or run into complications, however, China will likely remain open to supplies from Ukraine. From a security standpoint, as soon as China receives what it bought from Ukraine for November and December, Russia may once again target Ukrainian grain shipments and attempt to block exports from leaving Odesa.