Baltic Pipe Will Undermine Moscow's Geopolitical Hopes for Nord Stream Two
Publication: Eurasia Daily Monitor Volume: 17 Issue: 66
By:
Moscow has been rather explicit in that it wants to use the trans-Baltic Nord Stream Two natural gas pipeline to more aggressively dictate gas prices and transit conditions to Ukraine. But even as the project approaches completion, despite United States sanctions, it may ultimately fail to achieve that goal because of Baltic Pipe—an alternative north–south pipeline that will carry gas from Norway via Denmark to Poland, and from there, potentially also to Ukraine (Biznes Alert, May 9). This is yet another example of the ways in which growing north-south linkages in Central and Eastern Europe—infrastructure links many in both Moscow and the West devote relatively little attention to—may ultimately prove more important than the much-ballyhooed and ostensibly fateful east-west projects Moscow backs and that the West generally views as the key factors in the region (see EDM, April 28).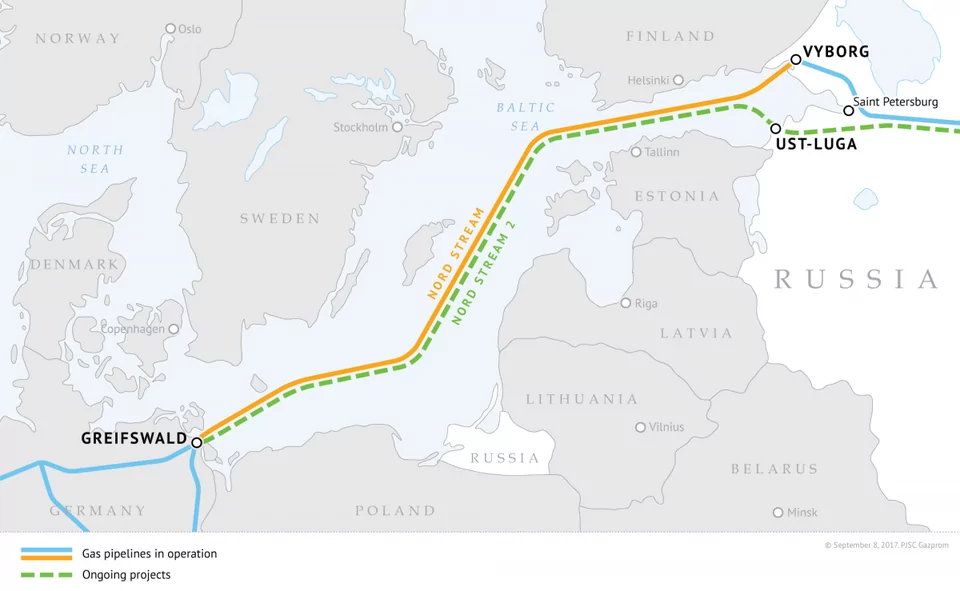 Discussions between Moscow and Western energy companies on the construction of a third and fourth Nord Stream gas pipeline string along the Baltic Sea floor, directly linking the Russian Federation and Germany, began almost a decade ago. Construction on this project, ultimately dubbed "Nord Stream Two," was launched in September 2018. But problems with Russian construction and financing along with the imposition of US sanctions in December 2019 slowed the project to nearly a complete stop. Moreover, recent declines in demand for gas, as a result of the economic crisis, led some to conclude that it might not soon be restarted. Nevertheless, Moscow has just sent its major pipe-laying ship into the Baltic, an indication that the political goals of the project—to weaken Ukraine and increase the dependency of Western Europe on Russia gas—have trumped economic considerations, at least for the time being (Gazprom.com, accessed May 12; Emerging Europe, May 7).
While all this has been occurring, however, Warsaw has been promoting the construction of Baltic Pipe, an undersea pipeline to bring gas from Norway to Poland, via Denmark. This project, together with expanded imports of liquefied natural gas (LNG) at the terminal in Świnoujście (collectively known in Poland as the "Northern Gate" energy corridor), eliminate the need for Warsaw to extend its gas deal with Moscow. Perhaps even more importantly, it will allow Poland to free itself from dependence on Russian gas and to help its neighbors, above all Ukraine, do the same. Two weeks ago (May 4), the Polish government announced that construction of this pipeline would begin in the coming days, with all necessary approvals from regional countries and financing from the West having been secured. According to Polish officials, the north–south gas pipeline will be completed by October 1, 2022— the exact date on which Warsaw's current gas deal with Russian Gazprom ends—and bring ten billion cubic meters of gas to Poland, (TVN24, May 4; Echo of Russia, May 5).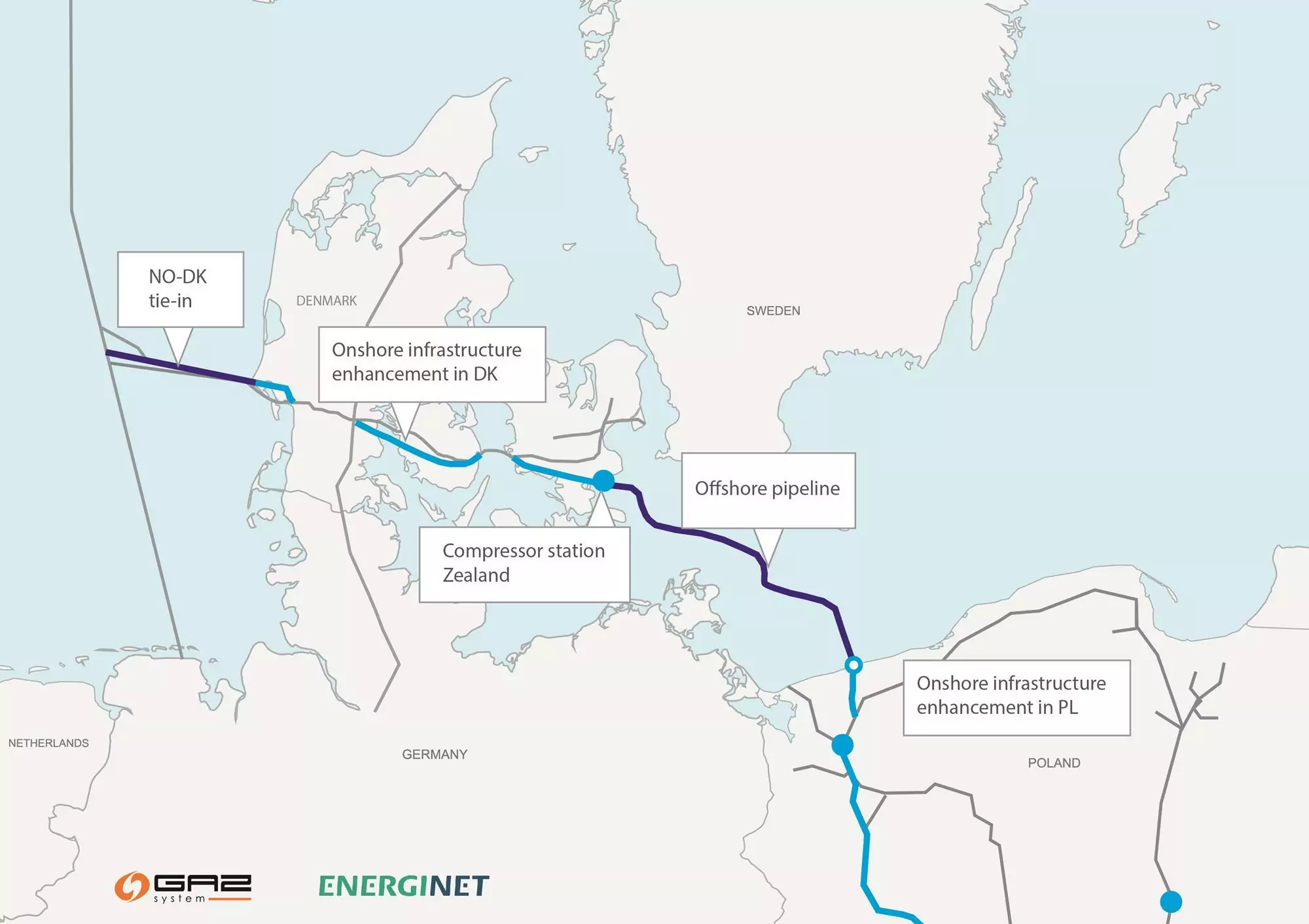 In making this announcement, Polish President Andrzej Duda said this will be "a milepost on the path" to his country's energy independence from Russia. But more than that, he continued, it will allow Poland to become a gas hub for the region and thus play an even larger role in projects like the Three Seas Initiative (Three-seas.eu, accessed May 12; Interfax, December 17, 2019). "It is very important," Duda continued, "that Poland be one of the guarantors of the energy security of Ukraine, which, for years, has been subject to gas and energy blackmail by Russia" (Prezydent.pl, May 4).
Once built, Baltic Pipe, together with growing LNG imports from the US and Qatar, will more than meet Poland's domestic needs, thus allowing it to export the surplus to countries in the region—above all, to Ukraine. Kyiv, which has opposed Russia's Nord Stream Two project from the beginning because of the way Moscow wants to use it to isolate and weaken Ukraine, is enthusiastic about the possibilities these new sources of gas could give it. And some Ukrainian analysts, in the wake of President Duda's declaration, are suggesting Baltic Pipe may have even greater positive implications for Ukraine and the region than that. Namely, they argue that the project, at a time of decreasing demand and falling prices for gas, can become an occasion for Western Europe to pivot away from its use of Russian gas and thus make Europe, along with the United States, more ready to support Ukraine against Russian aggression (Dsnews.ua, May 6; Svpressa.ru, May 11).
Russian commentators dismiss all this talk and suggest the Ukrainians are counting their chickens before they hatch, while welcoming what they say is the acknowledgement by Kyiv and Warsaw that Nord Stream Two will, in fact, be completed. First, Russian analysts claim that, despite recent efforts to use the European Union's anti-monopoly rules against Nord Stream Two, many Europeans are quite happy to continue to use Russian gas. Second, Moscow clearly believes it can interfere with the Baltic Pipe project given that the planned pipeline will have to cross the Russian project and must secure Russian agreement before going forward. And third, they point to a choke point in Poland's plans to send gas south to Ukraine. The capacity of the existing pipelines between Poland and Ukraine is simply too small to make the major difference Warsaw and Kyiv hope for. The two countries will undoubtedly try to expand these interconnector pipelines, but that may take longer than either thinks, unless they can secure significant outside support from the West (Svpressa.ru, May 11).
Moscow undoubtedly will work to torpedo the pipeline from Norway to Poland as well as any expansion in the pipeline links between Poland and Ukraine. But progress on these projects underscores a reality both the Russian Federation and the West, for different reasons, need to recognize: in Central Eastern Europe, north-south efforts are at least as important as east-west ones—the result of a tectonic shift in that region since Soviet times.