Baluch Militancy's Newest and Most Lethal Phase in Pakistan
Publication: Terrorism Monitor Volume: 20 Issue: 18
By: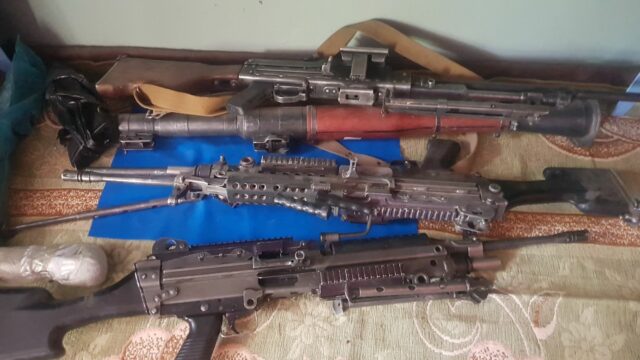 The Baluch separatist insurgency in Pakistan's southwestern Baluchistan province has entered a crucial new phase. Despite Pakistan's intensive crackdown on Baluch rebels launched in August 2006, the insurgency has not waned in more than 15 years (Dawn, August 27, 2006). Instead, since 2018, the insurgency's lethality has only dramatically increased. As a result, more lethal attacks, such as suicide bombings, high-profile targeted attacks, and kidnappings of high-ranked army officials, are now shaping the course of the nearly two-decade-long Baluch separatist insurgency.
New Trends in Baluch Militancy
Although low-level hit-and-run attacks are less practiced and are mostly limited to southern Baluchistan districts, organized violent and lethal attacks are increasingly happening elsewhere inside (as well as outside) Baluchistan province. In 2022, a remarkable shift in the strategy of Baluch militants has been evident. The year started with a large-scale attack in January on a security checkpoint in Baluchistan's Kech region that borders Iran. Pakistani officials stated that ten soldiers were killed (Dawn, January 27).
Less than a week later, on February 2, Baluch separatist militants from the Baluch Liberation Army (BLA) suicide wing (the Majeed Brigade) stormed two security camps in Baluchistan's Nushki and Panjgur districts. According to official reports, they killed at least ten soldiers again (Dawn, February 3). However, the Majeed Brigade claimed it killed as many as 195 Pakistani soldiers (Twitter/@bashirgwakh, February 6).
Most of the time, figures provided by the military and militants are difficult to verify, but the latest string of organized attacks have undoubtedly rocked Baluchistan. Days after the February 2 attack in which 16 suicide attackers were killed, Pakistani government officials claimed that they had found American weaponry in the possession of slain insurgents, which were left behind from the U.S withdrawal from Afghanistan and evidently improved the militants' capabilities. It was reported that BLA militants had more modern weapons than even Pakistan's paramilitary frontier corps (Asia Times, February 23). Pakistan's then interior minister Sheikh Rashid Ahmed acknowledged that Baluch rebels used U.S and NATO-made weapons in the attacks in Baluchistan on February 2 (BBC Urdu, February 5).
Sudden Changes in Tactics
In April, the BLA's first female suicide bomber, who had pursued an academic life, attacked China's Confucius Institute in the southern port city of Karachi, killing four, including three Chinese nationals. This was a dramatic shift in the strategy of Baluch rebels, but hardly the only recent one (Express Tribune, April 27). With time, the BLA may have adopted warfare tactics from Tehreek-E-Taliban Pakistan (TTP, or Pakistani Taliban), if not also other armed groups, such as Peru's Shining Path, which BLA claims to emulate on its Telegram channel. However, the BLA's new leader Bashir Zaib, a former student leader, a mechanical engineer, and the son of a doctor, is adamant that the BLA always had the capacity to carry out such lethal attacks and added that the group's actions were a reaction to a brutal crackdown on Baluch activists and students (Newscom World, February 13). The 40-years old old Zaib succeeded Aslam Baluch, known as Ustad Achu, after he was killed in Kandahar, Afghanistan (Express Tribune, December 26, 2018).
Another new tactic was seen in mid-July when a Pakistani army Lieutenant Colonel was kidnapped by the BLA's Special Tactical Operations Squad while on a pleasure trip in the hill station of Ziarat in Baluchistan. After this, the Pakistan army carried out immediate strikes against the kidnappers. The military could not release its kidnapped officer before he was killed, but claimed to have killed nine insurgents during the operation, despite BLA's denials of the military's claims (Twitter/ @TBPEnglish, July 16).
From BLA's complex operations, one thing is clear: the group operates on two levels. A faction of the group is well trained and utilizes an organized network of informers inside the government to conduct sophisticated attacks, such as the kidnapping in Ziarat. In contrast, a second faction of the group carries out smaller and less sophisticated, but more frequent, attacks, such as IED bombings or targeted shootings and grenade attacks.
Differences Between Then and Now
In contrast to the latest phase of militancy, throughout much of 2021 and into 2022 other Baluch separatist groups, such as Baluchistan Liberation Front (BLF), Baluch Republican Guards (BRG), United Baluch Army, and several little-known groups, had been lying low and rarely carrying out any significant attacks. However, an unprecedented claim in the first week of August shocked Pakistan. A spokesperson for Baluch Raaji Aajoi Sangar (BRAS), an umbrella group of four separatist Baluch groups of which BLA and BLF are part, claimed it shot down a Pakistani military chopper in Baluchistan's Lasbela district as it was en route to Karachi for a relief operation (Twitter/ @Bras_Media03, August 2). The helicopter carried the Corps Commander of Baluchistan, which is the province's senior-most military general, known as commander XII corps.
Officials from Baluchistan dismissed the claims and announced that the separatists had been pushed out of Baluchistan. The officials further claimed guerrillas operated outside of Pakistan in the Iranian part of Sistan-Baluchistan and in southern Afghanistan (Terrorism Monitor, March 25). An advisor to the Baluchistan government told local media that the Baluch separatists were attempting to exaggerate their presence in media because their sanctuaries were eliminated in Baluchistan (Arab News, August 2). It remains difficult to verify BRAS's and the Pakistani government's claims, however, and it is possible the chopper went down due to bad weather.
Conclusion
Amid contradictory statements by officials and insurgents, the new trends in Baluch militant tactics suggest the violence is nowhere near over. The periodic suicide attacks also indicate that the militants believe new methods and tactics will cause maximum damage and create more media coverage and hype for their cause. One can also assume there are bigger plans in store from these Baluch militants, especially in terms of targeting Chinese interests.
The leader of BLF, Dr. Allah Nazar Baluch, in a video released in late July threatened harsher attacks on China and warned of launching assaults in the future on Canadian mining firm Barrick Gold, which has signed a deal to mine in the Chagai district of Baluchistan Province (Nikkei Asia, August 7). With the lack of will or inability by Islamabad to resolve the Baluch conflict via dialogue and with the increasingly lethal attacks by Baluch armed groups, it is evident that Baluch militants are enthusiastic about their new tactics and believe they will exert greater pressure on the Pakistani state. This, in turn, will change the overall discourse and eventually escalate the conflict to a more acute level.