Belarus Celebrates Victory Day Amidst Conflicting Interpretations
Publication: Eurasia Daily Monitor Volume: 16 Issue: 71
By: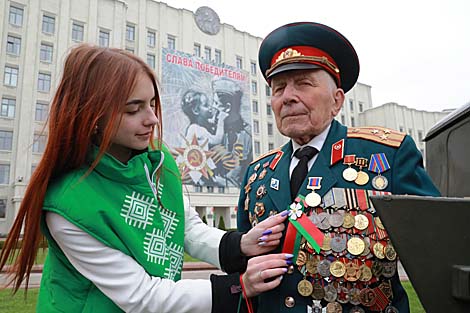 On May 9, Belarus held its annual Victory Day commemoration, marking the Soviet Union's triumph over Nazi Germany in 1945. As part of the ceremonies, Belarusian President Alyaksandr Lukashenka laid a wreath at the Victory Monument, at the eponymous square in Minsk. In his speech, Lukashenka underscored the enormous death toll Belarus suffered during World War II, totaling 2.5 million to 3 million lives lost—that is, about one-third of the entire pre-war population. Out of the 5,454 rural villages destroyed, 618 were burned together with their dwellers as part of punitive actions by occupiers and local collaborators, in retribution for the villagers' support for the partisans. One such village, Khatyn (not to be confused with the site of the 1940 Katyń massacre by the Soviet NKVD against Polish prisoners of war and intelligentsia), became a somber symbol of those atrocities due to a massive, impressive, and well-visited monument erected there. Moreover, there were plenty of Nazi concentration camps in Belarus, including Trostenets, the fourth-largest such camp in Europe. In his speech, Lukashenka singled out a camp that the Nazis set up in 1943 in the village of Krasny Bereg, near the town of Zhlobin (Gomel Oblast). At that specific facility, the Nazis drew blood from children for use by the German army. Ultimately, few of those children survived the war.
As usual, this year's Victory Day events were used to stir up patriotic feelings and also to boost the image of Lukashenka's government as the embodiment of patriotism, constitutional order, and statehood. During his speech, the president declared, "We cannot be shoved and overthrown, as is happening in Venezuela, and as is still going on in Syria, Libya and other states" (Belta, May 9).
It does not seem credible that Belarus's statehood is threatened by any of the forces or powers currently or previously involved in supporting the struggles against Nicolás Maduro, Bashar al-Assad, or Muammar Qaddafi. But it is hard to neglect the fact that politicians and would-be politicians of all stripes routinely take advantage of the Victory Day celebration to promote their versions of historical memory. Thus, in Russia itself, there is a perpetual tug of war between the image of victory as a triumph of the Stalinist regime (with 70 percent of Russians today believing Stalin was a positive leader) and the image of a tearful ritual commemorating millions of fallen soldiers and civilians (Vedomosti, May 8). In Belarus, meanwhile, that tug of war has a somewhat different configuration, as there are four conflicting ideological notions.
The first of them is the official interpretation, with its vision of independent Belarus being the direct successor of Soviet Belarus, not just technically, but also ethically and to some extent ideologically. This perspective also emphasizes Belarus's role in the war. One should not forget that, since 1997, Independence Day has been celebrated on July 3, the day (in 1944) Minsk was liberated by the Soviet Red Army. Much of the general public seems to accept that respective worldview and eagerly participates in the official celebrations. This year, at the Brest Fortress alone, 40,000 people took part in the Victory Day events.
The second mainstay is a close relative of the Russian liberal worldview, according to which the official glorification of victory deliberately obfuscates the memory of the gulags. In Belarus, this worldview also implies that the partisan movement is excessively idealized while the Holocaust is given minimal shrift as well. Svetlana Alexievich, a 2015 Nobel Prize laureate, promotes this view most consistently, as reflected in her recent interview, on May 8, for the Belarusian service of Radio Liberty (BSRL) (Svaboda.org, May 8).
The third notion is embodied in the idea that for Belarus, the key conflict of World War II was between the external powers. And since Belarus did not then have statehood, collaboration with the occupiers should not be castigated. On May 9, BSRL notably reprinted a 2017 debate on this very subject between two historians (Svaboda.org, May 9).
Whereas Alexievich's worldview has generated some following within the ranks of the urban intelligentsia, the justification for wartime collaboration apparently remains deeply unpopular in present-day Belarus. Some, such as the historian Alexander Bely, even believe that giving print space to such arguments discredits BSRL itself (Facebook.com/Bely, May 10). Indeed, it is unlikely that, in Belarus, the idea of a rapprochement between war-time enemies—similar to what Ukrainian President-Elect Volodimir Zelensky has alluded to—has any prospects whatsoever in the foreseeable future. Specifically, on his Facebook page, Zelensky posted a picture of a 101-year-old decorated Soviet Army veteran shaking hands with an old woman who was a liaison for the Ukrainian Insurgent Army (UPA). The UPA was a nationalist paramilitary formation that fought against both Nazi Germany and the Soviet Union but also committed atrocities against Poles and Jews in western Ukraine (Rakurs, May 8). In Belarus, there was no equivalent to the UPA during World War II, and today any Belarusians' collaboration with the Nazis is overwhelmingly condemned.
The fourth ideological mainstay marking Victory Day is the Russia-based movement Immortal Regiment (IR). Annually, on May 9, millions of people in Russia parade with portraits of relatives who fought in World War II. This tradition, recognizing those who took part in the war, has grown every year since it began in 2012, in the Siberian city of Tomsk, both inside and outside Russia. This initially grassroots movement was subsequently co-opted by the Russian government. Also, some participants of IR demonstrations carry portraits of Joseph Stalin alongside or instead of those of their veteran relatives. This distortion of the original idea was recently criticized by one of the movement's founders (Tut.by, May 10). In Belarus, however, the IR represents an initiative of a neighboring country competing with Belarus's native initiative "Belarus Remembers." Like in 2018, Belarusian authorities vacillated this year when approached about offering permission to conduct IR rallies in Minsk and Vitebsk. They were initially not permitted in Vitebsk (Naviny, May 5), but Minsk allowed it (Naviny, May 3). In fact, more than 1,000 people participated in the IR rally in the Belarusian capital, with some individuals indeed holding up portraits of Stalin (Naviny, May 9).
Ideological fights, thus, continue to define modern-day recollections of the past—a phenomenon certainly not unique to Belarus, but one with particular resonance in a country still working on defining its national identity.