Russian Aircraft Industry Looking Inward After Latest Sukhoi Crash
Publication: Eurasia Daily Monitor Volume: 16 Issue: 71
By: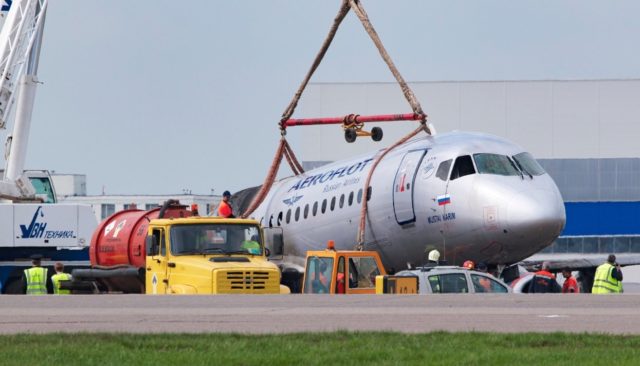 On May 5, an Aeroflot Sukhoi Superjet 100 (SSJ100) crash-landed at Moscow's Sheremetyevo Airport, killing 40 passengers and one crewmember (TASS, May 6). Russian President Vladimir Putin held a moment of silence at the start of the May 8 Federal Council meeting, thus breaking his own three-day silence on the crash. The tragedy is the second deadly incident involving a Russian-produced airliner in the past 16 months (Vedomosti, May 8). While, to date, there has been no confirmation on whether the crash was due to pilot error, technical error, or a combination of the two, the overall situation does not bode well for Russian aircraft manufacturer Sukhoi nor Russia's aircraft industry in general.
Official media coverage of the Aeroflot crash has been conspicuously scant—particularly on television. Russian state-owned news channels were slow to respond to the disaster, with both Rossiya 1 and Perviy Kanal focusing their Sunday evening TV coverage on the situation in Venezuela, while spending a minute or less on the crash (The Bell, May 6). Ostensible ignorance of the Superjet's purported problems and the unwillingness of state officials to allow them to be publicized is not a new story. When state media did comment on the May 5 crash a few days later, pilot error was hastily judged to be the leading cause (Svoboda.org, May 8).
The SSJ100 was already unpopular outside of Russia prior to this month's deadly incident. And even its number one operator, the Russian airline Aeroflot, continues to show more interest in Western aircraft and other models produced domestically, such as the yet-to-be-released Irkut MC-21 (Vedomosti, April 25). The Superjet's poor reputation began with its high-profile inception from an ambitious concept design and continue to this day.
From the start, truth about the production of the plane was difficult to separate from the effusive PR campaign surrounding its development. Aviation columnist Anastasia Dagaeva argues, in a recent piece on Carnegie Moscow's website, that the plane became a "hostage" to its own image early on. The high expectations surrounding the plane's construction forced officials to keep quiet about the alleged faults that eventually surfaced (Carnegie.ru, May 7). The SSJ100 is produced by Sukhoi—one of nine aircraft manufacturers within Russia's state-owned aircraft-production giant, United Aircraft Corporation (OAK). With regard to the SSJ100, OAK had a lot riding on the plane's success—both politically and financially. Thus, the model's certification delays caused deep concern. An executive from OAK told Dagaeva that the Kremlin funded the SSJ100 project specifically for "success, and not for problems." The executive went on to note that funding came with strings attached, and if OAK did not praise the plane, it would receive nothing.
Initially, the SSJ100 project held much promise, especially given that it was the first commercial airliner to come out of post-Soviet Russia, However, it experienced major delays due to issues with engine testing. Italy's flag carrier, Alitalia, showed interest in being an early customer, but it ultimately chose to close a $500 million deal to lease Brazilian Embraer jets rather than put up with years of delays (Moscow Times, December 19, 2010). The loss of this major European airline customer marked the beginning of the plane's public demise. Now-defunct Armenian carrier Armavia was the official launch customer for the Superjet in 2011; but it eventually canceled its order for a second plane and ended up returning the first one, citing maintenance issues And this happened just over a year after the plane's first commercial flight (Moscow Times, July 10, 2012; RT, Aug 6, 2012). Operators have pointed to the Superjet's landing gear and engines as providing the most persistent problems.
The troubled Superjet's engines were designed uniquely for this plane and are produced by a joint venture between French Safran and Russian state-owned ODK-Saturn The aircraft's landing gear is also made by Safran. This exclusivity makes these components extremely expensive and inconvenient to maintain. Experts familiar with the May 2019 investigation say that the landing gear collapsed during the crash, which is what caused the plane to slide, sparking a fuel fire (Meduza, May 7). The May crash was at least the fourth incident to date involving the Superject that was related to landing gear issues (Aviation-safety.net, accessed May 15).
Another negative mark for the plane is that it is difficult to sell in countries subject to sanctions from the United States because it is built with at least 10 percent US parts and requires a waiver from the State Department. A deal to sell the plane to an Iranian carrier is being held up because Sukhoi is waiting for a waiver from Washington (AINonline, September 10, 2018). In mid-2015, the Russian government declared a policy of import substitution as a means to overcome Western sanctions on advanced technologies, passed in response to Russia's aggression against Ukraine. But that Russian policy has proven largely unsuccessful to date (see EDM, September 25, 2015; March 28, 2019). Sukhoi is currently in the process of building a "russified" Superjet made from more Russian-produced parts. Irkut decided last year to buy engines made in Russia instead of importing them from the United States; Sukhoi will likely do the same (see Commentaries, March 23, 2018).
Irkut's move to build a plane with more Russian-produced parts will, from the outset, help strengthen the military industrial complex. ODK-Aviadvigatel, the company making the MC-21's engines, is state-owned and only started building engines for commercial aircraft because of the MC-21. Sukhoi's decision to russify the Superjet may not succeed in improving its reputation internationally. Yet, at the very least, it will help to keep OAK's cash flow domestic, as the Superjet's current engines, avionics and other key parts are imported from the West. The planes are of similar size and would not be surprising for the more Russian-produced MC-21 to take over the SSJ100's market.
Indeed, the Superjet is likely to remain unpopular abroad and it faces an uphill battle at home. The plane's second-largest operator, Yamal Airlines, pulled out of a contract for more SSJ100s the day after the Sheremetyevo crash (Vedomosti, May 6). Aeroflot itself has been canceling or delaying Superjet flights for maintenance, even going so far as to switch out Superjets for Boeing 737s (Svoboda.org, May 8). While the plane's unpopularity was known to industry observers and Russia experts alike, this crash draws international attention to its questionable service record, threatening to further damage Sukhoi's reputation for the foreseeable future.