Russia's Import Substitution Plan Faces Harsh Reality
Publication: Eurasia Daily Monitor Volume: 12 Issue: 173
By: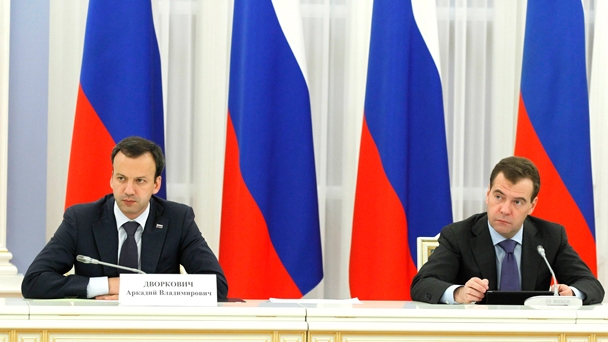 On August 4, Russian Prime Minister Dmitry Medvedev decreed the establishment of a state commission on import substitution. This new entity within Russia's executive branch aims to alleviate the country's dependence on the import of goods and services from abroad and to spearhead growth in local production. Its chairman is Medvedev himself, and he is aided by two of his deputies—Arkady Dvorkovich, who is responsible for civilian projects, and Deputy Dmitry Rogozin, a former envoy to the North Atlantic Treaty Organization (NATO) who currently oversees the defense industry. The commission already held its first meeting in mid-August and will further meet once a quarter in Moscow to follow up on two dozen sectoral plans prepared by the government. Overall, it is expected that import substitution will concern some 2,500 projects worth $37.8 billion across the whole Russian economy (Interfax, TASS, August 26; Government.ru, August 5).
After a few skeptical voices in Russia expressed early doubts about the seriousness of the entire initiative, President Vladimir Putin personally intervened last week (September 18) on national television to set the matter straight. "Let me say it loud and clear that the so-called import substitution is not a sort of fetish for us; it is about critical, dual-use technologies," he noted, urging all government departments to come up with concrete proposals instead of "sitting on their hands." In diplomatic parlance, "dual use" is often associated with the risk of proliferation, when certain key components of civilian projects can be diverted to produce deadly weapons of mass destruction (WMD), be they nuclear, chemical or biological (Gazeta.ru, September 18).
Yet, Putin's definition seems to be significantly broader and indicates the Kremlin's willingness to make Russia self-sufficient across a wide spectrum of civilian and military areas. In May 2015, the Russian president had already instructed the Ministry of Defense to compensate for the prior loss of procurement contracts with Ukraine and several NATO countries. The ongoing construction of the brand-new Vostochny space site in the Far East—started in mid-2012 and due for partial completion by 2016—is another example of Moscow's seeking to ease its reliance on fair-weather allies (Gazeta.ru, September 18; Vesti.ru, Rosbalt.ru, May 12). The decision on the Vostochny space port, however, was made back when Kazakhstan tried to impose new terms on the lease of the Baikonur Cosmodrome (see EDM, January 31, 2013; September 30, 2013; July 7, 2014; June 10, 2015)—that is, long before the start of the Ukraine crisis in 2013–2014, and the ensuing rift in Russian relations with the West.
Despite the strategic relevance of the defense and space sectors for the country's economy and security, agriculture is the area where Russia expects to make an exemplary breakthrough by substituting food imports with domestically grown produce. Last year, Moscow imposed an embargo on certain categories of such imports from those Western countries that had previously adopted political and economic sanctions against Russia over its aggressive actions in Ukraine (Rosbalt.ru, August 7, 2014). At the end of July 2015, Vladimir Putin ordered the at-the-border incineration of all sanctioned food imports, hence considered "contraband." Then, two weeks later, five minor European states were added to the blacklist in retaliation for their joining the European Union's sanctions regime.
Since the start of the crisis, all imports to Russia have fallen significantly: by 39 percent in January–August 2015, year on year, to $104 billion. Regarding the counter-sanctioned food products Russia used to import from the West, it has tried to find alternate sellers in third countries. But even this has not been enough to put a dent in Russia's overall import decline. In the first half of 2015, the import of meats, dairy products, seafood, exotic fruits and other counter-sanctioned goods it was no longer purchasing from the West stood at $6 billion. However, this figure is still 46 percent lower than the import of these goods last year, prior to entry into force of the controversial food ban (Vedomosti, September 21; Rg.ru, August 28).
On the one hand, import substitution is a rational strategy considering Russia's current economic situation—provided that it builds upon the country's relative advantages and unique know-how or evidently contributes to its food, energy and other forms of security. But on the other hand, the government's articulated policy lacks clear direction and comes at one of the worst economic times in Russia's recent history. According to the International Monetary Fund (IMF), the Russian economy could lose close to 9 percent of its GDP over the next few years as a result of the low price of oil and continued Western sanctions. On September 22, Moody's Investors Service predicted a 3.5–4 percent decline in GDP this year, and a 1 percent slide in 2016, with a small glimmer of hope for 2017, if the oil price rebounds (Lenta.ru, August 8; Mail.ru, September 22).
The serious volatility of the ruble, which the central bank stopped supporting last fall to preserve its foreign currency reserves, Russia's high inflation and equally high interest rates, as well as the limited access to credit and the population's shrinking purchasing power—all these presage difficult times ahead. Russia needs massive investments to modernize not only agriculture, which remains underdeveloped since Soviet times, but also its industry. Russia's industrial-sector productivity still lags behind that of its Central and Eastern European neighbors, let alone the highly developed countries of Western Europe and North America. On September 14, the president of the Russian Union of Vegetable Growers, Sergey Korolev, said that the substitution of imported greenhouse vegetables would require $4.5 billion worth of investments. Such imports traditionally cover over 70 percent of Russia's domestic demand during the winter and, thus, will be challenging to replace (Gazeta.ru, September 14; Pravda.ru, April 12).
All the self-congratulatory rhetoric aside, Russia faces tough choices. Due to reduced imports, domestic food prices have moved upward, putting additional strain on consumers' finances (Newsru.com, August 26). Meanwhile, Russian oligarchs vie for ever larger shares of this shrinking market by driving smaller competitors out of business and using political leverage to curry favors, as has already happened with the sales of salmon heretofore dominated by Norway (Gazeta.ru, March 23). Yet, the biggest danger lies in the oil and gas sector: Revenues from oil and gas make up more than 50 percent of Russia's state budget, but Russia is still highly dependent on Western technologies and service firms for exploration and extraction of these energy resources (Energypost.eu, March 25). If Moscow fails to maintain sufficiently high production volumes—even as the price of oil remains at the lowest level since the 2008–2009 financial crisis—there could emerge a truly existential challenge to Vladimir Putin's iron-fisted regime.