Azerbaijan and NATO Mark 25 Years of Partnership
Publication: Eurasia Daily Monitor Volume: 16 Issue: 71
By: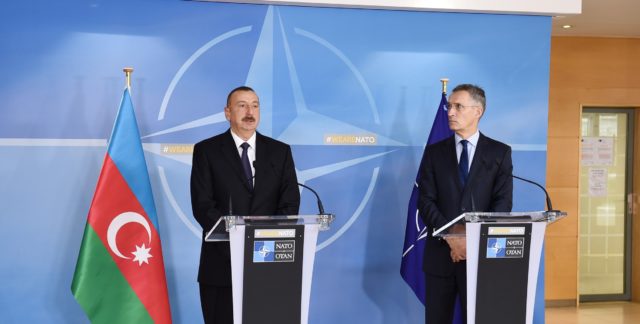 On May 4, the Azerbaijani Ministry of Foreign Affairs issued a press release to mark the 25th anniversary of the country's partnership with the North Atlantic Treaty Organization (NATO), calling it "one of the important directions" of the Azerbaijan's "foreign and security policy" (Mfa.gov.az, May 4). Additionally, the Ministry of Defense named the Partnership for Peace (PfP) program "one of the most successful engagements" between Azerbaijan and the North Atlantic Alliance (Mod.gov.az, May 3). In turn, top NATO officials commended Azerbaijan for being a "close, trusted and valued partner" in the Alliance's missions in Afghanistan (Mod.gov.az, May 3; Nato.int, April 4, 23). Moreover, the United States ambassador to Baku, Lee Litzenberger, noted that Washington looks forward to finding "new ways" for the two countries to continue to cooperate within NATO to promote global "peace and stability" (Az.usembassy.gov, April 5).
During the past 25 years, following independence from the Soviet Union, Azerbaijan's partnership with NATO and participation in the Alliance's various capacity-building programs helped to foster the structural transformation of the Azerbaijani Armed Forces (Mod.gov.az, accessed on May 11). NATO's principal position of supporting Azerbaijan's territorial integrity and sovereignty, as reflected in every one of the Alliance's summit declarations during this period, has constituted a foundational principle for their relations (Nato.int, accessed May 13).
Azerbaijani service members have served in NATO-led peacekeeping missions in Kosovo (KFOR) and Afghanistan (ISAF), and they now actively contribute to the "Resolute Support Mission" (RSM) by, inter alia, providing security at Kabul International Airport as well as checking passengers and cargo (Mod.gov.az, June 26, 2018; Armiya.az, January 30, 2018). Since last year, Azerbaijan passed necessary legislation allowing it to increase the country's force contingent in Afghanistan from 94 to 120 personnel (Trend, January 9, 2018; Report.az, December 22, 2017).
At the same time, Azerbaijan's importance to NATO is augmented by the fact of its geostrategic location between Europe and Asia. Namely, Azerbaijan provides for trans-regional connectivity by allowing over-flight, ground (Baku–Tbilisi–Kars railway) and maritime routes (Alat Port) across the country for transporting cargo and coalition forces to/from Afghanistan for peacekeeping operations. (President.az, November 23, 2017; December 1, 2017). This does not imply granting NATO any part of the country's territory as some form of a dedicated corridor. Baku merely provides the RSM's members with transit opportunities on a bilaterally agreed-upon basis (Mfa.gov.az, April 8). Indeed, US Deputy Assistant Secretary of Defense Laura Cooper, during her last visit to Baku (in December 2018), emphasized that none of the successes achieved to date in Afghanistan would have been possible without Azerbaijan's support (Mod.gov.az, December 4, 2018). In order to better facilitate military logistics operations across the region going forward, Azerbaijan plans to ultimately adhere to the NATO Codification System (Mod.gov.az, March 11; Nato.int, accessed May 8).
Since 2002, Azerbaijani officers have served at various NATO command structures under the Partnership Staff Post program, which enables Baku to better apply their accrued experience toward developing the Armed Forces' defense capabilities. Similarly, Azerbaijan's Armed Forces War College benefits from having adopted NATO education standards under the Defense Education Enhancement Program and is now better equipped to prepare young officers for today's complex military-strategic environment (Mod.gov.az, May 3). Additionally, within the Operational Capability Concept and Individual Partnership Action Plan, NATO instructors train Azerbaijan's infantry, marine and air forces on running psychological/information, maritime and air/helicopter operations during a crisis (Mod.gov.az, March 6; accessed May 11; Ac.nato.int, March 7). Finally, NATO's PfP Trust Fund supports mine clearance operations in the country (Azertag.az, September 20, 2018).
Thanks to the fact that Azerbaijan has been applying NATO experience to its own military-building process, Baku has been able to deepen military dialogue with several of the Alliance's members to purchase relevant military hardware built to NATO standards. Azerbaijan has already received some Czech-produced artillery assets, Italian trainer jets, and US-branded helicopters (see EDM, January 21, 2019). And the country's Air Force joint command posts received donated equipment from Turkey, the US, France, the United Kingdom and Norway (Mod.gov.az, April 25).
Azerbaijan's special bilateral relations with Turkey and Georgia have significantly enhanced its interaction with the North Atlantic Alliance. For instance, Azerbaijan routinely participates in multinational battle exercises and mountain trainings in Georgia, together with NATO members (Agenda.ge, February 4, 2019; Mod.gov.ge, August 1, 10, 2018). Georgian Defense Minister Levan Izoria hailed Azerbaijan's participation in the most recent NATO-Georgia exercises as a "clear confirmation" of joint efforts "to strengthen security and stability in the region" (Interfax, March 28, 2019). Azerbaijan's trilateral exercises with Turkey and Georgia, which take place at the NATO-Georgia Training Center (near Tbilisi), provide added value by focusing on protection of critical infrastructure (Mod.gov.ge, September 25, 2017). Furthermore, Azerbaijani officers train together with Turkish military personnel in conducting joint anti-terrorist, sniper and airborne operations in harsh climates and terrains (Mod.gov.az, January 22, February 12, 18, May 1, 2019; see EDM, October 26, 2017).
Finally, and just as importantly, Baku has hosted several meetings between officials from NATO and Russia, as well as the military chiefs from the US and Russia, to contribute to reducing international tensions. The choice of Azerbaijan as a "strategic dialogue platform" was a manifestation of the country's conscious non-bloc status and pragmatic foreign policy that seeks to present Baku as a "diplomatic capital of the region" (Azertag.az, December 13, 2018; see EDM, May 8, 2018). As such, the chairperson of NATO's Military Committee, Petr Pavel, stressed two years ago, while in Baku, that "Azerbaijan is a reliable partner on whom we can count in our activities" (Nato.int, September 7, 2017). In turn, Azerbaijani President Ilham Aliyev described that Western sentiment "as a sign of respect for and trust" in Azerbaijan's role and policy (President.az, December 11, 2018).
Although Azerbaijan's foreign policy was hitherto portrayed as "balanced," President Aliyev recently declared that Azerbaijan does not seek "a balance" per se, but "simply [to] protect" its national interests and "reduce possible risks" through its foreign policy, which "is built on [and] dictated by national interests" (President.az, February 12). Azerbaijan's economic and military potential grants it a certain level of immunity in terms of pursuing an independent foreign policy. And as a member of the Non-Aligned Movement (envisaging non-membership in any military pacts), Azerbaijan carefully delineates its partnerships with different alliances and regional powers, while simultaneously benefiting from them through, for instance, capabilities transfers (see EDM, December 14, 2018). Clearly, Baku approaches its important partnership with NATO in the same vein.