The Broader Security Context of Azerbaijani-Belarusian Ties
Publication: Eurasia Daily Monitor Volume: 15 Issue: 177
By: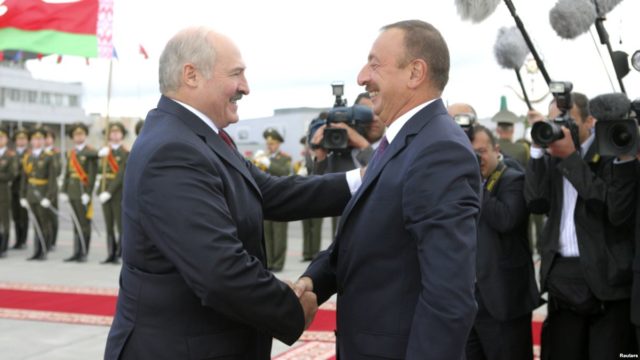 Azerbaijani President Ilham Aliyev traveled to Belarus on November 19 (see EDM, December 6). During his visit, both governments signed a number of key agreements, including regarding the supply of Belarusian air-defense weapons to Azerbaijan. President Aliyev praised the level of "military-technical cooperation" with Belarus, asserting its long history; and he suggested that "another consignment of military equipment" from Minsk could follow. Belarusian President Alyaksandr Lukashenka, in turn, named Azerbaijan "a reliable strategic partner" (President.az 1 and 2, President.gov.by, Belta.by, November 19).
The most important document to come out of the Aliyev-Lukashenka meeting was their joint declaration reflecting Belarus's support for a resolution of the Karabakh conflict in accordance with the United Nations Security Council's relevant resolutions (that is, urging Armenian forces to withdraw from Azerbaijan's occupied territories) as well as in tune with international principles of territorial integrity and the inviolability of Azerbaijan's borders (1new.az, November 20). Minsk notably demonstrated a similar stance in response to the April 2016 violent escalation between Azerbaijani and Armenian forces along the Line of Contact in Karabakh—the so-called "Four Day War" (Azertag.az, April 3, 2016).
Shortly after Aliyev's trip, Belarusian media reported the list of heavy offensive and defensive weapons that Azerbaijan has hitherto purchased from Belarus (42.tut.by, November 23, 2018; see EDM, December 12, 2017). The latest signed bilateral agreements, thus, will expand on this inventory. This past summer, Azerbaijan received initial tranches of Belarus's advanced Polonez multiple-launch rocket systems (MLRS), which Baku procured to offset Yerevan's long-range offensive capability acquired thanks to the Iskander theater ballistic missile system that Armenia earlier bought on credit from Russia (see EDM, June 19, 2018). Azerbaijan's military ties with Belarus is a win-win situation for both, which Armenia sees as a zero-sum loss for itself (Trend, November 17).
A week prior to hosting the Azerbaijani leader, President Lukashenka met with Azerbaijan's ambassador to Minsk. The two men spoke about the political situation within the Russia-led Collective Security Treaty Organization (CSTO), and Lukashenka assured Baku's envoy that "Belarus has no closed topics" with Azerbaijan (President.gov.by, November 12). Both Belarus and Armenia are members of the CSTO, but Azerbaijan remains outside the alliance. Two days later (November 14), the Belarusian ambassador to Baku was received by President Aliyev, who spoke to the diplomat in favorable terms about the high quality of Belarusian weapons purchased by Azerbaijan and the continuation of this trend. Aliyev added that his government was closely observing the latest CSTO summit, at which the members were debating the choice of the next secretary general. "[W]e are not indifferent" about "which country's representative heads the CSTO," Aliyev declared, since Armenia (which has heretofore held the rotating CSTO secretary general post) is a country that continues to occupy Azerbaijani territory. Azerbaijan's head of state alleged that the CSTO's internal problems were "created by Armenia" (President.az, November 14).
Hikmet Hajiyev, the head of the Foreign Policy Department within the Azerbaijani Presidential Administration, asserted earlier this month that his country, which is not a CSTO member state, does not intend to interfere in the organization's internal process. Yet, he added, "Armenia is trying to hide behind the CSTO to pursue its policy of occupation against Azerbaijan" (Azertag.az, December 7). Specifically, the CSTO's (now former) administrative head, Armenia's Yuri Khachaturov, recently made a statement about "a ceasefire violation" along the Armenian-Azerbaijani state border, which Azerbaijan's foreign ministry called "biased [and] contradictory" to other CSTO members' positions.
Though Yerevan has tried in the past to draw the Moscow-led alliance into militarily backing Armenia in a possible war (beyond Armenian borders) with Azerbaijan, such attempts have repeatedly failed due to Baku's positive relations with Moscow, Minsk and Astana (see EDM, October 1). Indeed, Belarus and Kazakhstan do not want to share in the "responsibility" of encouraging Armenia's continued military occupation of Azerbaijan's territories. And as Azerbaijani media has pointed out, the CSTO's legal framework neither authorizes any of its members from violating international laws nor does it require other members to support their allies' illegal acts (1news.az, December 8).
In trying to push its CSTO allies on the Karabakh conflict, and within the scope of recent internal debates over the organization's secretary general position, Armenia overplayed its hand. The next administrative leader of the Eurasian alliance will presumably be from Belarus (Frontnews.eu, December 6). This will undermine Yerevan's so-called balancing manoeuvres in its foreign policy. The CSTO heretofore served Armenia mainly as a mechanism for receiving discounted weapons from Russia. The other CSTO members did not benefit in any major way from a formal alliance with Armenia; whereas, their relations with Azerbaijan translated into lucrative bilateral arms deals (Eurasianet.org, November 9, 21). While Russia retained situational neutrality in this process, Belarus and Kazakhstan rejected Armenia's maximalist claims within the CSTO because Yerevan's conduct was shaking the internal dynamics of their alliance (Ekhokavkaza.com, November 9).
According to reports, the next CSTO secretary general will likely be Stanislav Zas, the current secretary of Belarus's Security Council, who graduated from the Baku Higher Military Command School (Kommersant.ru, November 4). Therefore, Zas (if appointed) is likely to more clearly delineate the CSTO's role in regional conflicts, which will challenge Yerevan's belief in the alliance's possible "pro-Armenian" security assurances (see EDM, June 19).
In the run-up to Armenia's parliamentary elections (held on December 9), then-acting prime minister Nikol Pashinyan ramped up his foreign policy rhetoric (Kommersant, November 11). Domestically, this seemed to help him (or at least did not hurt), considering that his party won over 70 percent of the vote (see EDM, December 10). Yet, the consequences beyond Armenia's borders remain to be seen. As Russian media noted, Pashinyan's domestic addresses always tend to be brash and antagonistic, even as he behaves "quieter than water below the grass" abroad (Moskovsky Komsomolets, December 6).
In sum, the deepening of Azerbaijani-Belarusian relations is backed by two main factors: open communication on a number of issues of shared interests and long-term priorities, as well as predictability in mutual attitudes. The core of their bilateral relationship is not composed solely of political proximity or security aspects but also economic relations, which are significantly more extensive than Armenia's (Azerbaijan-news.az, December 4). Baku, even without being a CSTO member, has independently cultivated its bonds with many of the alliance's key members by building reciprocal trust. Despite its aloofness from military pacts and membership in the Non-Aligned Movement, Azerbaijan is capable of fostering pragmatic relations with the members of various military alliances regardless of their internal political situation. However, Baku will continue to oppose Yerevan's efforts to solicit military support or de facto political backing from the CSTO for its illegal occupation of Azerbaijani territories.