State of Play Ahead of Moldova's Parliamentary Elections
Publication: Eurasia Daily Monitor Volume: 15 Issue: 177
By: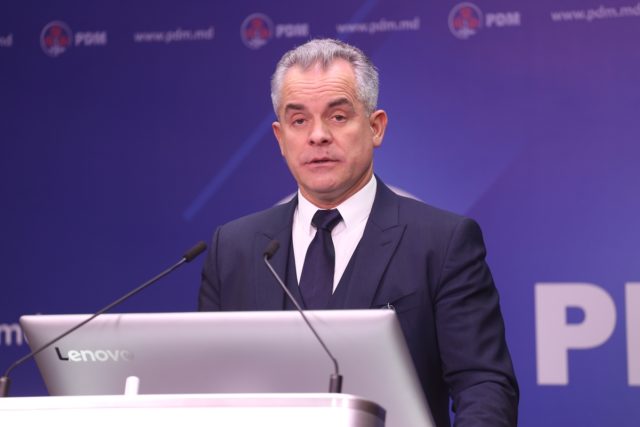 On February 24, 2019, Moldova will elect a new parliament based on a mixed electoral system adopted in July 2017 by the incumbent Democratic Party, led by oligarch Vladimir Plahotniuc, and the nominally opposition Party of Socialists, controlled by President Igor Dodon. The new system was opposed by all the other major political parties because, in light of the country's heterogeneous party system, gerrymandering and the first-past-the-post provisions are likely to produce a rather unrepresentative outcome. The system also raised concerns among international partners that wealthy individuals will have disproportionate undue influence on races in single-member districts (see EDM, July 25, 2017). Last year's electoral reform law cemented Moldova's democratic backsliding trajectory since Plahotniuc gained control of the majority in the national legislature in January 2016, despite having won only 19 percent of seats in the 2014 parliamentary election.
Democratic regress became further manifest with the canceling of the results of the June 2018 Chisinau mayoral election, won by the pro-European opposition (see EDM, June 27). As a result, the European Union recognized "Moldova as being a state captured by oligarchic interests" and suspended macro-financial assistance to the Moldovan government, only providing aid directly to beneficiaries: non-governmental organizations (NGO), local public authorities, and small- and medium-sized enterprises (Europarl.europa.eu, November 14; Agora.md, November 27). This left Plahotniuc and Dodon searching for alternative funding, with Russia, China and Turkey being potential but unlikely contenders—given Moscow's financial constraints, Beijing's reduced interest, or both in the case of Ankara. Consequently, Moldova's government has had to be more creative. In particular, it has implemented new citizenship-for-cash and capital amnesty laws, providing an avenue for legalizing illicit assets from both within and outside the country, while monetizing the visa-free regime with the European Union, angering Brussels (Balkan Insight, June 1; RFE/RL, November 15).
Against this background, Plahotniuc wanted to hold a referendum on the same day as the parliamentary election that would ask voters whether to add wording to the constitution about Moldova's decisive drive toward EU integration. However, Brussels balked at the idea, fearing that the referendum's association with a highly unpopular government would damage pro-EU sentiment in Moldova. Consequently, the referendum plan was eventually dropped. Yet, the authorities still needed some way to distract attention from the Democratic Party's poor record and from Plahotniuc's own negative image. So a new consultative referendum proposal was rushed through the legislature, during its final days in session, and then promptly signed by President Dodon. As a result, the February 24 ballot will include a referendum on reducing the number of seats in parliament from 101 to 61 as well as the possibility of recalling legislators. These last-minute changes to electoral rules, combined with vast welfare spending—almost exclusively in districts where the incumbent Democratic Party candidates remain competitive—have further entrenched the ruling regime's undue administrative and financial advantages (Watchdog.md, November 26; Pdm.md, November 27; Zdg.md, December 3; Tv8.md, December 5). Meanwhile, President Dodon and his party will likely receive a boost in the polls if the Democratic Party follows through with its threat to suspend the president yet again, this time for failure to sign the law earmarking the plot of the old Soviet Stadium in the center of Chisinau for a new United States Embassy compound (TV8.md, December 5).
In fact, the latest polls indicate that 32 percent of respondents would vote for the pro-Russian Party of Socialists (PSRM) while 12 percent would support the Democratic Party (PDM). Meanwhile, the two pro-European opposition parties, Action and Solidarity (PAS) and Dignity and Truth (PDA), could each expect 12 percent of the vote (Iri.org, November 15). Perhaps an even more telling insight is offered by another recent poll: 53 percent of Moldovans are against the independence of Moldova's Orthodox Church from the Russian Patriarchy, while only 22 percent are in favor (Ipp.md, December 4). Given the prevalence of Russian media in Moldova, this is not surprising. However, the fact that Moldova's ministries of interior and defense chose to sign partnership agreements with Moldova's Orthodox Church, whose leader, Metropolitan Vladimir, has just been decorated by Vladimir Putin with the Order of Friendship (Tass.ru, October 26), is rather peculiar—especially in the aftermath of the Ukrainian Orthodox Church's separation from Moscow and the subsequent cancelation of Patriarch Kirill's visit to Moldova (Adevarul.ro, October 25; TV8.md, December 3). The government's move to embrace the Moscow-linked Moldovan Church was likely driven by populist electoral considerations, but could not be more dissonant from developments in Ukraine.
Still, Plahotniuc's hard-nosed political tactics are well known. The Democratic Party has been orchestrating a smear attack on its main rivals: Action and Solidarity Party and Dignity and Truth Platform Party, even going as far as accusing the two opposition leaders Maia Sandu and Andrei Nastase of high treason, so far stopping short of banning them from running in the upcoming election (Prime.md, November 16). Needless to say, the February 24 elections will widely be seen as a final litmus test on the health of Moldovan democracy. If a modicum of free and fair elections is ensured, voters will have a chance to decide between a return to democracy and cementing the hybrid regime, the latter of which could regress further into outright authoritarianism.
Thus far, there is little to suggest that next year's elections will be either free or fair. Given the growing asymmetry of power and resources between the incumbent party and its allies compared to the opposition, domestic pressure is unlikely to be enough to ensure a democratic and representative outcome. Post-electoral political turmoil is thus quite possible. Moldova's international partners, including the European Union and the United States, are faced with having to choose between a pretense of stability and a promise of democracy. With geopolitical realpolitik at the forefront and values-based foreign policy in retreat, the choice increasingly looks predetermined. But it is still too soon to write Moldova off as lost to a "gray zone" on Europe's periphery.