Azerbaijan Deepens and Expands Its Partnerships With International Arms Suppliers
Publication: Eurasia Daily Monitor Volume: 16 Issue: 5
By: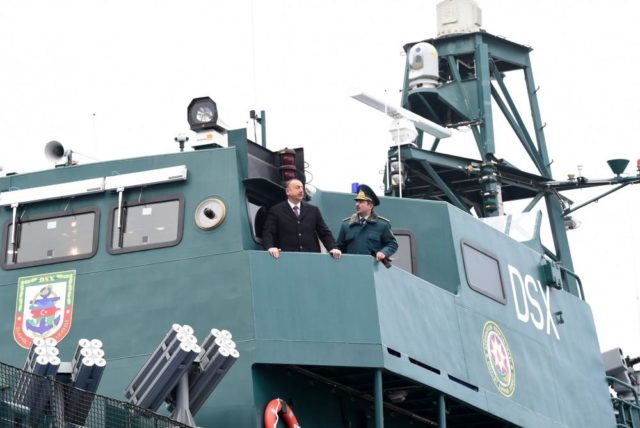 On January 10, Azerbaijan displayed its new Tufan ("Storm")–class patrol ship for the country's State Border Service. The vessel features Israeli-made navigational, monitoring and radio-telecommunication devices as well as advanced missile complexes (President.az, January 10). The Border Guard also received new SkyStriker autonomous loitering munitions drones (produced by the Israeli company Elbit Systems), which are capable of long-range tactical kamikaze strikes. Its manufacturer describes the SkyStriker system as "a silent, invisible, and surprise attacker" that provides a critical advantage on the battlefield (The Jerusalem Post, January 11, 2019). Notably, SkyStriker drones, along with other Israeli-made/licensed weapons, were instrumental in Azerbaijan achieving important tactical-operational victories against Armenian forces along the Line of Contact in Karabakh, during deadly clashes in April 2016—known as the "Four-Day War" (see EDM, May 11, 2016; September 25, 2017).
This new batch of attack drones comes several months after Azerbaijan's chief of the General Staff, Najmeddin Sadikov, visited Israel last October to discuss further military-technical cooperation and to become more acquainted with Israeli military products (Mod.gov.az, October 24, 25 2018). Moreover, Israeli arms-producer Rafael equipped Azerbaijan's combat helicopters with modernized Spike rockets, which will enable these units to strike ground targets at distances of 10–50 kilometers, without having to enter the battlefield and risk being targeted by Armenian air-defense systems (see EDM, October 10, 2018). 
Although Azerbaijan is also heavily investing in its own domestic military industry (see EDM, May 21, 2018), the latest purchases from Israel highlight the extent to which Baku has been boosting its arms procurements from the country's traditional defense partners. In late December, Azerbaijani military portals published a list of recently acquired advanced weaponry from these suppliers, including Israeli LORA ballistic missiles, Spear-Mk.2 mortars, Spike-ER anti-tank rockets, Hermes-900 surveillance drones, and Smart-Suite artillery communication kits; Belarusian Polonez tactical missile complexes and Groza-S electronic warfare systems; Pakistani Super Mushshak planes; Turkish Muhafiz combat modules and İHTAR anti-drone systems; South African NTW-20 anti-materiel sniper rifles; as well as Russian BTR-82A modernized combat vehicles (Azeridefence.com, December 31, 2018; Armiya.az, December 28, 2018). Azerbaijan's President Ilham Aliyev recently claimed that Armenia "has no protection" against the long-range Polonez and LORA missiles, which "can destroy any military target" with high precision at 300 km (Azertag.az, January 11, 2019). With these weapons acquisitions, Azerbaijan has arguably advanced both its defensive posture and offensive capabilities to a qualitatively higher level (see EDM, June 19, 2018).
Moreover, within the past year, Azerbaijan signed an agreement with Belarus for the purchase of air-defense weapons and with Turkey's ASELSAN on the joint production of communications equipment. ASELSAN's technology will be incorporated into the Azerbaijani Armed Forces' recently inaugurated Satellite Communications Control Center (Mdi.gov.az, January 14; Mod.gov.az, November 2, 2018; see EDM, December 14, 2018).
Yet, Azerbaijan has also been pointedly diversifying its arms inventory with cutting-edge weapons and equipment from new suppliers. In 2017, Baku unveiled newly obtained Czech-produced DANA self-propelled howitzers and RM-70 multiple rocket launchers. In June 2018, Germany's arms manufacturer Rheinmetall signed a letter of intent with Azerbaijan for military cooperation (Caucasuswatch.de, December 6, 2018). Moreover, Azerbaijan cooperates with Italy's Leonardo to acquire civilian helicopters (which can be used in wartime for humanitarian purposes). And news reports from late last year claimed Azerbaijan may buy France's ASTER-30-SAMP/T (medium/long-range) and Vertical Launch-MICA (short-range) air-defense missile systems, which can operate in electromagnetically difficult environments. Additionally, Azerbaijan may be considering buying French L'Adroit OPV 90 patrol vessels, which can be outfitted with anti-ship missile[-defense] systems (see EDM, October 10, 2018; December 11, 2018).
In December, the United States' Deputy Assistant Secretary of Defense Laura Cooper visited Baku, where she met with Azerbaijan's Defense Minister Zakir Hasanov to discuss prospects for expanding bilateral military-technical cooperation (Mod.gov.az, December 4, 2018). US-Azerbaijani cooperation in this sector has long lagged because of Section 907 to the United States Freedom Support Act (adopted by the US Congress in 1992; waived in 2002) blocking Washington's direct assistance to Baku (Govinfo.gov, February 8, 2002). But the present military dialogue was reinvigorated following US National Security Advisor John Bolton's Caucasus visit last autumn, during which he specifically did not exclude the possibilities of US weapons sales to Armenia or Azerbaijan (Kommersant, October 26, 2018). In 2018, Azerbaijan already showcased newly purchased US-made Bell-412 and MD-530F helicopters (Mod.gov.az, June 26, 2018; October 18, 2018). The appointment of Earle Litzenberger—who previously advised the State Department on military-political affairs—as ambassador to Baku is likely to further reinforce these trends (State.gov, September 2018). Armenian Prime Minister Nikol Pashinyan, meanwhile, noted in December 2018 that there is no "opportunity right now" for Armenia to purchase US weapons. Therefore, Yerevan probably will continue to rely on further procurements from Russia (Vpk.name, December 3, 19, 2018).
Armenia is presently in talks with Russia to acquire Su-30SM fighter jets. But Azerbaijan may receive Pakistan's JF-17 Thunder combat aircraft, jointly developed with China and equipped with Chinese-made active electronically scanned array (AESA) radars. The system's sophisticated radio-wave emission and redirection capability is designed to allow the aircraft to remain invisible to air-defense radars during aerial-assault operations (Armiya.az, April 21, 2018, December 5, 2018; Azvision.az, April 27, 2018). In April, Defense Minister Hasanov visited China's CETC International Company (which manufactures high-tech army gear, communications devices, and special military-electronic equipment) and the Poly Technologies Company (specializing in production of advanced missiles, communication, aircraft and aerospace equipment) (Mod.gov.az, April 28, 29, 2018). China's anti-tank complexes and electronic-warfare systems might be a good option for equipping Azerbaijan's military (Istiglal.com, April 28, 2018).
Informed by its experience in the 2016 Four-Day War, Baku has been prioritizing the Armed Forces' constant readiness for possible counter-operations. In 2018, Azerbaijan conducted large-scale military exercises to test control over troop readiness for a real war situation and drilled its personnel with the latest acquired weaponry (Mod.gov.az, November 7, 2018; January 5, 2019). Additionally, Azerbaijan's military budget has been increased from $1.6 billion, in 2018, to $1.8 billion for 2019 (Static.president.az, November 30, 2018; Maliyye.gov.az, December 1, 2017). Although Azerbaijan remains committed to the peaceful resolution of the Karabakh conflict, Baku is not disregarding its perceived need to strengthen the country's military power: as President Aliyev declared earlier this month, "strong military potential is a key factor for the resolution of the conflict" (President.az, January 1). To this end, Azerbaijan can be expected to continue to diversify its armament options while pursuing its strategic interests within a multi-vector format with partners from the North Atlantic Treaty Organization (NATO), the Commonwealth of Independent States (CIS) and Asia.