French Air-Defense Missile Systems Instead of Russian Coastal Missiles for Azerbaijan
Publication: Eurasia Daily Monitor Volume: 15 Issue: 174
By: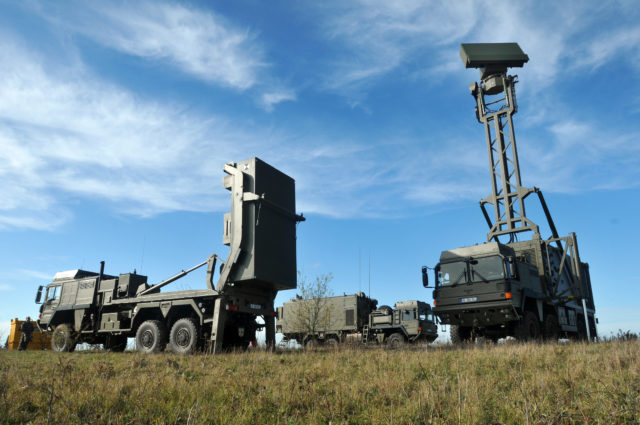 The Azerbaijani military portal Azerideffence.com recently published information about Baku acquiring French ASTER 30-SAMP/T and VL MICA air-defense missile systems. A representative of the company producing these missile systems—MBDA—confirmed the information (Azeridefense.com, December 1). Several days later, the Russian newspaper Kommersant informed that Moscow had refused to sell Baku the Bal-E coastal missile system despite Azerbaijan's huge interest in purchasing it (Kommersant, December 5).
Although Russia is the main source of arms imports for Azerbaijan, Baku has also been increasingly procuring weapons from other countries. After Yerevan significantly boosted its stand-off offensive capabilities by obtaining at least one battalion of advanced Russian Iskander (SS-26 Stone) short-range, mobile ballistic missile systems in 2016, Azerbaijan pursued collaboration with Israel, Belarus, Turkey, Ukraine and other arms importers (see EDM, March 28, June 14, 19, December 6; Tut.by, November 23; Haqqin.az, June 25). In addition to importing advanced multiple-launch rocket systems (MLRS) and surface-to-surface missiles from abroad, Baku is also interested in advanced air-defense systems (Israeldefense.co.il, June 16; Iai.co.il, Paralel.az, June 26). Most importantly, a top concern for Baku is the security of its strategic infrastructure, which is currently threatened by Armenian ballistic missiles (see EDM, October 5, 2016; September 25, 2017; October 11, 2017). As Armenia seeks to strengthen both its offensive and defensive air capabilities (Regnum, June 17; Armeniasputnik.am, May 20; Topwar.ru, November 16), Azerbaijan is similarly interested in boosting its own countermeasures. As such, bilateral military cooperation was among the subjects discussed during Azerbaijani President Ilham Aliyev's last visit to Paris, France, in July 2018 (Contact.az, July 21). And that same month, media reports announced that the French authorities had lifted a ban that had prevented arms companies in France from being able to sell their products to Azerbaijan (Musavat.com, July 10).
According to MBDA Systems, negotiations on Baku procuring French air-defense systems started in 2014, and these talks are set to successfully conclude in the near future. Reportedly, the Azerbaijani side has already been acquainted with the tactical and technical potential of these weapons, although the purchase price was not reported (Azeridefense.com, December 1; Contact.az, December 3).
One of the armaments in question, the Vertical Launch MICA (VL MICA), is a short-range, ground-based air-defense system deploying the MICA fire-and-forget missile, capable of being fitted with either a heat-seeking warhead (VL MICA IR) or with an active radar (VL MICA RF). This unique capability ensures an outstanding kill probability, even in severely contested electromagnetic spectrum environments. The VL MICA naval air-defense system provides an unmatched self and local area defense capability. It is currently deployed by navies around the world as the sole or main air-defense system on board a wide range of surface vessels. The VL MICA system deploys the unique MICA missile, the only such self-propelled munition in the world equipped with two interoperable, state-of-the-art seekers (imaging IR or active RF). Its features are designed to counter all types of incoming threats (anti-ship missiles, aircraft, helicopters, precision-guided missiles or smart bombs) (Mbda-systems.com, accessed December 10). The other missile system Baku is buying, the ASTER 30 SAMP/T, is designed to meet medium- and long-range air-defense needs (force projection, protection of high-value areas, and area protection). It can operate in stand-alone mode or can be integrated in a coordinated network (Mbda-systems.com). By acquiring these missile systems, Azerbaijan will simultaneously strengthen its naval and land-based air-defense capabilities.
A few days after the announcement that Baku would be procuring French missile systems, reports surfaced that Russia was refusing to sell Azerbaijan the Bal-E coastal missile system. Citing unnamed officials and experts, Kommersant noted that the negotiation between Moscow and Baku had been ongoing since 2014 and that the agreement had even already been initialed by the parties (Kommersant, December 5). However, according to Kommersant, Russia's Ministry of Defense pulled the plug on the deal, alleging that "the delivery [of Bal-Es to Azerbaijan] would undermine the safety of navigation for ships of the [Russian] Caspian fleet." The Russian defense ministry's attitude thus suggests Moscow does not entirely trust Azerbaijan, or likely any of the other Caspian littoral states with which it recently signed the Caspian Sea Convention. Another reason for blocking the sale, Kommersant reports, involves "a very delicate geopolitical nuance": concerns in Moscow that Azerbaijan might try to use the Bal-E system against Armenia in the Karabakh conflict. Given the homing and Earth-based-targeting capabilities of the missiles (Typhoon-jsc.ru, accessed December 10), "we do not want these weapons to be used in the Nagorno-Karabakh conflict," one Russian military official told the paper (Kommersant, December 5). In reply, Azerbaijani defense expert and former military official Colonel Shair Ramaldanov asserted that Azerbaijan had never asked Russia to sell it Bal-E systems (Minval.az, December 5).
It should be noted that the news surrounding Azerbaijan's arms deal with France and the reported scuttling of a weapons sale by Russia occurred at the same time as United States Deputy Assistant Secretary of Defense Laura Cooper was visiting Baku. During the meeting between Cooper and Azerbaijani Defense Minister Zakir Hasanov, the latter stated that "both countries are interested in expanding cooperation in the military, military-technical and military-educational spheres." The minister of defense noted that the two sides decided to increase the number of Azerbaijani servicemen who will study at advanced military academies in the US. Moreover, the US and Azerbaijani defense officials discussed the prospects of bilateral military relations. Deputy Assistant Secretary Cooper, in particular, raised the prospect of cooperation in the field of security and defense, as well as military education and medical training (Mod.gov.az, December 4).
Russia is certain to balk at the prospects for such cooperation between Azerbaijan and the US. Moreover, Moscow may consider Baku's acquisition of advanced weaponry directly from a North Atlantic Treaty Organization (NATO) member state as a threat to Russia's own military industry and security policy interests in the region. As noted by Russian defense expert Vadim Koziulin, by purchasing air-defense systems from France, Azerbaijan is handing "a piece of its sky to the French military." He added, "Partnership in this area goes beyond the usual deal, and, in some ways, this is a political partnership" (Haqqin.az, December 3).