Belarus' Oil Sector: A Target of Opportunity for Moscow
Publication: Eurasia Daily Monitor Volume: 7 Issue: 5
By: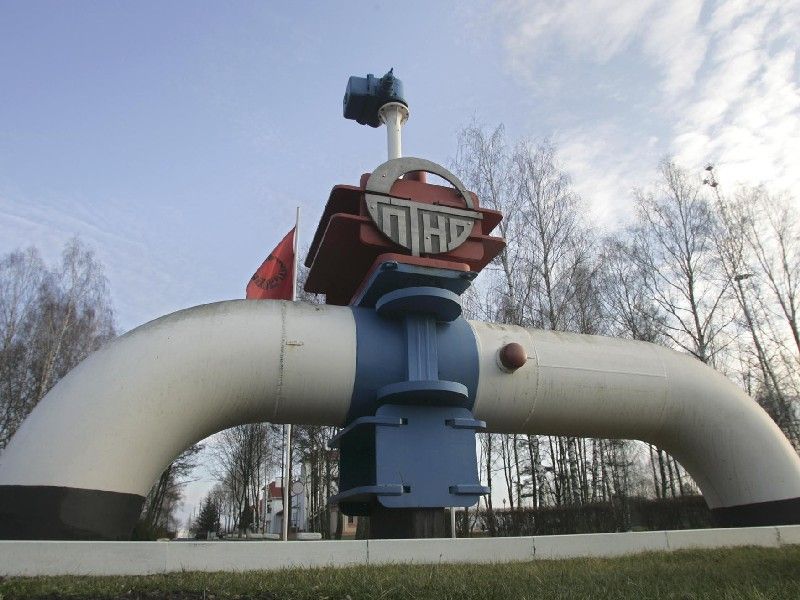 Russia's threat to abolish its oil subsidies to Belarus aim not only to punish Minsk for its recent rapprochement with the European Union, but also to put the oil processing and oil transit in Belarus under the control of Russian companies (EDM, January 5).
The role of Belarus with regard to oil transit for Europe is somewhat similar to Ukraine's role for gas transit. Each country provides transit service for the bulk of Russian oil and gas, respectively, by pipelines to Europe. In both cases, the Kremlin seeks to control the transit routes so as to gain additional leverage on European consumer countries.
Russia has broken into Ukraine's internal gas transportation system and market, thanks to the presumably pro-Western president Viktor Yushchenko in 2006; and it has used that position to drive Naftohaz Ukrainy into insolvency, opening the way for a Gazprom move on Ukraine's transit pipelines. In Belarus, however, the presumably Russia-oriented president Alyaksandr Lukashenka has all along resisted Russian control of the oil processing plants and transit pipelines. The Kremlin is arm-twisting Belarus by shifting oil transit volumes into the Baltic Pipelines Sytem (BPS), which circumvents Belarus to reach Russian Baltic ports for tanker transportation to Europe. Similarly, Russia threatens to bypass Ukraine's gas transit system by laying pipelines on the seabed of the Baltic and Black seas. Moscow uses the threat of circumvention to pressure Belarus and Ukraine into sharing control of their oil and gas sectors, respectively, with Russian companies. In that eventuality, Russia would presumably maintain the supply and transit flows by overland pipelines through Belarus and Ukraine.
While the threat of bypassing Ukraine through the Baltic and Black Sea is hardly credible, the circumvention of Belarus is credible and indeed in progress through BPS Phase One, which is already operational, and the incipient construction of BPS Phase Two. The pressure is now growing through the threat of abolishing oil subsidies to Belarus, following Minsk's attempts to improve its relations with the EU.
Refineries and transit pipelines in Belarus are all under the jurisdiction of the state-owned holding BelNaftaKhim. This includes: the Belarus section of the Druzhba transit pipeline for Russian oil to Europe (operated by BelNaftaKhim's subsidiary HomelTransNafta), the Mozyr and Navapolatsk refineries, the Palimir petrochemical plant (associated with the Navapolatsk refinery), and some smaller assets (Interfax, January 1–7).
Belarus provides transit service for more that 70 million tons of Russian oil per year to Europe (not including the oil supplies to Belarus itself) through the Belarus Druzhba pipeline. This staggering quantity takes two directions from Belarus territory: one westward into Poland and Germany, and the other one southward via Ukraine into Slovakia, the Czech Republic, and Hungary (with pipeline links to each country). All these countries critically depend on Russian oil supplies through Belarus and Ukraine.
Originating at Unecha on the Russia-Belarus border, the Belarus Druzhba pipeline bifurcates at Mozyr. The westward branch enters Poland at Adamova/Adamowo and continues across that country to Germany. The southward branch enters Ukraine at Brody and continues –as the Ukrainian section of the Druzhba pipeline– toward Central Europe. The southward branch links up at Brody with the Odessa-Brody pipeline, which is being reverse-used for Russian oil to the Black Sea.
A third, northward branch is also a part of the Belarus Druzba transit pipeline. It runs in two spurs to Latvia and Lithuania, respectively, and used to deliver 16 million tons per year in the aggregate to those two Baltic States. Russia, however, stopped oil deliveries by pipeline to Latvia and Lithuania in 2002 and 2006, respectively. Thus, the Belarus Druzhba's northern branch is no longer operating at all. Moscow, using its monopoly as oil supplier, hoped to strangle Latvia's Ventspils export terminal and Lithuania's Mazeikiai refinery and acquire them on the cheap. The goal has not been accomplished but it remains on the agenda. It also serves as a reference paradigm for other countries where Russia is a monopoly supplier to local refineries, including Belarus.
BelNaftaKhim's Mozyr and Navapolatsk refineries operate exclusively on Russian oil. Each of them processes 10.5 million tons of crude oil per year, an unusually large volume that has remained constant in recent years. Russian oil companies, chronically deficient in refining capacities at home, use Belarus as a strategic base for their refining operations. Russia delivers some 21 million tons of crude oil to Belarus annually in recent years (21.5 million tons in 2009), including 5 to 6 million tons to meet Belarus' domestic requirements for petroleum products and another 16 million tons to be refined for exporting the products (RIA Novosti, January 4).
Belarus has included the Mozyr and Navapolatsk refineries in the program for privatization of state property since 2008. However, Minsk is bargaining hard over the terms of "privatization" by Russian state-controlled companies or oligarchic entities. As part of its resistance, Belarus supports the goal of using Ukraine's Odessa-Brody pipeline in the originally planned direction, south-north, for Caspian oil supplies (Valerya Kastyugava, "Prospects of Belarus' Participation in the Odessa-Brody Pipeline's Operation," BISS, 2008). By the same token, Belarus is interested in reactivating the northern pipeline connection to the Baltic States. Since Russia forced its closure, Minsk considers the option of using that line in reverse, so as to receive non-Russian oil via Lithuanian or Latvian maritime terminals.