Iran and Turkmenistan Inaugurate Gas Pipeline
Publication: Eurasia Daily Monitor Volume: 7 Issue: 4
By: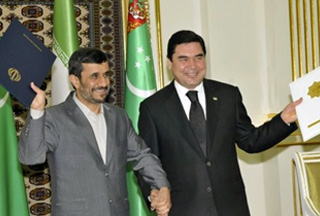 On January 6 in Dauletabad, Turkmenistan's President Gurbanguly Berdimuhamedov and his Iranian counterpart Mahmoud Ahmadinejad inaugurated a pipeline that runs from that giant Turkmen gas field to Iran. The government of Turkey is also interested in that project; and Turkish Energy Minister Taner Yildiz attending the event conferred with the Turkmen and Iranian presidents and energy officials on gas supplies.
The pipeline's inauguration was the centerpiece but not the only event during Ahmadinejad's two-day visit (January 5 and 6) in Turkmenistan. An agreement was also signed to start work on the Turkmen section of a planned railroad from Kazakhstan to Iran. The Iranian president had arrived in Turkmenistan directly from Tajikistan, where his visit underscored Dushanbe's and Tehran's mutual interest in close neighborly relations. Tajikistan's President Emomali Rahmon hailed those relations as did his counterpart Berdimuhamedov in Ashgabat (Tajik TV, January 4; Turkmen TV, January 5, 6).
In both visits, Ahmadinejad toned down or refrained altogether from anti-Western rhetoric; the internationally monitored Turkmen and Tajik state media reported no such rhetoric from the Iranian president.
The new pipeline, Dauletabad-Sarahs-Khangiran, with a throughput capacity of 12 billion cubic meters (bcm) annually, will operate at 6 bcm in 2010 and should reach full capacity the following year. This pipeline from southeastern Turkmenistan complements the Korpeje-Kurt Kui line (laid in 1997) that runs from southwestern Turkmenistan to Iran, with 8 bcm in annual capacity. Thus, Turkmenistan and Iran should henceforth be able to trade 20 bcm of gas annually.
Iran's purchase price for Turkmen gas is not disclosed officially. On one occasion in 2008 Ashgabat halted deliveries amid disagreements over the price, during a cold-weather snap in Iran. Farther downstream Turkey experienced the repercussions of that brief halt. Turkmenistan's Dauletabad field traditionally supplied the lion's share of Turkmen gas deliveries to Russia, until Moscow stopped all its imports of Turkmen gas in April 2009. Russia is resuming imports this month at a level of only 10 bcm for 2010, down from the previous annual average of 45 bcm (EDM, December 15, 16, 18, 2008; January 4, 2009).
Ashgabat and Tehran responded promptly to that situation. They agreed in July 2009 to build the new pipeline and completed it in only six months. The pipeline runs for approximately 182 kilometers, including 30 km in Turkmenistan and some 150 km. in Iran. This transmission line connects with Iran's internal supply network at the Khangiran gas processing plant and distribution center Khangiran, in Iran's Khorasan province.
Iran uses Turkmen gas partly for supplying northern Iranian provinces and partly for swapping gas to Turkey. Meager volumes that Iran supplies to Armenia are also imported or swapped by from Turkmenistan.
With Turkmen gas expected to reach Iran in growing volumes, Turkey is interested in receiving more Turkmen gas via Iran, or Iranian gas freed up by Turkmen deliveries. Yildiz told Berdimuhamedov and Ahmadinejad during this event, that Turkey can use those added volumes partly for its own consumption and also for the Nabucco pipeline project to Europe. Yagsygeldi Kakayev, the head of Turkmenistan's State Agency for Management and Use of Natural Resources, told Yildiz that "Turkmen gas will reach Turkey as alternative routes develop" (Anatolia news agency, January 5, 6; Trend, January 7).
Turkish Prime Minister Recep Tayyip Erdogan had discussed these issues during his October 2009 visit to Tehran while also reaching out politically to Ahmadinejad. Agreements of intent signed on that occasion include exploration, production, and transportation of Iranian natural gas, notwithstanding US sanctions in that sector (EDM, December 11, 2008). Turkey is also interested in receiving future Turkmen gas production volumes via Iran, irrespective of the situation with trans-Caspian transportation and potentially to that project's detriment.
An agreement was also signed in Ashgabat on January 6 for construction of the Turkmen section of the planned Kazakhstan-Turkmenistan-Iran railroad. Under this agreement, the Islamic Development Bank shall provide funding for initial work on the Etrek-Bereket line. The overall project envisages a building a railroad from Uzgen in Kazakhstan, via Gyzylgaya-Bereket-Etrek in Turkmenistan, to Gorgan in Iran (IRNA, January 6).
Links between Turkmenistan and Iran are multiplying. The Tejen-Sarahs-Mashhad railway line is operating between the two countries, as is the Dostluk water reservoir in the border area. On December 9 the two governments also inaugurated a jointly built gas storage and transportation terminal at Gylanly on Turkmenistan's Caspian coast (Turkmen TV, December 10, January 5).