Belarus's International Standing Improves as Domestic Culture Wars Heat Up
Publication: Eurasia Daily Monitor Volume: 20 Issue: 141
By: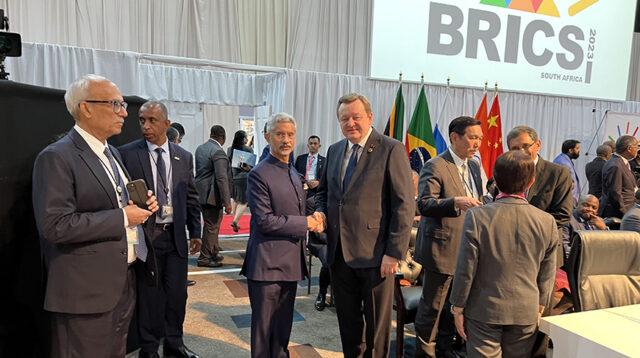 The threat of complete closure of the borders between Belarus and certain European Union member states is diminishing (see EDM, September 7). On September 7, Lithuanian President Gitanas Nausėda declared that the issue is losing relevance as the situation with the Wagner mercenaries on Belarusian territory is stabilizing (Nasha Niva, September 7). According to some Belarusian opposition-minded commentators, Wagner's presence never constituted a serious threat to the border in the first place (Nasha Niva, September 7). The real reason behind the diminishing threat of complete border closure may be that cooler heads finally prevailed.
Nevertheless, some commentators continue to advocate for closing EU borders with Belarus. For example, Vitis Jurkonis, a project director at Freedom House in Vilnius, still argues for the long-term benefit of complete closure that would lead to the elimination of President Alyaksandr Lukashenka's authoritarian regime. At the same time, he acknowledges that shorter-term losses will be felt by businesses and ordinary people on both sides of the border. Jurkonis also asserts that the extreme opposite position shared by "some in Europe"—that one needs to turn the page, separate business from politics and therefore keep the borders open—will lead to future conflict (Gazetaby, September 7).
Belarus's international standing looks set to further improve with the prospects of joining BRICS, the evolving grouping of Brazil, Russia, India, China and South Africa. At the last BRICS summit in Johannesburg, Minsk's application did not pass (Euroradio, August 26). Out of more than 20 applicants, only Argentina, Egypt, Ethiopia, Iran, Saudi Arabia and the United Arab Emirates received a formal invitation. The next summit, however, will be in Russia, and Belarus's application may be accepted then.
Official Minsk is keen to cash in on the potential economic opportunities that BRICS membership could bring. According to Pavel Matsukevich, former Belarusian chargé d'affaires in Switzerland, now a researcher at the Center for New Ideas, Belarus's interest in cooperation with BRICS is independent of the political regime in Minsk and primarily based on the economic weight of the group. If anything, the Lukashenka regime rather serves as a limiting factor here (T.me/pulslenina, August 25). That, however, does not neutralize the prospective benefits.
For Belarus, BRICS is another platform for expanding contacts with regional leaders in Asia, Africa and Latin America. Belarus has effectively used membership in the United Nations, Non-Aligned Movement and Shanghai Cooperation Organization to this end. In Johannesburg, Belarusian Foreign Minister Sergei Aleinik held a series of meetings with colleagues from China, India, Cuba, Angola, Saudi Arabia, the United Arab Emirates and others on the sidelines of the BRICS summit (Mfa.gov.by, August 24).
Belarus's membership in BRICS also opens a loan portfolio from which Minsk could potentially procure investments for critical infrastructure projects. It seems that the BRICS members are trying to create an alternative to the traditional financial system dominated by the West. Belarus urgently needs such an option as it has been deprived of practical cooperation with the World Bank, International Monetary Fund and European Bank for Reconstruction and Development due to Western sanctions. Matsukevich believes that the economic, financial, technological and resource base of BRICS has the potential to meet all of Belarus's needs (T.me/pulslenina, August 25).
The real and potential improvements in Belarus's international standing stand in stark contrast to how Minsk treats its own citizens abroad. Many Belarusians have left the country in the wake of the crackdown on post-election protests in August and September 2020. The government commission created to consider émigrés' solicitations for coming back home without fear of prosecution has apparently not been successful, as conditions for return smack of surrender with a "voluntary" confession (see EDM, February 15). Thus, an alternative approach has been introduced. On September 4, Lukashenka signed Presidential Decree No. 278 (President.gov.by, September 5), according to which Belarusian citizens abroad can no longer renew their expired passports at Belarusian consulates. Moreover, they can no longer use the power of attorney normally provided by consulates to authorize the applicant's trusted representative inside Belarus to sell their apartment or vehicle on their behalf. In other words, to renew one's passport, one must physically return to Belarus; and for transactions, only Belarus-based notary public can issue a valid power of attorney document (BBC News Russian, September 5).
The provisional cabinet headed by Vilnius-based Svetlana Tikhanovskaya has been discussing the idea of an alternative "passport of New Belarus." In August 2023, Tikhanovskaya's cabinet even presented the design of such a document. However, there is still no clarity on the prospects for official recognition of such passports by other countries. According to Ekaterina Deikalo, a Belarusian lawyer in exile, the main problem lies in the country-specific codes associated with national passports, wherein official Minsk owns one such code as an internationally recognized authority (Zerkalo, August 22).
While creating real problems for real people, Lukashenka's decree transcends politics and can be interpreted as an act driven by culture wars. It is a way to deny legitimacy to those citizens with the "wrong" consciousness. These Belarusians embrace the Westernizing blueprint for Belarusian national identity, as opposed to the regime-preferred Russo-centric blueprint (see "Split Identity and a Tug-of-War for Belarus's Memory," December 20, 2019).
This goes hand in hand with transforming the official "policy of memory." Until recently, this policy recognized some elements of the Westernizing blueprint, including the legacies of the Grand Duchy of Lithuania, Belarusian People's Republic of 1918 and even the white-red-white flag that was the official flag of Belarus from 1992 to 1995 (see EDM, January 26, 2022). Today, some newly created secondary school history textbooks are castigated for paying homage to Westernizing symbols (Zerkalo, August 30).
Denying consular support to citizens with the "wrong" conception of national memory represents a deeply politicized version of the same culture wars that have fueled the hawkish initiatives pursued by the EU member states on Belarus's western border. And perhaps a change of tone would be more effective, as fighting fire with fire rarely yields constructive results.