Belarus's Lukashenka Is Busier Than Ever
Publication: Eurasia Daily Monitor Volume: 20 Issue: 120
By: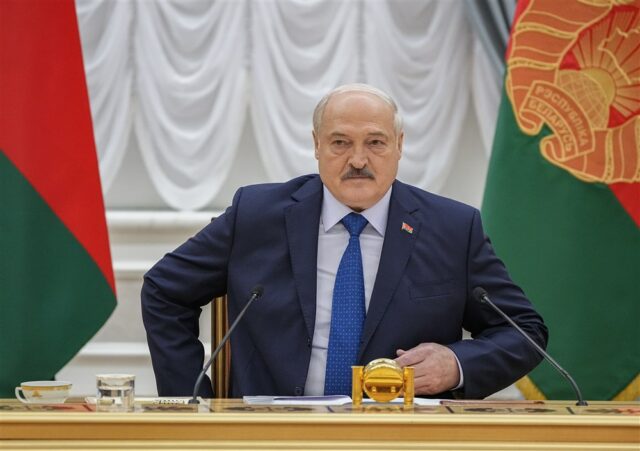 Belarusian President Alyaksandr Lukashenka has long accepted the sobriquet of "dictator." In fact, he loves to characterize himself in that way. Recently, during his July 1 address to the nation, he boasted of many influential Westerners "suddenly calling a dictator" on account of plans to host the Wagner Group on Belarusian soil (see EDM, July 6).
Since that time, the preoccupation with Wagner has not subsided, but Lukashenka has managed to tend to other issues, too, including the creation of the People's Militia, supervising the recovery of potash export volumes and the course of harvest and, possibly, even beginning to think about the new presidential elections set for 2025.
Judging by international media coverage, Wagner comes first in this list of responsibilities. According to Timur Olevsky, a Russian journalist now based in Prague, between 2,000 and 2,500 of Yevgeny Prigozhin's Wagnerites are currently in Belarus. However, their number could increase to 10,000 if Wagner is allowed to function as a commercial military unit. If, however, Wagner is no longer under Prigozhin's leadership, then the number of these mercenaries in Belarus is unlikely to exceed 5,000. Olevsky believes that Putin may use Wagner in Belarus to completely deprive the latter of its remaining vestiges of sovereignty (Svaboda, July 19).
Yury Drakakhrust of Radio Free Europe/Radio Liberty shared a less agitated version. In the preamble to his interview, a journalist from Current Time TV (Current Time TV, July 19) described the arrival of Wagner's fifth column in the village of Tsel in Mogilev Oblast, where, on July 19, Prigozhin's company Concord Management and Consulting was officially registered (Reform.by, July 22). Considering that it bears the same name as the company registered to Prigozhin in St. Petersburg since 1997, the Belarusian unit, with real estate proclaimed as its area of interest, is probably its daughter.
The column that arrived in Tsel a day earlier was accompanied by 90 vehicles, including vans, pickup trucks, coaches, tractor-trailers, SUVs, fuel trucks and Ural flatbed vehicles with trailers. However, no heavy military equipment was detected. Additionally, some Telegram channels suggested that, in Belarus, Wagner might become an addition to the regional military grouping of the Union State funded by Russia, whereas the Belarusian Ministry of Defense announced that Wagner servicemen will train Belarusian territorial defense units. Meanwhile, Lukashenka just signed a law on the People's Militia, the third layer of national defense, in addition to the regular army and territorial groups, which is able to protect Belarus from potential invasions and from the purveyors of color revolutions.
According to Drakakhrust, Lukashenka's current role vis-à-vis Wagner is reactive. Personally, he does not need the mercenary group in Belarus. The only aspect of the three-party deal he entered into along with Putin and Prigozhin that Lukashenka truly appreciates is his image as Russia's savior. However, since the Wagner forces now find themselves in Belarus, he must somehow engage them (Current Time TV, July 19).
Drakakhrust rejects the idea that Wagner's arrival in Belarus is integral to a plan aiming at, for example, capturing the Suwalki Gap, a narrow piece of Polish land separating Belarus from Russia's Kaliningrad exclave. In another publication, Drakakhrust likened this idea with the rumor that the Kalinowski battalion, a group of a few hundred Belarusians fighting for Ukraine, could subsequently capture Belarus (Gazetaby, July 18). To the Belarusian expert, both ideas are fanciful. Rather, Lukashenka is hedging his bets. With this in mind, the People's Militia and territorial defense units have been created. For the Belarusian president, these are indicators of the methodical preparedness on official Minsk's part, contrasting Moscow's chaos. Lukashenka does not want to be driven into the Russian war effort; however, the situation may somehow evolve to require that, suggests Drakakhrust.
On the economic front, believable rumors indicate that European sanctions shutting off Belarusian potash from the Lithuanian Port of Klaipeda will not be lifted despite some members of the European Union, notably Portugal, soliciting that such an outcome would benefit Brazil, a traditional buyer of Belarusian potash (Svaboda, July 18). Apparently, expressing concern over Belarus becoming an extension of Russia and contributing to this very outcome continue to coexist within the collective West's Belarus policy (see EDM, July 19).
Under these conditions, Belarus's only recourse is to boost transit via Russia. At a July 18 meeting with Lukashenka, First Deputy Prime Minister Nikolai Snopkov reported that, whereas during the first six months of 2022, 1.5 million tons of Belarusian cargo were transported through Russian seaports, in 2023, this volume amounted to almost 6 million tons—a 400-percent increase. Ninety-seven percent of that cargo is comprised of mineral fertilizers and refined oil products, precisely what Western sanctions prevent Minsk from transporting via Baltic ports.
In the first half of this year, 2.7 million tons of potash fertilizers were shipped through Russian ports (SB, July 18). In his interview with Belta, Belarus's official press agency, Snopkov acknowledged that, due to being cut off from Lithuanian and Latvian ports, transportation costs have increased by a factor of two to five for various products, especially if the Trans-Siberian Railway is involved. And yet, the plan is to export 8 million tons of potash in 2023. For comparison, prior to sanctions, Belarus used to export 9 to 10 million tons; however, following the imposition of sanctions, potash exports dwindled to 5.5 million tons. Now, the recovery is underway despite strong competition from Canada (Belta, July 18).
Finally, there is nothing definitive yet about the 2025 elections. During a July 6 press conference, Lukashenka said that he "had not even thought about the presidential elections yet. … Perhaps only in terms of musing: what will happen after me?" (Belta, July 6). That remark can be interpreted in a number of ways—though opposition commentators suspect Lukashenka is again ready to extend his presidential tenure despite repeated previous assurances to the contrary (Telegra.ph, July 20).
In any case, Lukashenka continues to be involved in every significant aspect of Belarusian life, from military preparedness and the harvest to international relations. Indeed, Lukashenka's visit to Russia on July 23 was his sixth since the beginning of this year.