Belgrade, Moscow Deepen Relations as EU Offers Serbia Further European Integration
Publication: Eurasia Daily Monitor Volume: 12 Issue: 205
By: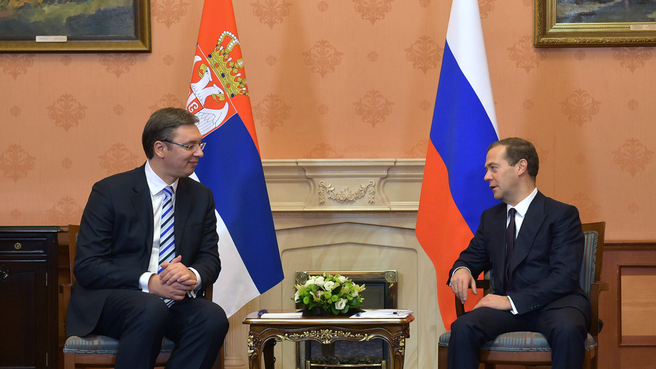 Historic ties between Russia and Serbia are deepening even as the European Union attempts to improve its own relationship with Belgrade. Since the beginning of the year, Russia has sought to increase its trade with Serbia, while the latter has pursued Russian assistance in upgrading its military capabilities (see EDM, September 8). Consequently, Serbia is now emerging as a country where competing policies of the United States, the European Union and Russia vie for influence. In recent months, EU officials and institutions repeatedly recommended that the first accession chapters on Serbia's membership in the economic-political bloc be opened by early next year, following the European Council's decision to ratify Belgrade's candidate status in December 2013 (B92, October 13, November 11). In turn, Russia continues to woo Serbia with trade and energy deals (Dnevnik, October 31). But while the eventual form of Serbian-EU relations has yet to emerge, Russia's overriding interest in Serbia remains to keep this strategically central Balkan country from drawing closer to the North Atlantic Treaty Organization (NATO).
Russian-Serbian relations, based on religious and linguistic affinities, date back to the latter nation's emergence from Ottoman domination in the early 19th century; a century later, this bond would lead to the outbreak of World War I, as Russia mobilized its troops to defend Serbia from Austro-Hungarian attack. Relations endured the fragmentation of Yugoslavia, which began in 1990, and the 1991 collapse of the Soviet Union. Russia provided Serbia diplomatic support and protested NATO's 1999 bombing of the country. Moreover, over the past decade, Serbia figured prominently in Russian plans to transit natural gas to Europe, although the various proposed pipeline projects have stalled up to now.
Mutual diplomatic support is perhaps the most notable element of Serbian-Russian relations today. And the leading example is Russia's consistent denial of diplomatic recognition to Kosovo since the latter's unilateral declaration of independence from Serbia in February 2008, after nine years as a United Nations protectorate. In turn, Serbia was one of the few European countries that did not issue sanctions against Russia for its March 2014 annexation of Crimea.
Beyond diplomacy, Russia and Serbia are seeking to bolster their economic relations despite geographic constraints. On October 22, Russia and Serbia signed a Memorandum of Understanding (MoU) to increase their field of economic cooperation, attract investments and develop joint projects (Decree of the Government of the Russian Federation, No. 2120-r, October 22).
Days later, on October 26, Serbian President Aleksander Vučić began a three-day official visit to Russia, spending much of his time in discussions with Prime Minister Dmitry Medvedev, who had directed his government to sign the MoU. Vučić was accompanied by several ministers and 100 Serbian businessmen. Arms purchases were high on Vučić's agenda, as neighboring Croatia, in cooperation with the US, recently launched a weapons procurement program that includes sixteen Kiowa combat helicopters and sixteen 240-millimeter ballistic missile launchers with a 200-mile range. The Serbian head of state told reporters in Moscow, "We are following what is happening in the region and will not allow a military imbalance." When asked about the purpose of the helicopters, Vučić replied, "Ask our neighbors" (Blic, October 26). This past year, Russia has agreed to refurbish four Serbian Air Force MiG-29s and ten MiG-21s. Moreover, it promised to provide Serbia with several state-of-the-art Mi-17 and Mi-171 helicopters at a "discounted" price (Telegraf, April 21).
Energy was also not neglected during Vučić's visit. In particular, he signed an MoU with Gazprom chairman Alexei Miller, covering Russian gas supplies to Serbia and its underground gas storage (UGS) facilities. The agreement built upon a 2013 contract that required Gazprom to deliver up to 1.5 billion cubic meters (bcm) of natural gas to Serbia over the ensuing decade (B92, October 28).
On October 29, before he met with Russian President Vladimir Putin for talks, Vučić told journalists, "On behalf of the Serbian government, I would like to thank you [the Russian government] for the support you have given us both in the UN, UNESCO and other organizations, where Serbia is trying to protect not only its territorial integrity but also its liberty-loving spirit and its way of life. I would like to note that the situation in the world at large is complicated; the situation is just as complicated in the Balkans. In Brussels, we have signed an agreement with Pristina; we have signed many documents, but today, the president of Kosovo stated that [his country does] not plan to implement the most important of them at all [referring to the agreement on the formation the Community of Serbian Municipalities in Kosovo]—and that is very sad news for us" (Kremlin.ru, Kim.gov.rs, October 29)
Another common element in Russian and Serbian policy is opposition to NATO. Of the seven countries that formerly comprised Yugoslavia, Slovenia joined NATO in 2004 and Croatia in 2009, while Bosnia-Herzegovina, Montenegro and Macedonia are aspiring members of the Alliance (Nato.int, August 20, 2013) Serbia has expressed no interest in membership, even though, in 2006, it joined NATO's Partnership for Peace (PfP) program and, in January 2015, agreed to deepen its cooperation with the Alliance through an Individual Partnership Action Plan. On November 3, Serbia's ambassador to Russia, Slavenko Terzic, said, "I do not see any stability guarantees in NATO's expansion in the Balkans and in the central region of Europe. Europe must be free of military alliances, live in peace and accord. Serbia will insist on its political neutrality. We are not getting ready to join NATO" (TASS, November 3).
NATO acknowledges this disinclination, noting on its website, "Unlike other Western Balkan partners, Serbia does not aspire to join the Alliance. However, the country is deepening its political dialogue and cooperation with NATO on issues of common interest" (Nato.int, October 26)
As NATO expands its operations around Russia's periphery and ponders admitting Bosnia-Herzegovina, Montenegro and Macedonia, both Russia and Serbia increasingly perceive the North Atlantic Alliance as having less-than-benign intentions. If the West hopes to lessen Russian influence in Belgrade, then its trump card is economic integration and eventual EU membership. Yet, whether recession-wracked Europe has the political and economic clout to press forward on that front remains to be seen.