Briefs
Publication: Terrorism Monitor Volume: 20 Issue: 2
By: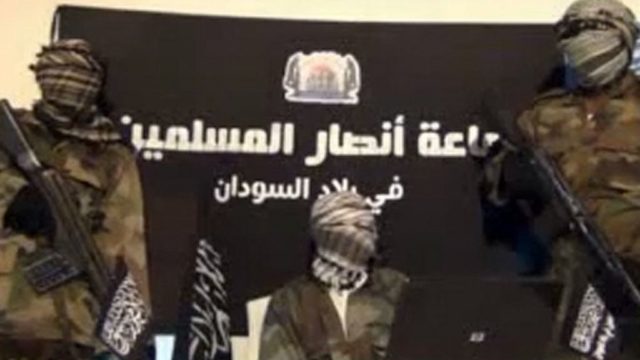 Nigeria's Ansaru Raises Profile on al-Qaeda's Media Agenda
Jacob Zenn
After several years of a media hiatus following Boko Haram Shekau faction's and Islamic State in West Africa Province's (ISWAP) attacks, al-Qaeda's de facto Nigerian branch known as Ansarul Muslimina Fi Biladis-Sudan (Ansaru) reemerged in October 2019 with a photograph of three fighters in a forest (HumAngle, January 20, 2020; Twitter.com/@caleb_weiss, January 17). This was in northwestern Nigeria, where Ansaru had relocated to escape the Shekau faction and ISWAP in northeastern Nigeria (Terrorism Monitor, July 28, 2020). Ansaru also began linking with bandits to conduct attacks against Christian villages and government officials while continuing to fight rogue marauders as part of the group's Muslim civilian-centric ideology (DailyTrust.com, October 6, 2021).
More recently, on January 15, the Global Islamic Media Front (GIMF), which has long published al-Qaeda propaganda and issued the October 2019 photograph, announced that it would begin exclusively distributing Ansaru's messages (Twitter.com/@jihadoScope, January 15). This was Ansaru's highest profile media endorsement since the group's formation in 2012, which involved YouTube videos and occasional statements posted on jihadist web forums (Youtube, July 9, 2012). Without delay, on January 16, for the first time in Ansaru's history, GIMF released photographs of an attack executed by the group. It involved Ansaru detonating improvised explosive devices (IEDs) against "apostate gunmen," who were likely Nigerian soldiers or their allied vigilantes on motorcycles (Twitter.com/@calibreobscura, January 16).
Two weeks before Ansaru's integration with GIMF, on January 3, the group also announced it had pledged loyalty to al-Qaeda in the Islamic Maghreb (AQIM) (Twitter.com/@G88Daniele, January 3). This was nearly ten years after AQIM approved Ansaru's split from Boko Haram due to Shekau's "deviance and excesses" (al-Andalus, March 2017). Thus, Ansaru's place within al-Qaeda's affiliate and media system is becoming more evident. In addition, its operational profile is on the rise, given the support of GIMF, al Shabaab and other affiliates that are also reporting on Ansaru (Calamada.com, January 22).
Despite this, Ansaru is not in the clear yet. Its rivals in Boko Haram had begun expanding into northwestern Nigeria well before an ISWAP offensive led to Shekau self-detonating a suicide bomb in May 2021. However, Shekau loyalists remain active in the region even after their leader's death, and are still raiding northwestern Nigerian villages (punch.ng, January 16). Boko Haram's longstanding animosity toward Ansaru stems from two issues: first, it resents the group for separating from Shekau in 2011; and second, for its decision to avoid the declaration of takfir (excommunication) on Muslims for not waging jihad. This implies Boko Haram will be among the forces to target Ansaru and spoil its attempted "comeback" in northwestern Nigeria. Altogether, this pressure on Ansaru will exist alongside the ongoing pursuit of it by Nigerian soldiers and vigilantes, who also are seeking to root out this militant group from its forest bases.
*****
Islamic State's Surprise Prison Break in Hassaka, Syria
Jacob Zenn
On January 20, Islamic State (IS) carried out a major prison break in Hassaka, Syria to free around 800 of its soldiers who had been detained since the collapse of IS' caliphate in 2019. IS, therefore, fulfilled one of its major obligations to free captive co-fighters, which it has promised in numerous videos and publications. In addition, IS showed that it was waging a strategically patient insurgency, and that it could field 80 fighters and vehicle-borne improvised explosive devices (IEDs) for the prison break despite little activity in Hassaka in the previous several years.
However, the Kurdish-led Syrian Defence Forces (SDF), which guard the al-Sina prison in Hassaka, denied any IS members escaped (sdf-press.com, January 20). The media also produced videos of more than 100 IS prisoners who escaped being recaptured by the SDF, although this presents the possibility that not all IS prisoners were recaptured (Twitter.com/@mutludc, January 21). Moreover, the attempted prison break operation demonstrated the U.S. ability to coordinate with the SDF to execute the U.S.-led Operation Inherent Resolve guaranteeing a "death sentence" for the IS fighters involved in the prison break (Twitter.com/@CJTFOIR, January 23).
SDF resources to thwart the IS operations in and around the prison are also limited due to the unit's continued combat with Turkey, which considers the SDF a terrorist group. Turkey, for example, launched attacks on the SDF as the counter-prison break operations were underway (hawarnews.com, January 21). Even if the prison break is ultimately thwarted, IS' capture of at least a dozen SDF fighters means the organization will have a bargaining chip if it seeks to negotiate the release of some IS prisoners and the safe return of the its fighters to their hideouts (Twitter.com/@spriter99880, January 24).
Questions will linger after this prison break operation, which has led to the deaths of at least 22 IS prison escapees and similar numbers of SDF fighters (npasyria.com, January 23). First, given that IS was not known to have a base in Hassaka, how did the group manage to pull off such a large-scale operation without the SDF, the U.S., or other intelligence agencies noticing beforehand? This points toward continued IS sophistication in counter-intelligence and high-level prison break operational capabilities. Prison breaks have historically marked turning points in the group's rise, and this event, if successful, would have been no different.
Whatever the ultimate result of the fighting in and around the prison will be, the IS prison break will serve as a morale booster for IS fighters in Syria and Iraq and supporters in affiliated provinces around the world. An Islamic State in West Africa Province (ISWAP) video released on January 18, for example, revealed ISWAP child soldiers watching a video of IS fighters in Hajin, Syria during their 'last stand' battle against the US and SDF forces in 2019 (Telegram, January 18). Likewise, IS supporters around the world will view the prison break as another demonstration that the organization's caliphate remains and that its commitment to imprisoned fighters has not been forgotten.