Business and Geopolitics Jointly Drive Italy's Energy Relations With Russia
Publication: Eurasia Daily Monitor Volume: 15 Issue: 54
By: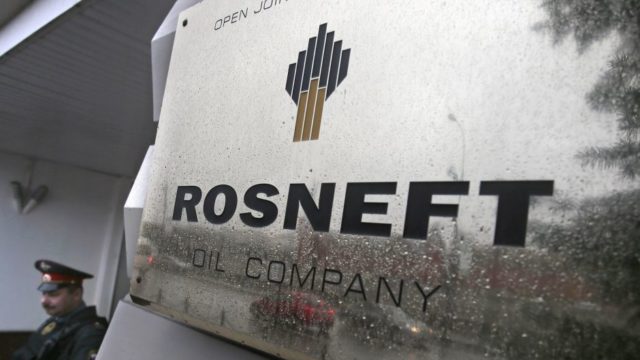 Italian state-owned oil and natural gas producer ENI recently halted a joint project with Russia's state oil company Rosneft in the Black Sea, according to Russian media reports (Construction.ru, March 30). Drilling operations by the two companies at the Maria-1 well had started in December, but ENI CEO Claudio Descalzi said, on March 27, that they had not found "very much" there (AGI, March 27).
Descalzi's words suggest that ENI's freeze of the Zapadno-Chernomorskaya joint initiative with Rosneft has been guided mostly by commercial motivations rather than political calculus. Last month, the United States energy giant ExxonMobil announced that it would leave a joint venture with Rosneft because of Western sanctions on Russia (TASS, March 1). The driving factor for ExxonMobil has been US sanctions penalties aimed at energy enterprises that are part of projects in which a Russian counterpart has at least a 33 percent stake. But ENI, which is also cooperating with Rosneft in the Barents Sea, says there is still an interpretative vacuum on this point. The Italian energy firm is seeking legal clarifications from the US government and the European Union (Reuters Italia, March 27).
At this stage, it is reasonable to accept ENI's assertion that it froze its investments in Maria-1 because of insufficient oil finds, not because of US sanctions on Moscow. Indeed, political and economic relations between Italy and Russia remain stable. And this steadiness persists despite Rome having joined Washington and European allies in expelling Russian diplomats after the British government blamed the Kremlin for the recent poisoning of Sergei Skripal, a former Russian spy, and his daughter in Salisbury, United Kingdom.
In the March 2018 Italian parliamentary elections, parties with friendly ties to the Kremlin gained the upper hand, and now might join forces to form a coalition government (Gmfus.org, February 28; Thelocal.it, March 6). Additionally, trade turnover between the two countries is improving after years of decline (Eventisistemapaese.esteri.it, July 2017; Il Sole 24 Ore, July 25, 2017). Italian exports to Russia decreased between 2014 and 2016, following the EU's imposition of restrictions on Moscow for its military intervention in Ukraine and due to Russia's economic stagnation exacerbated by low oil prices.
In the past few years, amid tensions between the Western camp and the Kremlin, the Italian government has tried to diversify energy suppliers and routes, besides working to turn the Italian peninsula into a Mediterranean gas hub (see EDM, January 18, 2016; April 18, 2016). Russia is Italy's largest supplier of gas and the third-largest of oil. To reduce dependence on Russian energy sales, the new Italian cabinet—be it pro-Moscow or pro-EU—will continue to increase supplies from Libya and Algeria. Most importantly, it will work to secure new gas from the Caucasus and the Eastern Mediterranean (Repubblica, December 14, 2017).
The cornerstone of Rome's diversification drive is the EU-sponsored Southern Gas Corridor (SGC), a planned system of conduits to bring natural gas from the Azerbaijani gas field of Shah Deniz to Italy via Georgia, Turkey, Greece and Albania. The southern Italian border will be the entry point of gas transported to Western Europe through the SGC's westernmost branch, the Trans-Adriatic Pipeline (TAP), which will carry 10 billion cubic meters (bcm) of Azerbaijani gas to Europe by 2020, with the target of doubling supplies in the future.
Further, Italy is teaming up with Greece, Cyprus, Israel and Egypt to set up a gas corridor connecting the Eastern Mediterranean to Europe, known as the East-Med Pipeline. Its realization will not be an easy task, however, as the project is opposed by Turkey, which does not want to lose the strategic importance gained through the SGC initiative. Ankara, which is locked in territorial disputes with the Cypriot government, blocked exploratory drilling by ENI off the coast of Cyprus in February (The Arab Weekly, January 28; Cyprus Mail, February 27).
To resolve this problem, ENI is considering using Egypt as a hub to pipe Israeli and Cypriot gas to Europe. ENI is the leading company in the exploitation of the Zohr supergiant gas field off the Egyptian coast (see EDM, September 16, 2015). It also has a stake in a string of Mediterranean offshore gas fields claimed by both Lebanon and Israel, but their development will be impossible if Beirut does not find an accommodation with the Israeli government.
Such geopolitical complexities related to the Mediterranean front, coupled with the risk that the SGC may not have enough gas for further expansion, prompt Italy to rely on Russian gas imports to satisfy its domestic needs.
Just like the United States, the European Commission and a number of countries in Central Eastern Europe, Italy is against Nord Stream II, the projected expansion of a natural gas pipeline that runs under the Baltic Sea and links Russia to Germany. Nord Stream II is designed to double the capacity of the existing gas conduit, which stands at 55 bcm, and Russia's state-run gas monopoly Gazprom is keen to complete it by 2019.
But Rome's opposition to the Nord Stream II project is not driven by considerations about Russia's geopolitical use of its gas sales against its western neighbors (Poland, Ukraine and the three Baltic republics), but by the fear that Germany might become an alternative gas hub for Europe, challenging the one that Italy wants to establish in the Mediterranean region—not to mention that the gas flowing into Italy from Northern Europe would be more expensive because of higher transit fees (see EDM, January 18, 2016).
Simply put, if the EU continues to buy massive quantities of gas from Russia, Italy will have an interest in transporting these supplies through the new southern corridor and redirecting them to Northern Europe from the Italian peninsula. This means Rome could support Moscow's participation in the SGC project. The European Commission views this scenario as a nightmare (Europa.eu, May 16, 2013; CACI Analyst, March 27, 2017). Indeed, the southern pipeline system has been promoted by EU institutions to cut the bloc's dependence on gas imports from Russia, which could be used by Moscow as a bargaining chip during a crisis.
But Gazprom's gas supplies through TAP pose a risk to Italy as well, given that they could discourage investments in the East-Med corridor. The future Italian government, even if headed by the anti-establishment Five Star Movement and the anti-EU and anti-immigrant Lega Nord, which are both sympathetic to the Kremlin, will have to deal with this geo-economic dilemma.