China-Pakistan Relations: The "All-Weather" Partnership Navigates Stormy Times
Publication: China Brief Volume: 22 Issue: 24
By: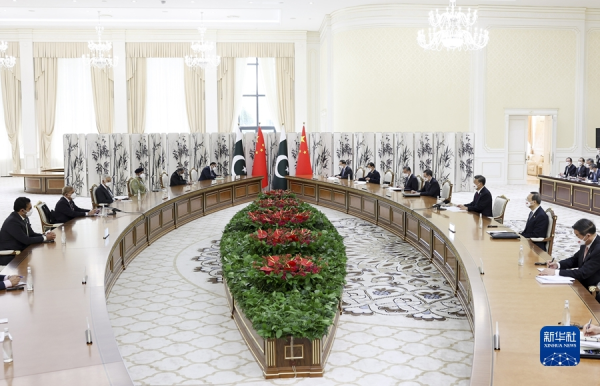 Introduction
In a joint statement issued during Pakistani Prime Minister Shehbaz Sharif's two-day visit to China in November, Beijing reiterated that relations with Islamabad will always be given the highest priority, reaffirming its support for Pakistan's sovereignty, territorial integrity, security and development (Ministry of Foreign Affairs of the People's Republic of China [FMPRC], November 2). The Chinese leadership also expressed appreciation for PM Sharif's long-standing dedication to the China-Pakistan friendship (Dawn, November 3). On the other side, Pakistan emphasized that the bilateral relationship is the cornerstone of its foreign policy and expressed its commitment to the One-China policy and support on the issues of Taiwan, the South China Sea, Hong Kong, Xinjiang and Tibet. The two sides exchanged views on the state of their partnership as well as the regional situation and international political landscape. Both sides agreed on the "importance of the China-Pakistan All-Weather Strategic Cooperative Partnership amidst the emerging global challenges," said the joint statement (Express Tribune, November 2). Closing out the year on this positive note indicates probable further growth in bilateral ties in 2023 and beyond as both sides seek to manage intersecting global and domestic challenges.
'Regime Change' in Islamabad and China-Pakistan Relations in 2022
Pakistan has experienced tremendous political upheaval this year, due to the removal of PM Imran Khan's government by parliament in an April no-confidence vote. Following the ouster of the Khan government, a new coalition government led by Shehbaz Sharif assumed office (Dawn, April 11). China kept a close eye on developments during the no-confidence vote against former Prime Minister Khan. PRC Foreign Ministry spokesperson Wang Wenbin said, "China is committed to non-interference policy, adding that as an all-weather strategic cooperative partner and friendly neighbor of Pakistan, it is our sincere hope that all parties in Pakistan will stay united and uphold the major interests of the country's developments and stability" (Geo TV, April 1).
Khan declared that his ouster was the result of a "foreign conspiracy" due to his pursuit of an independent foreign policy (China Brief, April 8). In accusing the U.S. of seeking to orchestrate his removal from office, he claimed that foreign funding was being used to produce regime change in Islamabad and blamed the leadership of the main opposition parties for being part of this foreign conspiracy  (Express Tribune, April 1).
PRC media has also framed Pakistan as a victim of U.S. political meddling to prevent Islamabad from tilting toward Beijing, as part of a broader effort by Washington to contain China's global rise. According to an editorial in the Global Times: "Washington has failed in its attempts to rope in Khan, so it is possible it now has meddled in Pakistan's politics to topple the current government." Moreover, the article contends that the Western countries —particularly the U.S.—o not want "to see Khan remain in power since he has gotten tougher on them" (Global Times, April 6).
China-Pakistan Relations in a Shifting International Context
China and Pakistan have sought to keep relations on a positive trajectory over the course of a year, which has been defined by international, regional and domestic challenges for both parties. For example, in March, immediately following the Russia invasion of Ukraine, Foreign Minister Wang Yi spelled out China's perceptions on currently changing geopolitical realities to his then counterpart Shah Mahmood Qureshi. Wang reassured Pakistan of China's support, stating that "We must not allow the return of the Cold War mentality or bloc confrontation in Asia, and must not allow small and medium-sized countries in the region to become tools or even victims of the major power games… no matter how the international situation changes, China will continue to view and promote China-Pakistan relations from a strategic and long-term perspective, and will, as always, support Pakistan in safeguarding its national sovereignty, territorial integrity and national dignity. "We will be Pakistan's most reliable partner and staunchest supporter," added Wang (Express Tribune, April 1).
On February 4, Pakistan's former prime minister Imran Khan attended the opening ceremony of 2022 Winter Olympics in Beijing in order to  show solidarity with China amidst several Western countries' boycott of the games due to human rights concerns, including the repression of Muslim Uighurs in Xinjiang (FMPRC, February 6). Khan's attendance at the opening ceremony of the Olympics was highly appreciated by Beijing. Foreign Ministry Spokesperson Zhao Lijian said, "We highly appreciate Prime Minister Imran Khan's attendance of the opening ceremony of the Beijing Winter Games… [t]his once again shows that the ironclad friendship between China and Pakistan is deeply rooted in the hearts of the people and is supported by the two peoples" (Express Tribune , February 9).
Military ties are the mainstay of the China-Pakistan strategic partnership. The highest body for bilateral military cooperation is the Pakistan-China Joint Military Cooperation Committee (PCJMCC). In June,  a high-powered Pakistani military delegation visited China amid rising tensions between China and the West. Both sides agreed to further strengthen military ties and deepen their strategic partnership in a challenging global environment. The high-level military interaction also came at a time when Pakistan was also under pressure from the West to strongly condemn  Russia's invasion of Ukraine (Express Tribune, June 12).
A Revitalized CPEC?
In early November, PM Shehbaz Sharif made his first visit to Beijing since assuming office in April, meeting with top PRC leaders including President Xi Jinping and Premier Li Keqiang (FMPRC, November 2).The visit not only sought to revitalize the $62 billion China-Pakistan Economic Corridor (CPEC), as a key program of the Belt and Road Initiative (BRI), but also aimed to give a boost to CPEC's potential extension into Afghanistan (Express Tribune, November 2).
Sharif's visit to China was mainly focused on seeking to revive CPEC, which had faced mounting challenges under the previous Khan government (China Brief, July 15). Although 28 projects worth $18.8 billion have so far been completed under CPEC over the past seven years, other projects worth $34 billion are in different phases of execution or planning. The $10 billion railway project, the Karachi Circular Railway, and energy generation projects worth $18.5 billion encountered delays under the former Khan government (Dawn, October 29). The current government has criticized Khan's administration for not initiating even a single new CPEC scheme during its four-year tenure, with several projects suspended due to concerns on the Chinese side (The News, November 22). However, Sharif's visit to Beijing appears to have elicited renewed enthusiasm for CPEC with China committing to implement a $10 billion railway project, the Karachi Circular Railway and energy generation schemes worth $18.5 billion (Express Tribune, November 2).
Conclusion 
Despite a difficult year, China and Pakistan have largely aligned on international politics. Whether it is the Russia-Ukraine conflict or the backlash against China for its human rights record in Xinjiang, both countries have supported each other. As a result, the "all weather" China-Pakistan friendship looks set to continue in 2023 and beyond.
China strictly upheld the policy of non-interference in Pakistan's internal politics even during the April political crisis in Islamabad that led to Khan's ouster. As the biggest foreign investor in the country, China has evinced concerns over political instability and uncertainty, but has avoided the temptation to play political favorites in Pakistani politics.
Moreover, China maintains strong ties with Pakistan's powerful military establishment, which is responsible for the security of CPEC and other Chinese interests. For Beijing, a politically stable and economically strong Pakistan guarantees  the security and expansion of Chinese interests within and beyond South Asia. China sees strategically located Pakistan as the key to increasing its regional influence. It also militarily strengthens and politically backs Pakistan to counter India, which has increasingly aligned with the U.S. against China. Pakistan looks toward China in times of global upheaval and toes the Chinese line on many international issues, such as the Russia-Ukraine conflict.
Both China and Pakistan have learned to accommodate each other on many international issues. For instance, Pakistan's frontline role in the U.S.-led war on terror did not affect its all-weather friendship with China. The human rights abuses in the Muslim majority Xinjiang region have hitherto not generated tension between China and Pakistan, with Islamabad even dismissing the recent UN report on Xinjiang. This pattern is emblematic of the current state of relations. Despite differences and occasional irritants, both sides' commitment to a close relationship suggests the "all-weather" strategic partnership will only grow deeper.
Syed Fazl-e-Haider is a contributing analyst at the South Asia desk of Wikistrat. He is a freelance columnist and the author of several books including the Economic Development of Balochistan (2004). He has contributed articles and analysis to a range of publications including Dawn, The Express Tribune, Asia Times, The National  (UAE), Foreign Affairs, Daily Beast, New York Times, Gulf News, South China Morning Post, and The Independent