Continuation of Policy by Other Means: Russian Private Military Contractors in the Libyan Civil War
Publication: Terrorism Monitor Volume: 18 Issue: 3
By: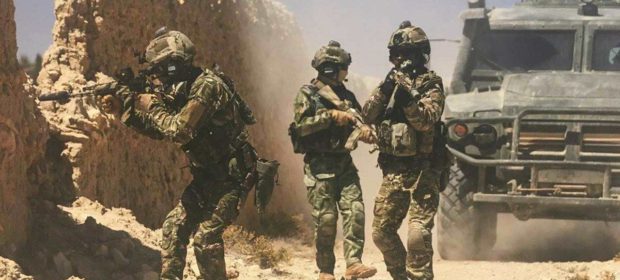 Introduction
Since the outbreak of the Libyan civil war in 2011, Moscow has been trying to demonstrate a balanced and pragmatic approach — considered in Russian conservative circles to be "excessively conformist" and even "defeatist" (YouTube.com, January 30, 2013). Director General of the Russian International Affairs Council, Andrey Kortunov, argued in July 2019 that Russia's key objective in Libya is to "maintain constructive ties with all actors"(Russiancouncil.ru, July 31, 2019). For a considerable period of time, Russia was the only major player capable of preserving dialogue not only with Field Marshal Khalifa Haftar and Government of National Accord (GNA) Prime Minister Fayez al-Sarraj, but with Muammar Gaddafi's son Saif al-Islam (Gazeta.ru, December 24, 2018) ). Sometime between late 2018 and early 2019, Russia seemed to have chosen Haftar as its main bet in the conflict. On the one hand, the field marshal was a much more understandable personality for the Russian military leadership; on the other hand, Haftar had reportedly promised Moscow "huge concessions" in the oil, transportation/construction, and defense sectors in exchange for military support (Vz.ru, July 6, 2017). This pattern ("concessions for security" formula) was previously tested in Syria. In November 2018, Yevgeny Prigozhin, an alleged sponsor of the private military contractor (PMC) Wagner Group, was spotted at the meeting between Haftar and Russia`s Defense Minister Sergey Shoygu, when, as argued by Russian sources, a decision to send a massive group of Russian mercenaries to Libya might have been made (Graniru.org, November 9, 2018. As reported by Russian-language, Arabic, and Western sources, Russian mercenaries have taken an active part in the Operation Flood of Dignity (Haftar`s offensive against Tripoli) that started in April 2019 (Svoboda.org, September 27, 2019; Inosmi.ru, November 26, 2019; Timesofmalta.com, November 7, 2019). Based on the Russian experience in other conflicts in Africa, it is hardly a surprise that Moscow opted to use PMCs in pursuit of its geo-economic and geopolitical objectives in Libya (War by Other Means, January 10, 2020).
Russian Mercenaries in Libya: Continuity and Tradition
The presence of Russian mercenaries in Libya is by no means a new phenomenon. In the late 1980s, Soviet military advisors deployed in the country were employed—acting as de-facto mercenaries—by Gaddafi in his infamous 'border wars' against Egypt, Niger, and other neighbors (Gazeta.ru, accessed January 30, 2019). After the collapse of the USSR in 1991, many of these contractors (up to 5,000 men) chose to stay in Libya, becoming Russia`s first private military contractors in Africa (Gazeta.ru, March 31, 2011). Following the outbreak of the Libyan civil war, various official sources claimed that Russian mercenaries were present and actively participating in the conflict (Rosbalt.ru, September 24, 2011). In 2012, a group of mercenaries (headed by a Russian citizen) was detained in Libya. This participation, however, was largely uncoordinated and therefore could not change the trajectory of the conflict. A qualitatively new tendency started to take shape in 2017, when members of the RSB Group PMC were detected in Benghazi (controlled by Haftar) working on de-mining the local cement factory belonging to the Libyan Cement Company (Rbc.ru, March 25, 2017). Based on deep analysis of the RSB Group`s activities in Syria and elsewhere, there is every reason to believe that the PMC was not involved in military engagements, rather its mission should be viewed as a combination of economic interests and, arguably, intelligence gathering/surveillance, which could have been used for preparing the ground for more "serious" players (War by Other Means, March 20, 2019). In the meantime, much more disturbing information appeared in March, when Reuters (based on its diplomatic sources) suggested that Russian Spetsnaz (most likely, Airborne troops who are members of the Vozdushno-Desantnye Voyska—VDV) equipped with UAVs were deployed near Sidi Barrani (Egypt), some 100 kilometers from the Libyan national border – this was quickly shrugged off by the Egyptian authorities (Reuters, March 13, 2017).
At this time though, Moscow was still pursuing a relatively balanced approach in Libya with a clearly visible "Chechen trace": while the role of an intermediary was ascribed to Lev Dengov, the true locus of negotiation power was centered in Grozny (EDM, October 29, 2018). The situation, however, seemed to begin changing from late 2018, when a bet on Haftar became more pronounced, and the reliance on the "power option" (brining in more mercenaries from the Wagner Group) was prioritized.
Wagner Plunges in – Intermediate Results and Consequences
Wagner`s participation in the Libyan conflict could be conditionally divided into three main phases.
The first phase (spring – summer 2019) was marked by the first reports of the massive arrival of  Russian mercenaries. At this point, Russia still pursued a mixed approach that combined both (para)military operations conducted by mercenaries, and non-military missions (Proekt.media, July 5, 2019; Interfax.ru, July 5, 2019). Yet, this approach did not seem to work out as planned: toward the end of summer, the western Libya offensive, even though initially successful, was (rather unexpectedly for Moscow) falling short of its initial objective to capture Tripoli.
During the second phase (September – December 2019), certain changes—primarily reflected in the growing number of Russian mercenaries and structural changes (employment of snipers with alleged experience fighting in the Donbass region of eastern Ukraine)—took place (Rosbalt.ru, November 6, 2019). According to Russian sources (with reference to international information outlets), Russian mercenaries were sent to Libya at least twice (early September and November) in the amount of no less than two hundred fighters (Interfax.ru, November 6, 2019). This phase was not only marked by a renewed intensity to the fighting between Haftar and his opponents, but also the strengthening of Turkish determination to protect its geo-economic/political interests in the basin of the Mediterranean Sea, which contrasted with Russia`s interests in the region (Lefigaro.fr, December 16, 2019). According to Russian sources, this confluence of interests may have resulted in a military clash near Tripoli in September that reportedly caused massive casualties (between 10 to 35 dead) of Wagner personnel, allegedly owed to an airstrike by the Turkish air force (Meduza.io, October 2, 2019; Meduza.io, October 6, 2019).
The third phase (from January 7) brought new developments. First, forces loyal to Fayez al-Sarraj managed to re-instate their control over strategically important Sirte (located west to Libya's oil crescent) and repulsed LNA forces attempting to capture Misrata (January 29) (Interfax.ru, January 7). Secondly, new questions pertaining to the Russian mercenaries appeared. On January 11, Russian President Putin openly admitted to the presence of Russian mercenaries in Libya, claiming, however, that "they [mercenaries] do not represents the interests of the Russian Federation" nor do they "receive money from the Russian government" (Rosbalt.ru, January 11). On the same day Russian sources, with reference to the Turkish media, claimed that "mercenaries from the Wagner Group have been withdrawn from the frontline in Libya", adding that this gesture ensued "after an agreement between Erdogan and Putin" (Lenta.ru, January 11). While the withdrawal might indeed have resulted from some sort of an agreement between the two leaders, there is a possibility that, given Erdogan`s continued accusations that the Russian side was pouring in more mercenaries into Libya—he argued that their number reached 2,500 men by the end of January—the chance of the military defeat of the PMCs could have been another potential reason (Interfax.ru, January 20).
Conclusion
The involvement of Russian PMCs in the Libyan civil war has delivered a different result than in Syria. The presence of the mercenaries has, for now, failed to tip the balance in Haftar`s favor via a decisive military victory. It has become quite clear that without the support of the Russian armed forces (the Vozdushno Kosmicheskikh Sil—VKS, and special operations forces), the actual military capabilities of Russian mercenaries are limited. Moreover, having encountered a technologically advanced power (Turkey), Wagner has suffered losses similar to the massacre near Deir ez-Zor in early 2018, when the group was struck by U.S. airstrikes. To try to achieve its objective, Russia might increase the number of mercenaries in Libya, though it is unlikely that would lead to ultimate victory due to growing Turkish involvement. Moscow could also start sending heavy weaponry and munitions to Haftar but doing so would sour the Kremlin`s ties with Ankara and runs against Russian plans, especially given the launch of TurkStream, a natural gas pipeline from Russia to Turkey. Therefore, given the fact that the participation of Russian mercenaries has failed to break the stalemate (although it is hardly possible that the Wagner Group will be fully withdrawn from Libya in a short-term prospect), the two most powerful external players in the Libyan civil war (Turkey and Russia) will have to seek a solution on the negotiation table, not the battlefield.