Dmitry Kozak, Russia's New Conflict-Management Viceroy
Publication: Eurasia Daily Monitor Volume: 17 Issue: 15
By: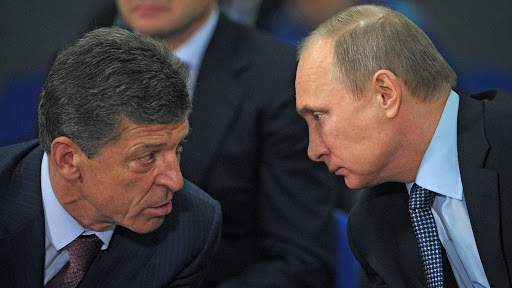 From Russia's perspective, the conflicts it has itself instigated in the greater Black Sea region are strictly separate cases. Moscow regards the conflicts over Ukraine's Crimea and Georgia's Abkhazia and South Ossetia as settled and closed. By contrast, Russia seeks political settlements to the active conflict in Ukraine's Donbas and the frozen one over Moldova's Transnistria.
In this overall context, Dmitry Kozak will supervise Russia's handling of the two remaining unresolved conflicts: those in Donbas and Transnistria.
Russian President Vladimir Putin has replaced Vladislav Surkov with Kozak as Putin's principal representative for policy toward Ukraine, the Russian-controlled territory in Ukraine, and international negotiations over this conflict. Kozak, hitherto a deputy prime minister, will carry out this assignment from his new post as deputy head of the presidential administration, in Putin's direct proximity (see EDM, January 30).
In parallel, Kozak will continue overseeing Russia's handling of the Transnistria conflict. Kozak first attempted a quick-fix resolution of that conflict in 2003 (see below) and has returned to the task since 2018, this time on a longer-term basis. He will henceforth act from his new Kremlin post, at the top of decision-making next to Putin.
Russia pursues two parallel conflict-resolution projects, known as "special status," for the Russian-made conflicts in Ukraine's Donbas and Moldova's Transnistria. Whether labeled federalization as it previously was, or revamped as special status, this Kremlin project is peculiar to these two conflicts, distinguishing them from all other Russian conflict undertakings in former Soviet territories or beyond. (Moscow briefly envisaged a federalization of Syria, until that country's Kurds chose to side with the United States.) Moscow wants Donbas and Transnistria each to be endowed with a tailored special status, nominally within Ukraine and Moldova, respectively, but de facto under Russian control and influencing the two countries from within.
Moscow seeks Western acceptance of this dispensation—indeed international nudging of Ukraine and Moldova in this direction—as a sine qua non for Russia's success. While Russia's "solutions" regarding Crimea, Abkhazia and South Ossetia are unilateral solutions, not recognized internationally, Russia seeks negotiated solutions and their international ratification in Donbas and Transnistria. In both cases, Russia envisages negotiations on three successive levels: first, internal to Ukraine and Moldova, respectively (internal consensus among political parties in Kyiv and Chisinau); second, center-periphery negotiations (Kyiv with Donetsk-Luhansk, Chisinau with Tiraspol); and third, international blessing (e.g., in the Normandy format and the 5+2 framework).
Kozak's new mission on Ukraine adds to his existing assignment since 2018 as special presidential envoy for economic and trade relations with Moldova (see EDM, September 18, 2018). Kozak deals with Moldova's legitimate government and with the Russia-controlled Transnistrian authorities on separate tracks. He deals with Tiraspol directly, bypassing Chisinau.
Notwithstanding his official mandate for economy and trade, Kozak also discusses political and "peacekeeping" matters with Transnistrian leaders during their periodic visits to Moscow. On January 20, 2020, Kozak received Transnistria's "president," Vadim Krasnoselski, to discuss both economic support and the negotiations ongoing on two levels: Chisinau-Tiraspol and international negotiations. Krasnoselski was received this time in the Kremlin—an upgrade over the previous venues in Russian government offices (President.gospmr.org, January 20, 2020).
Kozak is one of Putin's longtime, close associates. A native of Soviet Ukraine's Kirovohrad region, he entered Putin's entourage in St. Petersburg in the 1990s; served him in Moscow as deputy head and first deputy head of the presidential administration in 2000–2004 (his first stint in that office); was the presidential plenipotentiary envoy for the North Caucasus Federal district in 2004–2007; minister for the development of Russia's regions in 2007–2008; and deputy prime minister continuously from 2008 until January 2020, with responsibility for "regional affairs." Kozak's reputed specialty from 2002 to date has been that of harmonizing the competencies of Russia's regions with Russia's federal legislation, regulating the constitutional delimitation of powers between the central and regional authorities.
It was in that capacity as a constitutional law specialist that Kozak was tasked by President Putin in 2003 to produce a framework document for turning Moldova into a federation and to ensure Chisinau's and Tiraspol's acceptance of the "Kozak Memorandum." Moldova's then-president, Vladimir Voronin, ultimately turned it down in November 2003, just one day before the scheduled signing with Putin.
Such an offense to Russia's president did not affect Kozak's standing with Putin, but Kozak no longer became involved in conflict theaters until Russia attacked Ukraine in 2014. In March of that year, then–deputy prime minister Kozak was additionally appointed as head of the Russian government's commission to supervise the economy of the annexed Crimean peninsula. Kozak has also supervised the economy of the Donetsk and Luhansk "people's republics" in Ukraine's east, focusing on the energy and heavy industry sectors, budget funding and humanitarian assistance. This effort has been channeled through Russia's Ministry of Economic Development, one of whose deputy heads has been directly in charge of this effort. That official is currently First Deputy Minister Mikhail Babich, according to Ukrainian press reports. Babich had been nominated as Russia's ambassador to Ukraine in 2016, but was turned down by Kyiv; he was then posted as ambassador to Belarus in 2018–2019, but had to be recalled at Minsk's insistence. Babich is regarded as a political-bureaucratic ally of Kozak's.
In connection with Kozak's transfer from deputy prime minister to deputy head of the presidential administration, Putin has appointed Marat Khusnullin as deputy prime minister for construction and regional development. Khusnullin is additionally assigned to oversee the Crimean peninsula's economy, thus replacing Kozak in both positions (TASS, January 21, 28). Khusnullin is a Tatar from Kazan by origin. Selecting him to oversee Crimea seems intended to impress Crimean Tatars, on the apparent misassumption that these Tatar identities are one and the same.
Kozak was being primed to replace Surkov as top negotiator on Ukraine ahead of Putin's official decision to this effect (see above). Kozak played the main role for Moscow in negotiating with Ukraine's presidential administration about the reciprocal release of detained persons. He also joined the Russian delegation in the final stage of the negotiations with Ukraine about natural gas transit to Europe (December 2019), opposite Ukrainian President Volodymyr Zelenskyy's top aide, Andriy Yermak. Yermak has become Kozak's direct interlocutor in Kyiv. Kozak is currently associated with the idea of negotiating a guaranteed special status for Transnistria, nominally in Moldova; and he will almost certainly promote such a concept regarding Ukraine's Donbas, on two tracks at different speeds. The latter track is the faster track at the moment. And whichever track advances faster, it can be used as a precedent or example for the other.