Ethnic and Religious Conflicts on the Rise in North Ossetia After Killings
Publication: Eurasia Daily Monitor Volume: 8 Issue: 104
By: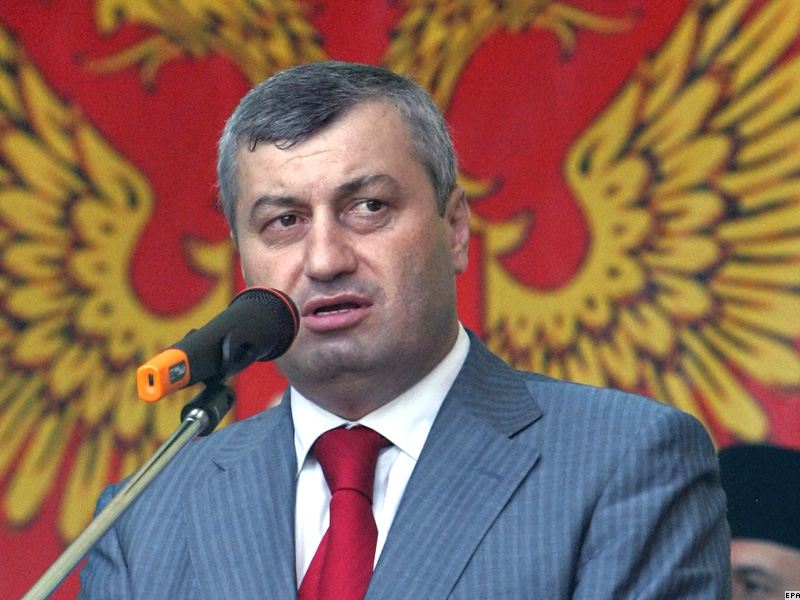 On May 20, two bodyguards of South Ossetia's leader Eduard Kokoity were killed in Vladikavkaz, North Ossetia. According to some reports, Alim Kabulov and Oleg Ikaev were at the Vladikavkaz airport to meet Kokoity, who was expected to return from Moscow on the same day. Other sources said that the two South Ossetian security officers were on vacation and visited one of the city's nightclubs, where they had a quarrel with a local North Ossetian boxer, Albert Tsgoev. The boxer disarmed Kokoity's men and shot them both multiple times. It transpired later, that one of the Kokoity's bodyguards, Alim Kabulov, was Kokoity's cousin (www.kavkaz-uzel.ru, Kommersant, May 20, May 21).
From the start, the killing acquired an ethnic dimension that put South Ossetians and North Ossetians at loggerheads. A source in the North Ossetian police said that representatives of foreign governments were not allowed to carry guns with them in North Ossetia and the rest of Russia. In response, South Ossetia's de facto government confirmed that Eduard Kokoity's bodyguards were on duty and were legitimately carrying their weapons. Many ordinary North Ossetians defended the killer, because they believed he acted in self-defense against power-abusing South Ossetian officials. South Ossetia's de facto government stated it was a cold-blooded killing (www.kavkaz-uzel.ru, May 23).
North Ossetians and South Ossetians share the same language, but speak distinctly different dialects and have a multitude of other cultural differences. Following the August 2008 war between Russia and Georgia, Moscow officially recognized the breakaway Georgian province of South Ossetia as an independent country. Conflicts between the two groups of Ossetians did not abate with that recognition, but instead seem to be on the rise. North Ossetia has hosted large groups of refugees from South Ossetia in the past two decades amid economic crises and high unemployment that soured relations between the two territories and built up bitter divergences. While South Ossetia nominally is an independent country, its entire budget is financed by Moscow, so South Ossetia and North Ossetia, which is politically part of the Russian Federation, compete for money from the same Russian purse.
North Ossetian police complain that South Ossetians cause major problems for North Ossetia, participating in the illegal arms trade, racketeering, robberies and other crimes. Police sources say that a criminal who gets to South Ossetia is virtually impossible to arrest (Kommersant, May 21).
While the killing of Kokoity's security men, including his cousin, in North Ossetia may appear accidental, it might have a political dimension. Presidential elections are scheduled to take place in South Ossetia in the fall of 2011. Eduard Kokoity officially stated he would not stand for a third term, but government-backed groups initiated a referendum for erasing the two term rule from the breakaway republic's legislation, which would allow Kokoity to stay in power. Moscow reportedly did not approve of this idea, so various incidents may be designed to send a strong signal to the South Ossetian leader that he should step down. The North Ossetian police purportedly placed the family members of the killer Tsgoev under protection the very day when the murder took place, citing the possibility of blood-feud retaliation by South Ossetians (https://lifenews.ru/news/59033, May 20). Such an unusually brisk reaction to a perceived threat to a criminal's family by the police in North Ossetia is not only out of the ordinary, it is practically impossible without the government's special interest in the matter.
On May 27, the South Ossetian opposition to Kokoity's regime staged a protest in Vladikavkaz. Some 500-1000 people participated in the rally, apparently attempting to address Moscow with slogans like: "Kokoity is worse than Saakashvili," "Putin and Medvedev: save us from Kokoity's tyranny," "Kokoity is a factor for instability in the south of Russia." The Russian national wrestling team's principal coach, Jambulat Tedeyev, stated at the rally that he would run for the South Ossetian presidency if a newly created People's Front movement supported his candidacy. The protesters explained that their rally was not organized on South Ossetian territory because of threats from the Kokoity's government. South Ossetia's de facto government refused to comment on "actions that are taking place in a neighboring country" (Kommersant, May 27). Earlier, on May 19, a small protest took place near the government building in Tskhinvali (www.uasdan.com, May 19).
The relative stability in North Ossetia and its relations with South Ossetia were further challenged on May 26, when Shamil Jikkaev, a 70-year-old poet and dean of the Ossetian language department at North Ossetian State University, was found dead with his throat slit in the Vladikavkaz suburbs. The murder shook North Ossetia, which is still a relatively peaceful republic in the North Caucasus. Jikkaev's killing was quickly connected to an anti-Islamic short poem he wrote in 2008 following an incident involving a group of Chechen and Ingush pilgrims for the hajj in North Ossetia. As the group passed by a cemetery with over 300 victims of the 2004 hostage drama in Beslan, the group got off their bus either in search of restrooms or to pray and was attacked by Ossetian teenagers, who considered this behavior offensive. In North Ossetia, the Beslan hostage seizure has been widely blamed on Ingush and Chechens (www.kavkaz-uzel.ru, May 27).
North Ossetian police announced that a fugitive North Ossetian Muslim convert, David Murashev, was involved in Jikkaev's killing. The event caused the already high anti-Islamic sentiment among the predominantly non-Muslim North Ossetian public to reach a fever pitch. Jikkaev was of South Ossetian descent, while Murashev is North Ossetian. Islam is virtually absent in South Ossetia, while a significant number of ethnic North Ossetians, including the current leader of North Ossetia, Taimuraz Mamsurov, are Muslim or of Muslim descent. So the recent violent events in North Ossetia are likely to produce ripple effect of increasing tensions along ethnic and religious lines in this North Caucasian republic.