European Commission Urges Corrections to Bulgarian-Russian South Stream Agreement
Publication: Eurasia Daily Monitor Volume: 7 Issue: 210
By: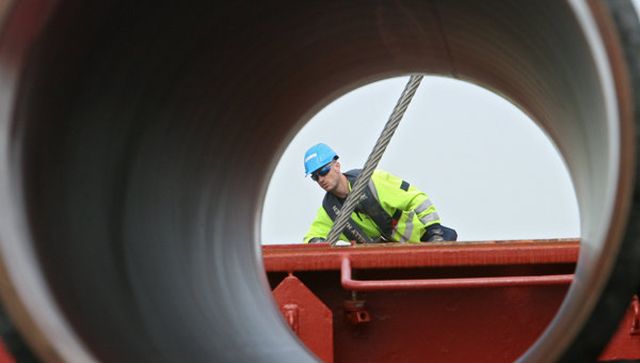 The European Commission is calling for changes to the Bulgarian-Russian inter-governmental agreement on the South Stream gas project. The project agreements, just signed for the Bulgarian section of this Gazprom-led project (EDM, November 16) are also generating serious complications in and for Bulgaria.
On November 15 in Brussels, the European Commission asked Bulgaria to amend the inter-governmental agreement on the country's accession to South Stream. The commission's spokeswoman, Marlene Holzner, noted the agreement's failure to provide for competitive access to the pipeline and for separation of supply from transmission. The commission offers its assistance to the Bulgarian government for making the appropriate corrections (Euractiv, November 15, 17).
Signed in January 2008 by the Bulgarian government in power at that time, and ratified by that parliament in July 2008, the inter-governmental agreement needs to be brought into line with the European Union's energy market legislation. This legislative package, adopted in 2009 and due to take effect in 2011, promotes competition against monopoly practices. The requirements include separating (unbundling) the gas supply business from pipeline transportation, instituting in each case an independent pipeline operator, and ensuring competitive access to pipeline capacities for third-party suppliers.
While the European Commission's objections focus explicitly on the Bulgarian-Russian inter-governmental agreement, they must presuppose amending also the follow-up project agreements, signed in Sofia on November 13. These would almost certainly necessitate clarifications for Bulgaria's own protection from possible claims by Gazprom in the future. During the November 13 signing event in Sofia, Russian Prime Minister, Vladimir Putin, criticized the EU's anti-monopoly legislation for hurting Gazprom's interests in EU countries, including Bulgaria (Interfax, November 13).
Given this Russian attitude, Bulgaria risks being caught between EU law and Gazprom demands based on the project agreements; unless any discrepancies with EU law are removed also from the project agreements, which themselves grew out of the inter-governmental agreement. Moreover, the project agreements just signed do not seem to provide for an independent pipeline operator, thus apparently contravening the EU legislation's unbundling requirements.
All this means that Bulgaria must go back and discuss the necessary corrections with Russia. In the case of the inter-governmental agreement, any amendments will be subject to parliamentary ratification, as was the original document itself. Bulgaria's Ministry of Foreign Affairs has wasted no time recognizing this situation and also apparently bringing the project agreements into this discussion. The Bulgarian side has notified the Russian side about the need for corrections in line with EU law (BTA, November 16; Dnevnik, 24 Chasa, November 16, 17).
The inter-governmental agreement excludes third parties from using the South Stream pipeline on Bulgarian territory. This in effect ensures a monopoly position for Gazprom. The November 13 project agreements have changed nothing in this regard. The EU legislation, however, requires competitive access to pipelines. It also allows partial exemptions in some cases, such as project companies building new pipelines (such as the Nabucco project). Such companies may apply to the commission for approval of derogations from third-party access requirements. According to Bulgarian Economy and Energy Minister, Traicho Traikov, Bulgaria intends to apply for reserving 50 percent to 70 percent of the putative South Stream pipeline's capacity for the project company itself –for Gazprom's gas.
Bulgarian government officials cite the Nabucco project as a possible precedent for exempting the South Stream pipeline from EU law on third-party access (Novinite, BTA, November 16, 17). Nabucco and South Stream, however, are far from being equivalent from the standpoint of anti-monopoly legislation. Unlike Gazprom, none of the companies in Nabucco acts as a supply monopolist on European markets; and none controls the Nabucco project, unlike Gazprom which controls South Stream overall (50 to 51 percent ownership of South Stream's sections in each participant country). Moreover, Gazprom's 50 percent ownership of the Bulgarian section of South Stream contravenes the EU legal requirement of unbundling the gas supply from transmission operations.
As an EU member since January 1, 2007, Bulgaria was notified by the European Commission in January 2008 that some aspects of the inter-governmental agreement with Russia, were incompatible with EU legislation and had to be amended. The Bulgarian government of that time, socialist and Moscow-friendly, ignored those recommendations. The current Prime Minister, Boyko Borissov, has now apparently discovered this fact and accuses the predecessor government of having hidden the commission's 2008 letters from the public (Dnevnik, 24 Chasa, November 16, 17).
Meanwhile, the current center-right government has yet to answer the commission's April 2010 letter which raised further questions about the inter-governmental agreement (Euractiv, November 15, 17). Borissov deprecated Nabucco as elusive and too expensive for Bulgaria, following the signing of the South Stream project agreements in front of Putin (24 Chasa, November 15).
While the European Commission is proceeding strictly from a legal and technical standpoint, the US Embassy in Sofia is raising policy issues of supply security and transparency regarding South Stream. The US Ambassador, James Warlick, had all along brought these issues to the Bulgarian public's attention through his frequent interviews in local media on energy policy. Warlick is now re-emphasizing the need for supply diversification (alluding to overdependence on Russia) and reminding the Bulgarian government about its commitment to the EU-backed Nabucco project (Novinite, Standart, 24 Chasa, November 16, 17).
In Brussels, the Ukrainian Ambassador to the EU, Kostyantyn Yeliseyev, has commented in this connection that "Ukraine opposes the construction of South Stream, a political project devised to exert pressure on Ukraine, but which makes no economic or technological sense, and requires an environmental assessment" (UNIAN, November 17). This statement sums up the Ukrainian government's strongly argued view about the South Stream project (EDM, September 21). Ukraine will continue, for as long as it can, blocking a pipeline through its Black Sea exclusive economic zone from Russia to Bulgaria.
Moreover, some Romanian officials seem to relapse into another short-lived cycle of illusion about the South Stream project. Only a few days before Putin's visit to Bulgaria for the signing event there, Romania's Transgaz held talks with Gazprom in Moscow about Romania's possible participation in South Stream (Bursa [Bucharest], November 12). Both Moscow and Sofia (each for its own considerations) regard Romania as a potential competitor against Bulgaria for joining the South Stream project. Putin and Gazprom's CEO, Aleksei Miller, again insinuated this in Sofia (Interfax, Novinite, November 13, 14). This perception tends to strengthen Moscow's hand vis-à-vis both Sofia and Kyiv; while Bucharest gains nothing from its talks with Moscow. The European Commission (as well as local US embassies, on the Warlick example) might encourage the three capitals to communicate with one another about South Stream, in response to Moscow's wedge-drawing tactics toward these Black Sea countries.