Factional Strife Intensifies as Xi Strives to Consolidate Power
Publication: China Brief Volume: 21 Issue: 20
By: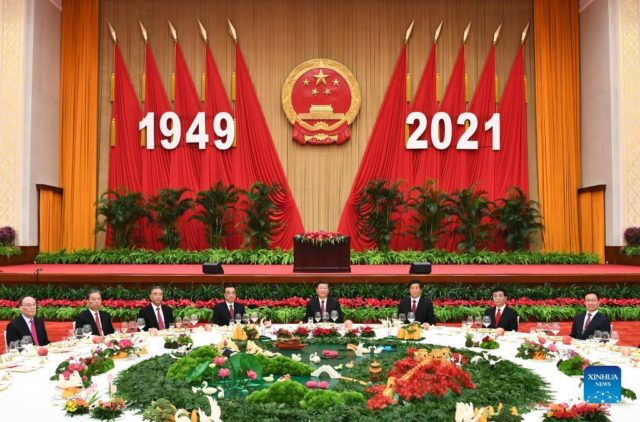 More evidence has emerged of a ferocious power struggle between China's supreme leader, President Xi Jinping and powerful factions and personages including former Vice-President Zeng Qinghong and current Vice President Wang Qishan. Not-so-subtle instances of in-fighting among these influential figures and their cliques have emerged in the wake of the revelation last month by the semi-official NetEase and Sohu websites that several senior officials in the political-legal apparatus (政法系统, zhengfa xitong), which includes the police, the secret police and the courts, had plotted "sinister and treacherous" (不轨, bugui)  actions against a top party leader, generally thought to be Xi (See China Brief, September 23). (These articles have since been deleted from the Internet).
The factional back-stabbing has worsened even as the economy  battles strong headwinds. In the wake of the near-bankruptcy of Evergrande Group, one of the largest real-estate conglomerates in the world, more property and financial firms are reportedly unable to service their multi-billion yuan debt burdens. The total national debt reached 335 percent of GDP at the end of last year, while external debt alone has breached the $2.68 trillion mark (SAFE.gov.cn, September 30; Hong Kong Economic Times, November 19, 2020). Apart from the infrastructure sector, local government investment vehicles are estimated to have incurred loans of 53 trillion yuan ($8.23 trillion) through the end of 2020, up from 16 trillion yuan ($2.5 trillion) in 2013. Moreover, China faces an energy shortage that is partially caused by depleted coal supplies. On the foreign-policy front, trade talks with the U.S. have yet to be reopened,  and the Biden administration is persevering with efforts to build a coalition of like-minded nations to counter China's increasingly aggressive behavior in areas including in the Taiwan Straits, the East China Sea and South China Sea (Asia.nikkei.com, October 4; Times of India, September 27).
Trouble with Wang Qishan?
Xi, who has not traveled abroad for more than 630 days, seems busy handling challenges from different quarters as he lays the groundwork for the 20th Party Congress next year, whose theme is likely to be the confirmation of the strongman as the party's "core for life" (终身核心, zhongshen hexin). Earlier this month, well-regarded journalist Hu Shuli(胡舒立), the founder and editor of the liberal online magazine, Caixin.com, posted the following message about a certain "pighead" in the culinary section of the news outlet's we-chat account (United Daily News, October 7). "If a pighead is well cooked, it can of course be delicious," the brief note said. "Yet if a pighead is not respected, this has to do with people's way of thinking. Ordinary people won't think of forming a strategic relationship on the dining table with a pighead that bears a bad name." "Pighead" is one of the nicknames used for Xi. And although this posting is supposed to be associated with culinary matters, the mention of "strategic relationship" seems a sleight-of-hand critique of Xi's stubborn conservatism and his failure to establish solid ties with Western countries (Tang Jingyuan Youtube Channel, October 8; United Daily News, October 7).
Over the past 20 years, Hu has written and edited many controversial stories exposing the wrongdoings of powerful officials and princelings (offspring of party elders). Her courageousness is attributed to the "protection" provided  by Wang Qishan, who was a member of the Politburo Standing Committee (PBSC) and Secretary of the Central Commission for Disciple Inspection (CCDI) – the party's highest anti-graft body – during Xi's first term (2012-2017). Wang is considered by many to be one of Xi's closest allies, he was given the highly respected title of Vice-President in 2013, and that he was once considered Xi's main advisor on relations with the U.S However, Wang has gradually fallen out of favor with the supreme leader since leaving the Politburo in 2017. (Asia.nikkei.com, October 8, 2020; Hong Kong Free Press, April 9, 2020).
Late last year, Ren Zhiqiang(任志强) a princeling and real-estate mogul in addition to a widely followed Internet commentator, was sentenced to eighteen years in jail for alleged corruption and embezzlement. Yet the severe punishment meted out to Ren, who is known to be a close friend of Wang Qishan, is thought to have been caused by the former's internet posting about a certain "disrobed clown who insists on being the emperor" (Radio French International, September 25, 2020; Central News Agency, September 24, 2020). Xi is often referred by his critics as "the emperor who wears no clothes" and Ren's dig at Xi caused a big excitement among liberal intellectuals in the country.
Wang is also considered to be a hidden patron of several enterprises, which have been penalized by the authorities for irresponsible management and reckless overseas investment. Foremost among these enterprises is HNA Group, a Hainan-based company, which rose from a regional airline to an international conglomerate in less than 20 years (China Digital Times, February 12, 2018). HNA went bankrupt earlier this year largely due to its inability to repay debts estimated at $77.3 billion. HNA Chairman Chen Feng (陈峰) was arrested in September for alleged economic crimes and anti-party activities. Chen is considered a protégé of Wang, who is a former party secretary of Hainan province (SCMP, September 20; Asia.Nikkei.com, March 16). The confessional-style announcement issued by the HNA board after Chen's arrest seemed to show that more than illicit business activities were involved. "Ambition and wild desires have led the whole group into a deep gully," the statement said (Thestandnews.com, September 25; The Paper, September 24).
Yet another close associate of Wang, former CCDI official Dong Hong(董宏), was arrested last April for embezzlement and a "degenerate lifestyle". A vice-ministerial-level cadre, Dong was Wang's right-hand man when the latter was party secretary of the CCDI. Dong was head of the team that the CCDI set up in 2013 to investigate malpractices in provincial and government bodies. He was accused of "seriously infringing upon political discipline and political regulation" as well as "being disloyal to the party." (Asianews.it, April 27;  New Beijing Post, April 26). Going against "political discipline and political regulation" are considered code words for not being loyal enough to the party "core," President Xi.
Pushback from a Key Party Elder
Even more obvious is the power struggle between Xi and former PBSC member and Vice President Zeng Qinghong. Zeng, a princeling and close aide of former president Jiang Zemin, is also a major leader of the so-called Shanghai Faction. Zeng is believed to be the "protection umbrella" behind several multi-billion enterprises. One of these enterprises, Fantasia Holdings (花样年控股集团有限公司, huayang nian konggu jituan youxian gongsi), which is headed by his niece Zeng Baobao (曾宝宝). Fantasia was recently downgraded to "default" status by rating agencies due to failure to pay interests on bonds and promissory notes. As of the middle of this year, Fantasia had current liabilities – those that have to be repaid within a year – of nearly 50 billion yuan ($7.5 billion) (Caixinglobal.com, October 7; SCMP, October 6). Yet, Zeng Baobao seemingly blamed the party's highest authorities for her company's downward spiral. She said in a controversial We-chat post that while professional matters should be left to professionals, very often "decisions are made by people whose brain is conditioned by their buttocks." She added that the future of her company "will be handed over to the person whose buttocks are anchored most securely." (屁股决定脑袋的决策,交给屁股坐得最定的那个, pigu jueding naodai de juece, jiao gei pigu zuo de zui ding di nage). Zeng's subtle comments seemed to be targeted at Xi, who has been putting pressure on a host of real estate and technology companies , some of which have been nationalized (United Daily News, October 8; Radio Free Asia, October 7).
Zeng Qinghong's most serious "offence" may be his association with the late Lai Xiaomin(赖小民), a veteran banker who used to head the state-owned China Huarong Asset Management Company (CHAMC) (中国华融资产管理公司, Zhongguo huarong zichuan guanli gongsi). Lai was arrested late last year and was executed this January. He was accused of having pocketed some 1.79 billion yuan in bribes and of being "disloyal to the party." Yet the relationship between Zeng and Lai goes back a long way. They hail from neighboring counties in Jiangxi Province, and Zeng played a role in Lai's meteoric rise in the financial establishment (Radio Free Asia, January 22; Tw.news.yahoo.com, January 6). Zeng Baobao's Fantasia Group Holdings was also a business partner of CHAMC. In exclusive reports run by NetEase and Sohu.com, Lai is said to be the financier behind "sinister and treacherous" actions planned by senior Jiangsu zhengfa officers including Wang Like (王立科), Luo Wenjin (罗文进) and Yang Ming (严明) to do harm to Xi (News.youth.cn, September 22; Radio Free Asia, September 16).
Xi Purges Rival's Protégés from Police Forces, Judiciary
Xi's long-standing distrust of the political-legal (zhengfa) apparatus springs from the fact that his arch-enemy, former PBSC member and internal security czar Zhou Yongkang, who was sentenced to lifetime imprisonment in 2015, still has large numbers of followers and underlings in the police, the secret police, and the judicial system. This is the driving force behind Xi's multi-year purge of the zhengfa system. After arresting three former Vice Ministers of public security – Li Dongsheng (李东生) (2013), Meng Hongwei (孟宏伟) (2018) and Wang Like (王立科) (2020) for economic and disciplinary infractions – the CCDI announced on October 2 that former executive Vice Minister of Public Security Fu Zhenhua (傅振华) was being investigated for similar crimes. Even though Fu played a key role in the investigation of Zhou Yongkang in 2013 and 2014, he is believed to have lost Xi's trust due to his close association with  other Zhou protégés such as Wang Like. Most of the disgraced former senior police cadres have been accused of "forming cliques and factions" within the internal security system (VOAChinese.com, October 8; theinitium.com, October 5; China.caixin.com, October 4;).
A number of the members of the zhengfa system, who have been targeting for discipline by the Central Leading Group on Inspection Work (CLGIW) (中央巡视工作领导小组, Zhongyang xunshi gongzuo lingdao xiaozu), which has periodically sent inspection teams to party and government units, as well as provincial and municipal administrations to asses mid- to senior level cadres' political rectitude and possible economic crimes. Last year, the CLGIW, which is headed by the PBSC member and Secretary of the CCDI Zhao Leji, dispatched inspectors to several zhengfa units including the Ministry of Public Security, Ministry of State Security, the Justice Department, and the procuratorate and court systems (CCDI website, April 20; MOJ.gov.cn, August 23, 2020). Currently, the CLGIW, which was set up in 2009 but which did not become active until Xi became party head in 2012, is investigating 25 financial units including the People's Bank of China, major state banking and insurance companies as well as regulatory agencies such as the China Securities Regulatory Commission and the China Banking Regulatory Commissions (Finance.sina.com, September 26; Finance.caixin.com, September 26). As Wang Qishan and Zeng Qinghong have, in both their public and private capacities, been active in the investment and banking sectors, it is possible that more protégés of these alleged political foes of Xi may yet be uncovered.
Conclusion
Xi has in many speeches linked his authority as "party core" to his ability to effectuate "self-purification and self-renewal" of the party. Part of his reputation lies in his ability to bring down a relatively large number of "tigers," or senior cadres, for economic crimes and disciplinary problems. So far, his rivalry with Zeng Qinghong and Wang Qishan has manifested itself mainly in verbal innuendoes. For example, Xinhua and the People's Daily have run a series of commentaries saying that the anti-corruption campaign will not tolerate any "Iron Head Princes" (铁头王, Tie tou wang) "The anti-graft movement has no upper limits," People's Daily declared last January. "The CCP is not afraid to face problems squarely and to rectify its mistakes… we are good at self-purification and self-renewal" (Xinhua, July 11; People's Daily, January 15). Pledges about the CCP's capability to "self-reform and self-purify" were repeatedly made by Xi in major speeches including his address marking the centenary of the CCP's establishment. "Iron Head Prince," which was one of the titles Qing Dynasty emperors gave to senior noblemen, is considered a reference to Zeng Qinghong. This is due to the fact that the last Iron Head Prince bore the title of Prince Qing. The 20th Party Congress will, Xi hopes, confirm his ability to retain his status as party General Secretary, State President and Chairman of the party's Central Military Commission for a decade. In the meantime, internecine bickering within the party could move beyond rhetorical allusions, and bring about the downfall of at least a couple of former Politburo and PBSC members.
Dr. Willy Wo-Lap Lam is a Senior Fellow at The Jamestown Foundation and a regular contributor to China Brief. He is an Adjunct Professor at the Center for China Studies, the History Department, and the Master's Program in Global Political Economy at the Chinese University of Hong Kong. He is the author of five books on China, including Chinese Politics in the Era of Xi Jinping (2015). His latest book, The Fight for China's Future, was released by Routledge Publishing in July 2019.