Four Uzbek Islamists Detained in Indonesia; KTJ Denies Alleged Links
Publication: Terrorism Monitor Volume: 21 Issue: 14
By: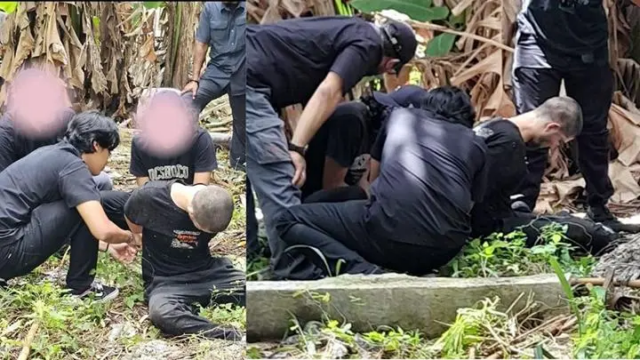 The detention in March and subsequent murderous escape attempt of four Uzbek nationals in Indonesia was the first reported case in which Uzbek nationals—or nationals of the five ex-Soviet Central Asian states more generally—have ever been captured and detained on terrorism charges in Southeast Asia; the four were alleged to have links to the Uzbek-led Central Asian militant group fighting in Syria, Katibat Tawhid wal-Jihad (KTJ)  (Antara News, April 4). Three of the Uzbek suspects, who were identified as Bekhzod Baytoev, Olimjon Makhmudov, and Murodjon Rakhimov, reportedly fought alongside KTJ after travelling to Syria in 2020, whereas a fourth detainee, Bakhromjon Azizov, was residing in Turkey. Azizov's role was to provide funding and forge documents for the three other associates (Antara News, April 11).
The quartet had entered Indonesia in February in two pairs, embarking on their journey from Turkey and transiting through the UAE and Malaysia—until they were detained by Indonesian law-enforcement authorities on March 24. However, an attempt was made to escape from the immigration detention center in Jakarta by Baytoev, Makhmudov, and Rakhimov on April 10 (injuring two security guards and resulting in the death of Baytoev and two immigration officers). Following this, the two recently recaptured fugitives and Azizov (who had refused to join the escape) were transferred to police custody. A murder investigation has since been launched against the surviving three.
On the surface, it might appear that KTJ intends to expand its logistics and financial network to countries as far as Indonesia (see Terrorism Monitor, April 14). In addition, it may seem that the incident suggests that KTJ retains connections with Indonesia-based pro-Islamic State (IS) militant groups, such as Jamaah Ansharut Daulah (JAD) and Mujahidin Indonesian Timur (MIT). The Uzbek nationals were possibly planning attacks in Indonesia and Malaysia on behalf of IS with said organizations (BenarNews, April 11; The Vibes, April 16). However, a closer analysis of the available data indicates that the detainees' movements reflected their own initiative rather than any mission organized by a jihadist group. There has been little to no credible evidence to suggest that KTJ has cooperated with Indonesian jihadist groups.
Why the Detained Uzbeks Were Likely Not in KTJ
Being part of Hayat Tahrir al-Sham (HTS)'s jihadist alliance in Syria, KTJ has relied on HTS protection and support for survival and relevance in an Arab-dominated battlefield. Any revelation of a hypothetical KTJ militant on an external mission would bother HTS by jeopardizing its rebranding efforts. By publicly disassociating itself from al-Qaeda and not prioritizing carrying out attacks outside of Syria, HTS has portrayed itself as a Syria-focused insurgent organization, rather than a terrorist one (see Terrorism Monitor, April 28).
In 2020 and 2021, HTS, for example, arrested KTJ's former leader, the late Abu Saloh, and several other members for disagreeing with HTS' turn to adopting a Syria-focused agenda and rejecting transnational goals. With a fear of such repercussions from the incident in Indonesia likely in mind, KTJ issued an online propaganda statement on May 5, in which it denied any involvement with the suspects arrested in Indonesia, claiming that it had no members or group connections outside Syria (SITE, May 5). The suspects might, therefore, be former KTJ fighters who abandoned the group due to disagreements with HTS and KTJ's acquiescence to the former's localized agenda.
KTJ's battlefield alliance with HTS has also led the group to take a stance in opposition to IS. Further, KTJ's continuing loyalty to al-Qaeda ideology is another factor that challenges assumptions that suggest group-level cooperation between KTJ and pro-IS groups in Southeast Asia. In fact, a researcher in Indonesia suggested that Baytoev was wandering around Jakarta after being financially abandoned by the cell's moneyman, Azizov, due to a disagreement over their future plans in Indonesia (SEA Militancy, April 12). While sleeping at various mosques, Baytoev eventually became acquainted with a local IS sympathiser, who suggested he act as an Islamic preacher to convince people to travel abroad to join IS. If the cell was truly acting under the control of KTJ, the suspects would not have been so divided, and Baytoev would not have engaged with the IS sympathiser.
Conclusion
Due to fragmentary official public reporting, at this juncture it is impossible to conclude exactly why the four-man Uzbek cell chose to relocate to Southeast Asia. However, what is clear is that Turkish counter-terrorism policy has created an increasingly hostile environment for KTJ and its fighters, especially after the group was blacklisted by the US and UN on March 22, 2022 (Anadolu Agency, May 2). This may have forced the group to seek a new sanctuary elsewhere, such as Indonesia.
The movement of foreign fighters to Indonesia from countries outside Southeast Asia is not common. Recent known cases include the arrests and killings of Chinese Uyghurs from Xinjiang, who ended up joining local pro-IS militant groups and cells in Indonesia. These included MIT and Katibah GR between 2014 and 2016 (CTTA, February 1, 2017).
Two factors nevertheless potentially contributed to the Uzbek suspects' move to Southeast Asia: first, their eligibility to enter Malaysia and Indonesia without a visa thanks to the countries' 30-day visa-free regime; and second, due to their Muslim-majority populations, these Southeast Asian countries might have otherwise appeared to be friendly destinations. KTJ, however, is currently not seeking to expand its activities outside Syria on an organizational level. Therefore, no systematic movement of KTJ- and HTS-related fighters to Southeast Asia should be expected in the future. Regardless of whether this was a self-initiated or group-organized shift to Indonesia, it remains crucial for Southeast Asian countries to enhance their ability to detect and detain transnational jihadist fighters in a timely manner.