From Assurance to Deterrence: The Russia Question and NATO's Summit in Warsaw
Publication: Eurasia Daily Monitor Volume: 13 Issue: 124
By: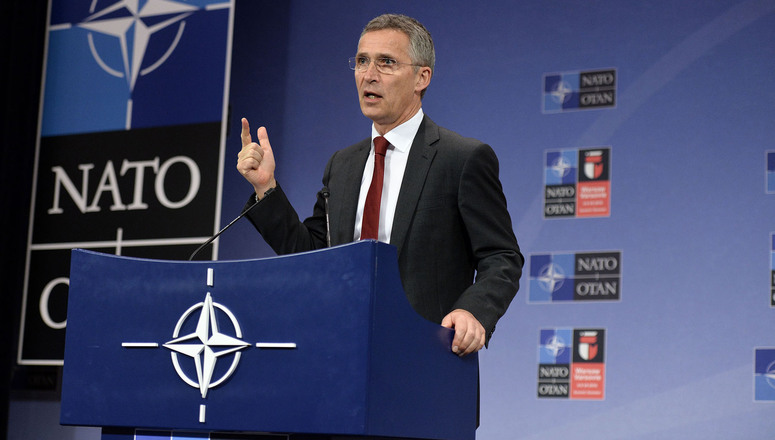 Be careful what you wish for because it just might come true. In the past, this author had often heard Russian diplomats complain that the West fails to pay proper attention to Moscow and that Russia's position is being ignored. But the North Atlantic Treaty Organization's (NATO) recently concluded (July 8–9) summit in Warsaw certainly gave no further credence for such complaints. Although Russian representatives did not take part in the summit, Russia was present in almost every speech and each adopted document. Among the 139 paragraphs of the Warsaw Summit Final Communiqué, almost half were directly or indirectly devoted to Russia. In particular, the Communiqué emphasizes: "Russia's aggressive actions, including provocative military activities in the periphery of NATO territory and its demonstrated willingness to attain political goals by the threat and use of force, are a source of regional instability, fundamentally challenge the Alliance, have damaged Euro-Atlantic security, and threaten our long-standing goal of a Europe whole, free, and at peace" (Nato.int, July 9).
The most important word at the summit was "deterrence." This notion was clearly expressed by former US Secretary of State (1997–2001) Madeleine Albright, while speaking at the Warsaw Summit Experts' Forum, on July 8: "Now, the task is to transition from reassurance to deterrence—so that Russia sees that its actions have long-term consequences, and understands that neither our resolve nor our capabilities should ever be questioned" (Wsef.pism.pl, July 8).
Next year, four multinational battalion-size combat groups, numbering up to a thousand troops each, will be deployed in Central and Eastern Europe. Canada, Germany, the United Kingdom and the United States will serve as framework nations for this presence in Latvia, Lithuania, Estonia and Poland, respectively. In addition, US President Barack Obama promised that an "additional US Armored Brigade will rotate through Europe, including an additional 4,000 US troops" (Whitehouse.gov July 9). Romania, meanwhile, put forward an initiative to establish a multinational framework brigade for the Black Sea region (Mapn.ro, June 14). The leaders of the gathered NATO countries also agreed at the summit to strengthen their naval forces in the Baltic and Black seas (specific details in this regard will be announced in autumn). At least the broad outlines of all these decisions were known long before the Warsaw meeting. And Moscow proactively declared its countermeasures well in advance: specifically, it announced the deployment of three divisions and a tank army in the western direction as well as the redeployment of two brigades to Russia's western border (see EDM, May 18).
But now, it seems that the Russian-Western confrontation may be turning its attention to a new area of focus. Notably, the Warsaw Communiqué stresses: "We will not accept to be constrained by any potential adversary as regards the freedom of movement of Allied forces by land, air or sea to and within any part of Alliance territory. Alliance capabilities, training, and exercises contribute to our ability to operate freely. We remain ready to rapidly reinforce any Ally that comes under threat, when needed, to counter all contingencies." Indeed, Russia is actively creating anti-access/area denial (A2/AD) bubbles: it has deployed along its coast the modern anti-ship missile system Bastion, which boasts a range of up to 300 kilometers, as well as high-tech S-400 air defense systems, with a range of up to 400 km. At briefings in Warsaw, on July 7, attended by this author, NATO officials specifically stated that such A2/AD bubbles are already in place in Crimea, Kaliningrad oblast and Kamchatka (in the Far East). Russia has also established a virtual no-fly zone over parts of Syria. In addition to covering a significant portion of the sea and airspace in the Baltic and Black Sea regions, Russian air defenses and anti-ship weapons could prevent the movement of strategic reserves from the United States. The most likely response to such Russian actions will be US deployments of long-range cruise missiles, ships and aircraft. This, in turn, may lead to a new arms race.
In his speeches during the summit, NATO Secretary General Jens Stoltenberg repeatedly stated that the Cold War should remain "history" (Thenews.pl, July 8). But, if the developing present situation is not a new cold war, what is it? A prominent Russian expert and head of the Carnegie Moscow Center, Dmitri Trenin (who spoke at the Expert Forum attended by this author on July 9), also believes that the term "cold war" does not convey the current situation accurately. He pointed out that unlike the confrontation between the Soviet Union and the West, "now it is a very unbalanced competition. You have the West, which is superior to Russia in almost any respect, except nuclear. […] In this situation, the weaker side has the capacity to take much higher risks then the stronger one. The weaker side is putting a premium on acting swiftly to prevent the other side from having time to react. Unlike in the Cold War, in which each side had an agenda for the other side, in this war there is no agenda." Therefore, he said, the most important goal today is the de-escalation of military tensions between Russia and NATO—a serious discussion about the new rules of peaceful coexistence is needed. The parties should talk not about cooperation but about managing confrontation, he argued. But neither side seems ready.
While meeting with Russian journalists (including this author) on July 7, Stoltenberg agreed that military confidence-building measures and the prevention of possible incidents in the sea and in the air should be the subject of dialogue between Russia and NATO. But he stressed that leaving aside the question of the annexation of Crimea and Russian actions in southeastern Ukraine is impossible. The Kremlin is not going to resolve these problems, however. "Today we have no positive agenda," stated Russia's ambassador to NATO, Alexander Grushko (Kommersant, July 7). Presumably, the upcoming NATO-Russia Council meeting will be limited to terse exchanges, just like the previous one.
Western leaders frequently referred to the Warsaw Summit as a pivot point, suggesting that it demonstrates some kind of "new reality." Yet, on closer examination, this "new reality" looks much like the old one—the reality that Europe and the rest of the world assumed ended with the collapse of the Soviet Union a quarter century ago. Clearly, though, this Cold War–like reality has returned. And the Kremlin has only itself to blame for it.