Gagauzia Now a Bellwether of Putin's Broader Military Intentions
Publication: Eurasia Daily Monitor Volume: 19 Issue: 62
By: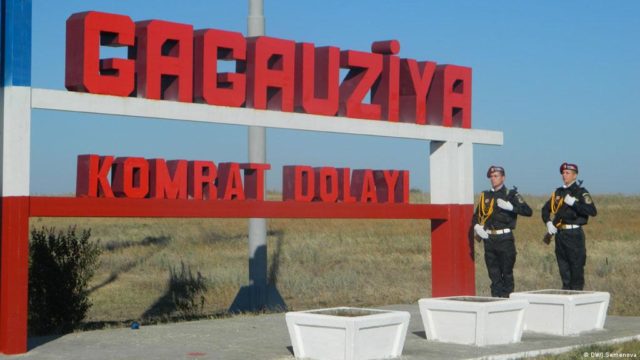 Over the last 30 years, Moscow has frequently sought to use the Christian Turkic Gagauz in Moldova, along with separatist Transnistria, as leverage to prevent or reverse Chisinau's moves toward further integration with Romania and Europe (see EDM, January 27). But in recent days, with growing signs that Moscow may extend its war in Ukraine into Transnistria—possibly recognizing the government there as independent or using that territory as the basis for an attack on Odesa—the significance of what Russia does with regard to Gagauzia has increased dramatically not only for Moldova but for the rest of the world. On the one hand, as Moscow is coming to recognize, the authorities in Transnistria are now a somewhat less enthusiastic partner for Moscow than they were in the past given the region's trade with the European Union (see EDM, April 12). But on the other hand, if Moscow does seek to put the Gagauz in play in the current context, that will be an unambiguous sign that Putin's war in Ukraine is only part of his plans for a much broader military offensive. And the countries around Russia's periphery and in the West will have no choice but to respond.
As April comes to a close, the international community has devoted much attention to Moscow's declarations that it is focusing its military effort on Donbas and southeastern Ukraine adjoining Russian-occupied Crimea. But Russian commanders have made clear that effort is only a part of a much broader campaign. General Rustam Minnekayev, the acting commander of the forces of Russia's Central Military District, said last week (April 23) that control of Donbas will give Russia "yet another pathway to Transnistria, where the Russian-speaking population is being oppressed." Minnekayev's words strongly suggest a Russian drive to that breakaway statelet is still very much part of Kremlin thinking. Indeed, Russian media, in reporting on his remarks, noted that they represented "the first time" a senior Moscow official had spoken of Transnistria as a goal of the current military operation and about ongoing preparations for the establishment of "a western front" in Ukraine (Fontanka, April 23; RIA Novosti, April 26).
Because Transnistria has operated separately from Chisinau for so long, many among Russia's neighbors and those in the West would likely see any Russian military moves there less as an attack on Moldovan statehood than as something akin to Moscow's support for Abkhazia in 2008. That is not to say they would not be concerned, but they would be far more worried about their own fate if a Russian move in the Moldovan direction involved not just Transnistria but also opposition groups in Chisinau and especially the Gagauz. Such a more broadly encompassing Russian approach would more clearly look to be designed to destroy Moldovan statehood outright. And were that to happen, many in the other former Soviet republics would perceive this as a clear sign that they themselves were at risk of a Russian attack. Meanwhile, many in the West would view it as an indication that Russian President Vladimir Putin is prepared to risk a direct clash with the North Atlantic Treaty Organization (NATO). Indeed, Romania, a NATO member, has long been anxious about the implications of a potential collapse of the Moldovan state. And Russian media outlets are (falsely) reporting today (April 28) that Bucharest has moved military units up to the Moldovan border (Russkuyu Planetu, April 28). Romania is not the only NATO country interested in Gagauzia: Turkey has also for decades positioned itself as a supporter of that Turkic people, something Russian outlets are pointing out as well (Krimskoe Ekho, April 27).
Moldovans are taking the situation seriously. Former defense minister Vitalie Marinuța, for instance, in an interview with the Russian paper Nezavisimaya Gazeta, asserted that Moldova has much to fear in the current situation in light of the so-called "Primakov plan," which envisages a new "Novorossiya" ("New Russia") extending from Donbas to Moldova's Transnistria. Such Russian efforts could take shape in the coming weeks or months, he said; but more immediately, the threat to Chisinau comes from what he termed "the fifth column," consisting of the Gagauz autonomy, several "northern districts of the Republic of Moldova, and "also pro-Russian Socialists and Communists" (Nezavisimaya Gazeta, April 25).
Marinuța added that, a few days earlier, he and a group of experts conducted a poll, "at the request of the Americans, in the Gagauz autonomy." The Gagauz said they were against military operations "as such" but that they wanted Putin to continue his campaign in Ukraine "to the end" and for "the Russian army to win." Such attitudes, he suggested, are ones that Moscow can and will exploit (Nezavisimaya Gazeta, April 25). Unsurprisingly, Moscow officials played all this down, arguing that even the explosions that have taken place recently in Transnistria do not represent a threat to peace there or in Moldova and that Russia continues to favor a negotiated settlement (Izvestia, April 25)—precisely the kinds of statements Russian officials made just before taking large-scale military action in Ukraine, starting on February 24. Nonetheless, Russian specialists on the region, such as Dmitry Ofitserov-Belsky of the Academy of Sciences, say that it is no surprise that, in this situation, fears of expanded Russian involvement are growing in Moldova and elsewhere as well (Business-gazeta.ru, April 25).
Tensions between Chisinau and the 200,000 Gagauz in southeastern Moldova have been rising for weeks, quite possibly providing Moscow with an opportunity. Earlier this month, the head of Gagauzia vetoed the application of several new Moldovan laws on the territory of the autonomy and indicated that it would increase its demands on Chisinau for subsidies and other forms of aid (APN, April 27). If Moscow begins to actively support the Gagauz in that regard, Gagauzia, a small but not unimportant part of Moldovan society, could become a threat to Chisinau. And in that event, a numerically small people, about whom few in the West know much about, could trigger a far larger crisis. This outcome would deepen fears across the other former Soviet republics about further Russian military actions. And it would force the West to consider how to respond to that threat—first and foremost in Moldova but then elsewhere as well.