Georgia Plans Its 'To Do' Agenda for NATO
Publication: Eurasia Daily Monitor Volume: 15 Issue: 120
By: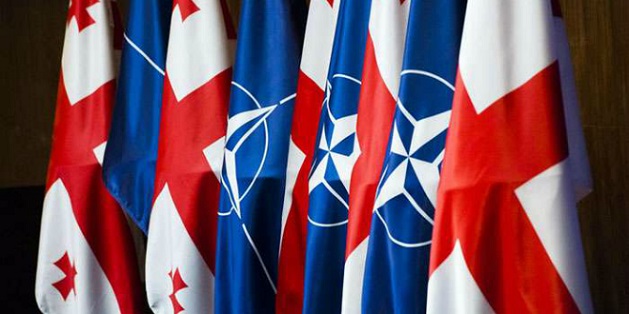 United States President Donald Trump's behavior at the North Atlantic Treaty Organization's (NATO) recent summit in Brussels (July 11–12) and in its aftermath has cast a shadow on this landmark event. Trump's follow-up actions, including the meeting with his Russian counterpart Vladimir Putin, continued hitting at NATO and the European Union from afar. Trump's persona and his possible motivations furnished the main topic of analysis throughout these events, diverting attention from the actual results of the NATO Brussels Summit. Its agenda and decisions clearly identified Russia as the main source of threats and challenges to the Alliance. The summit's balance sheet is a mixture of significant accomplishments and unfinished business left over from years past, notably in the Black Sea region and NATO's eastern neighborhood (see EDM, July 25, 30, August 1, 2, 7, 8, 9).
The Georgian government correctly anticipated that certain Western European allies would yet again block a Georgia Membership Action Plan (MAP) at NATO's Brussels Summit. The government—as well as President Giorgi Margvelashvili, who represented Georgia at the summit—therefore moved preventively to de-dramatize the Georgia MAP issue. Instead, Tbilisi focused the domestic and international discussions on practical measures to advance the same goal. In so doing, Tbilisi also deftly lowered domestic political expectations tied to the NATO MAP.
Allied prevarications over a Georgia MAP had overshadowed every North Atlantic Alliance summit since 2008, diverting attention from Georgia's practical qualifications for membership and sinking into procedural and semantic evasions. According to the German-driven position, NATO's Open Door was open for Georgia also, but Georgia supposedly needed a MAP before walking through that Open Door; and yet a Georgia MAP could not be approved, it being understood but never officially stated that Russia was the reason (see EDM, May 29, 2012; July 29, 2016). According to the same position, repeated at all high-level NATO events verbatim, Georgia's relationship with the Alliance contains all the practical tools to prepare for eventual membership. In the meantime, however, NATO has approved MAPs and actual membership for qualified countries with lower levels of performance than Georgia's.
Ultimately, Georgian diplomacy has now managed to free this and (probably) subsequent NATO summits from the recurrent Georgia MAP drama, to free the Georgian public from the MAP fetish, and to concentrate on highlighting Georgia's material preparations for future official membership in the Alliance.
Apart from that standard verbiage on MAP, the Brussels Summit communique holds out an improved material offer for Georgia. Allies are prepared to assist Georgia with "counter-mobility, training and exercises, and secure communications, and we look forward to the next NATO-Georgia exercise in 2019" (Nato.int, para. 61, July 11). The NATO-Georgia Commission's summit document refers to a "NATO-Georgia exercise in March 2019, which Allies will support with broad participation" (Nato.int, July 12). This upcoming exercise might be planned as the first of its kind. Military exercises in Georgia are led by the United States in its national capacity, include several allied and partner countries, and are labeled as multinational, not as NATO exercises.
The combined meeting of the NATO-Georgia and NATO-Ukraine commissions at the level of heads of state and government was derailed when US President Donald Trump cast aside the agenda and forced a discussion on burden-sharing instead (see EDM, July 30). Nevertheless, President Margvelashvili did manage to make the case to the Commission and to Trump personally that Georgia's commitment and contributions to NATO "do deserve a fast track to NATO membership." Margvelashvili told Trump that Georgia relies on the US as its "strategic ally" to accelerate Georgia's accession to NATO. Trump commented at his press conference that the Georgian delegation made "a very favorable impression" (Civil Georgia, July 12).
Indisputably, Georgia is the top performer among all aspirant countries and recently admitted member countries. However, Georgia and supportive countries must be aware that Montenegro's (admitted in 2017) and Macedonia's (near future) accession to NATO might temporarily relieve political pressure from NATO to substantiate the Open Door policy by admitting Georgia. That double accession might also direct NATO resources toward outfitting the new Balkan member countries. Georgia's moment could come shortly thereafter, without necessitating a MAP any longer.
Georgia's "tools" (as NATO terms them) to prepare for membership are in increasing measure US tools, offered by Washington in a national capacity, through its bilateral relationship with Tbilisi, rather than through formal multilateral NATO channels (see EDM, August 8). US tools for Georgia extend into the sphere of hard power (combat training and exercises, "lethal" equipment); whereas the tools offered by NATO "as NATO," however necessary and appreciated, are softer ones, being politically approved by Western European allies. Such tools are the Annual National Plan (ANP, which runs since 2009) and the Substantial NATO-Georgia Package (SNGP, instituted in 2014). The ANP and SNGP have done little to build deterrence and territorial defense in Georgia. They are, basically, welcome auxiliaries to US efforts on deterrence and defense. A division of labor has developed in this regard.
The ANP is not known to include planning or train-and-equip activities for Georgia's territorial defense. The SNGP is a trust fund, with 18 contributing countries as of 2016, when its implementation began. The level of funding is not disclosed publicly. The SNGP's "key element" or "central component" (as officially described) is the Joint Training and Evaluation Center, at Krtsanisi. Another component is the Defense Institution-Building School, which trains personnel for the governance of Georgia's defense and security sector and the management of its resources.
NATO has included Georgia in the Enhanced Opportunities Program (EOP, launched in 2014) alongside partner countries Sweden, Finland, Jordan and Australia. However, EOP focuses on interoperability in peace-support and stabilization missions, not on Georgia's top priority of territorial defense.
Georgia has committed an infantry company to two iterations of NATO's Response Force, and is reportedly prepared to increase its offer to two companies. This can usefully prepare Georgian company-sized units for high-end combat.
The gaps in Georgia's national defense system are daunting at this time. The armed forces have no combat helicopters (only nine Vietnam-era Hueys), practically no coastal-defense artillery (anti-ship missile batteries), and very little air defense (only the first stage of a French system with a 7,000-meter range, due to be deployed in Tbilisi). The Army expects a donation of German military trucks for Georgian troop mobility. Georgia does not propose to create a mechanized ground force, nor an air force.
Those gaps will require more than a few years to fill with indispensable US support. To mitigate those vulnerabilities, a number of measures taken by Tbilisi seem feasible in the short term, as first steps:
– Keep the focus on procuring US defense equipment. Georgia's eligibility for US Foreign Military Financing and the passage of a Georgia Support Act by the US Congress would be crucial in this regard.
– Acquire Stingers, considering the near-absence of air-defense coverage.
– Seek to enlist several NATO member countries, acting in their national capacities, to take turns in providing Air Policing service for Georgia (air policing is a peacetime, non-combat mission).
– Propose to host a NATO Center of Excellence for Mountain Warfare at the Georgian Army's Mountain Training School in Sachkhere. This valuable asset is being underutilized at present. A NATO CoE in a non-NATO country like Georgia would set a precedent and bring Georgia a step closer to NATO.
– Offer Georgian company-sized units for rotating presence with NATO's Multinational Battalions in the Baltic States and Poland, and with the NATO-affiliated Multinational Brigade in Romania. Such offers would include ironclad stipulations that Georgian (or any non-NATO country's) rotating units would not substitute for NATO units, but only add to them in those rotations. Having already committed one company to NATO's Response Force (see above), Georgia should be eligible also to participate in NATO's forward presence.
– Work with NATO to obtain full-fledged financing for the SNGP trust fund (see above), and focus the SNGP on tasks supportive of territorial defense.
– Cultivate relations with Ankara. Turkey's drift away from the United States must not adversely impact Georgia's relations with Turkey, a country that supports Georgia's NATO aspirations. The Baku–Tbilisi–Kars railroad can provide a backup option for the US or other NATO countries to reach Georgia, in the event of Russia cutting off (or merely "snipping") the East–West corridor in Georgia.
– Clearly de-couple Georgia's NATO accession processes from the question of the de-occupation of Russian-occupied territories. The de-occupation should continue to be raised in all appropriate forums other than NATO, while Georgia's non-use-of-force pledge should be reaffirmed within NATO.