NATO Aspirant Georgia Still Defenseless After All These Years
Publication: Eurasia Daily Monitor Volume: 13 Issue: 138
By: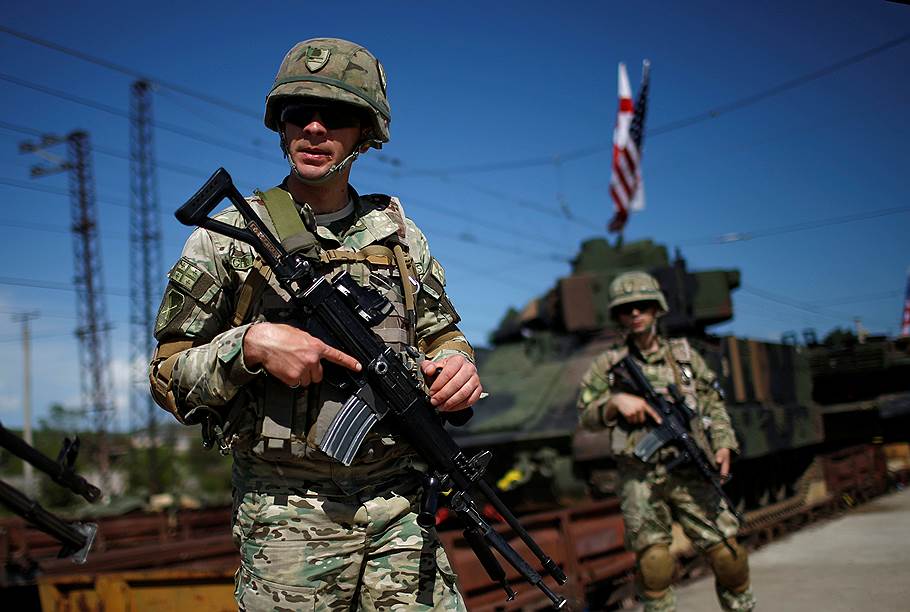 It was a summit of modest expectations and modest results for the North Atlantic Treaty Organization (NATO) in Warsaw on July 8–9. These results are of an interim nature: building-blocks for further decisions at upcoming ministerial meetings, not waiting until the next summit. The Warsaw results do not, as yet, correlate with the growth in Russia's capacity to threaten, intimidate, or subvert the Alliance generally and its eastern—now "frontline"—member countries in particular.
NATO's political pronouncements and official documents recognize that Georgia has contributed to Allied operations far more than any of the countries that were invited to join the North Atlantic Alliance during the last ten years—and more indeed than most of the "old" NATO member countries. NATO's recent summit in Warsaw again acknowledged Georgia's contributions (see EDM, July 27).
Georgia spends more than 2 percent of its gross domestic product on defense, year after year—a NATO benchmark that only five NATO member countries (out of 28) actually meet. This effort places an additional burden on Georgia's impoverished population. And much of this spending supports Georgia's participation in NATO operations outside Georgia's own territory (see above). Georgian public support for the goal of joining NATO stands at 68 percent, according to the most recent opinion survey (NDI press release, April 11, 2016)—a level of support that has persisted through the years, and actually exceeds the pro-NATO sentiment in many NATO member countries. Georgia has successfully protected itself and the neighboring countries from terrorist activities; it guarantees the security of international oil and gas pipelines that cross Georgia's territory; and it has made its territory unconditionally available in the last 15 years for expeditionary operations led by the United States.
In sum, Georgia is a major net donor to regional and international security. This fact is generally recognized, tacitly or explicitly, for a decade by now. NATO takes the position that an aspirant country must be an international security producer, rather than (merely) a security consumer, in order to qualify for membership or at least for the membership track. Yet net security donor Georgia has again been blocked from the membership track, let alone the Open Door to membership, at NATO's recent summit in Warsaw (see EDM, July 27).
Fear of aggravating relations with Russia is a basic explanatory factor, but it is not publicly expressed in this form. In parallel, Germany introduced the argument and others adopted it that a NATO-aspirant country involved in an unresolved conflict cannot qualify even for the membership track, let alone membership. This argument is tailored to fit the Russian-orchestrated "frozen conflicts" on Georgia's territory in Abkhazia and South Ossetia. But the same argument can be recycled if and when Ukraine applies for the membership track. Even if the situation in Donbas becomes "frozen" like that in Crimea, Abkhazia and South Ossetia, the same argument can be invoked to frustrate Kyiv's aspirations.
Meanwhile, Georgia's own territory remains defenseless. The Georgian military has been involved in out-of-area counterinsurgency or peace-support operations for more than a decade, but it lacks defensive weapons and training for homeland defense. Georgia is fully exposed to Russian threats, the gamut of which can include military invasion or incursions, moving boundaries forcibly by a few hundred meters in selected places, or snipping highways and pipelines just across the boundary inside Georgia's east–west corridor. When Russian troops have pushed boundary lines deeper into Georgian territory ("borderization") or actually seized a two-mile segment of the Baku-Supsa oil pipeline (astride which Russian troops now sit, half a mile from the East–West highway), Georgia has been advised merely to keep quiet and avoid being "provoked."
NATO and the United States have no contingency plans for responding to Russian threats in Georgia. And since 2008, the US and NATO countries generally have declined to provide Georgia with "lethal" weaponry (anti-tank, air defense) or troop training for homeland defense. The Barack Obama administration has actually regressed from the level of military assistance that the George W. Bush administration had provided through the Train-and-Equip Program for Georgia. At present, there is no serious deterrence—whether allied or national—in place in Georgia vis-à-vis Russia.
Last year (2015), Georgia committed one infantry company to participating in the NATO Response Force (NRF). That force is designed primarily for high-end combat while also necessitating some niche-capability contributions from participant states. The Georgian company's role should become clear in the course of further exercises. Thus far it has participated in the Noble Partner exercises (2015 and 2016), both led by US European Command (EUCOM) at the Vaziani base in Georgia. The first of these exercises involved a combination of 600 US and Georgian troops, with 14 Bradley infantry fighting vehicles shipped to Georgia for the duration of this exercise. The second exercise, "the most robust to date," involved well over 1,000 troops (650 US, 500 Georgian, 150 British), with eight Abrams main battle tanks and eight Bradleys, also shipped in and out. Noble Partner is designed to advance NRF inter-operability (Eucom.mil, accessed July 20).
Georgia's NRF-dedicated company seems destined to become a showcase unit of the Georgian army, but (yet again) for multinational operations outside Georgia. Meanwhile, deterrence through appropriate defensive weapons and training of troops for homeland defense remains an unresolved problem for Georgia, and not yet addressed by its allies.
NATO's cooperation programs for Georgia (NATO-Georgia Commission, Annual National Programs), were initiated mainly for symbolic effect in the immediate wake of Russia's 2008 invasion, and achieved little for Georgia in terms of deterrence and defense. Those programs were bilateral, NATO-Georgia. The Alliance's 2014 Wales Summit announced a number of fresh projects, and the 2016 summit in Warsaw gave the start to their implementation. These new projects are multilateral, embedding Georgia in common activities with member and partner countries.