Georgia and Ukraine Welcome New Thaw in Bilateral Relations
Publication: Eurasia Daily Monitor Volume: 14 Issue: 51
By: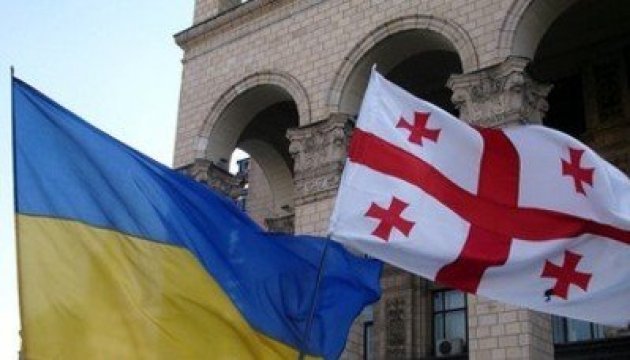 Georgian Prime Minister Giorgi Kvirikashvili traveled to Ukraine on March 27, meeting with the host country's President Petro Poroshenko and Prime Minister Volodymyr Groysman. The visit occurred within the framework of a GUAM summit. GUAM, a loose economic and political cooperation organization, brings together Georgia, Ukraine, Azerbaijan and Moldova (Civil Georgia, March 28). Kvirikashvili's visit and its warm, business-like rhetoric, emphasizing the need to deepen economic and political ties, represented a noteworthy break from Kyiv and Tbilisi's not-so-friendly relations over the last 2–3 years.
Historically, Georgia and Ukraine have largely enjoyed exemplary, close ties. Indeed, the Georgian and Ukrainian peoples share a deep cultural and psychological affinity that stretches back almost three centuries, when renowned Georgian poet David Guramishvili first made Ukraine his home in the 18th century. Bilateral relations began to deteriorate several years ago, however, after Georgia's former president, Mikhail Saakashvili, and his political team moved to Ukraine in 2015, in order to help the new government in Kyiv implement reforms (see EDM, June 2, 2015). During the entire period, between 2015 and 2016, when Saakashvili and his confidantes worked for the Ukrainian government, Kyiv stood by them even as the authorities in Tbilisi sought Saakashvili's extradition on charges of alleged abuse of power and corruption dating back to his time as president of Georgia. Kyiv's refusal to extradite Saakashvili or his Georgian colleagues angered Tbilisi and contributed to a general cooling of relations between the two countries (Global Voices-Caucasus, February 25, 2015). The situation was further exacerbated by Saakashvili's regular criticism of the Georgian government even while he served as governor of Ukraine's Odesa region. Tbilisi repeatedly complained to Kyiv that such behavior by a sitting Ukrainian official constituted the Ukrainian government's interference in Georgia's internal affairs (News.ge, October 30, 2015; Timer.ge, November 2, 2015).
Bilateral relations ultimately deteriorated to the point that when the diplomatic credentials of Vasily Tsibenko, Ukraine's ambassador to Georgia, expired in late 2014, Kyiv did not appoint a new ambassador for two years—effectively downgrading its diplomatic presence in Georgia (Vestnik Kavkaza, November 29, 2016). Tbilisi, on the other hand, never joined the Western sanctions against Russia, except on products produced in Russian-occupied Crimea (Euromaidanpress, November 22, 2016). Moreover, the Georgian government never endorsed the several hundred Georgians who fight on Ukraine's side against Russia-backed separatists in Donbas (see EDM, January 8, 2015).
Georgian-Ukrainian relations began to revert back to normal after Saakashvili resigned from the post of Odesa governor in November 2016; the former Georgian head of state has since became a harsh critic of President Poroshenko, his old friend (see EDM, November 14, 2016). In fact, Kyiv has been sending strong signals that it wants to once again deepen its strategic partnership with Tbilisi and—more importantly—seek a united front against Russia. On March 28, Ukraine, which is a temporary member of United Nations Security Council, proposed a draft resolution supporting Georgia's territorial integrity and sovereignty. Although Russia, a permanent member of the Council, swiftly blocked the proposal, Ukraine still made it clear that it will use any venue to help Georgia and, if possible, enlist Tbilisi as its ally against Moscow (see EDM, April 6, 2017). Another example of deepening ties was the above-mentioned GUAM summit, which also was an attempt to revitalize the largely defunct organization. The sides decided to enhance their cooperation within GUAM's 2002 Free Trade Agreement and to synchronize their customs control procedures of goods and transport (Civil Georgia, Kmu.gov.ua, March 28).
Needless to say, Georgia and Ukraine have a huge potential for cooperation, first of all because of the common problems they share. Both countries face an existential threat to their territorial integrity and even to their very statehood, posed by a common adversary—Vladimir Putin's Russia. Second, Georgia and Ukraine occupy highly important strategic positions on the northern and eastern shores of the Black Sea—that is, on the western and southern flanks of Russia. Their strategic partnership could, therefore, serve as an alternative political center of gravity for all forces in the former Soviet Union that oppose Putin's authoritarian, revanchist regime. In fact, their alliance could possibly serve as an agent of democratic change for the entire former Soviet space (the Baltic States excluded), where the absence of rule of law and corruption is the order of the day (Freedomhouse.org, accessed April 12).
However, there are some limitations. First, the question is to what degree Georgia would be willing to go along with Ukraine at this point in time. Specifically, having been deeply traumatized and bruised by the disastrous defeat in the 2008 Russian-Georgian war, Georgia does not seem to be in the mood for another standoff with Russia. In fact, Tbilisi has been pursuing a policy of rapprochement with Moscow for the last 4–5 years (see EDM, April 4, 2013; March 7, 2017). The second question is whether a strategic partnership between two weak powers, Ukraine and Georgia, ravaged by wars and multiple socioeconomic problems, could actually result in a strong-enough alliance to withstand Russian pressure in the first place.
Regardless of all the problems, for now it is safe to assume that Georgian-Ukrainian relations withstood a test. The somewhat troubled last four years notwithstanding, the current situation illustrates that relations between these two countries are too strong and too deep to be determined by temporary qualms among politicians on either side. It seems their two governments have concluded that Ukraine and Georgia simply cannot afford not to cooperate. Subsequently, it is now up to politicians in both capitals to take advantage of this potential, build on past achievements, and take careful steps to deepen mutual relations. As time passes, it might bring newer, even bigger opportunities in this regard.