Georgian Government Insists on Direct Talk With Moscow-Backed Separatists
Publication: Eurasia Daily Monitor Volume: 15 Issue: 45
By: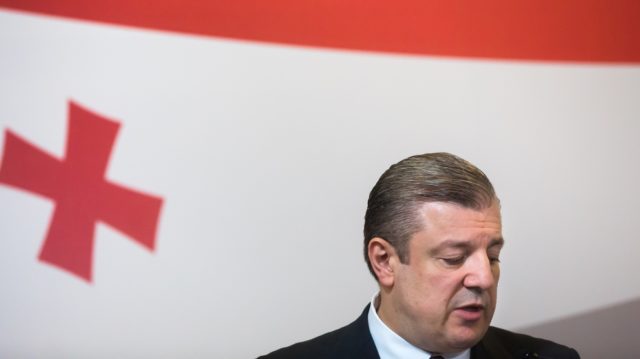 On March 9, Georgian Prime Minister Giorgi Kvirikashvili appealed to the government of Russia to take "reasonable, at least minimal steps, for bringing [Georgian-Russian] relations out of [their] vicious cycle." Moreover, he once again reiterated Tbilisi's readiness to engage Abkhazian and Ossetian separatists in direct talks (Civil Georgia, March 9).
Kvirikashvili's statement followed weeks of tensions, resulting from the premeditated murder of a Georgian citizen, Archil Tatunashvili, by Ossetian separatists on February 22. To add insult to injury, despite the efforts of the Georgian side and international community, the separatists refused to release Tatunashvili's body to his family for a proper burial (see EDM, March 6). Kvirikashvili additionally asked Moscow to help with transferring Tatunashvili's body.
However, Russia was not moved by the Georgian prime minister's plea. On March 12, the Russian Ministry of Foreign Affairs responded with a formal statement. Using diplomatic language thinly veiled in cynicism, Moscow called the murder of Tatunashvili "a regrettable incident" and praised Tbilisi for its willingness to launch "direct dialogue with Abkhazia and South Ossetia." Moreover, it welcomed "the spirit of continuing and deepening the process of bilateral normalization" between Moscow and Tbilisi (Civil Georgia, March 13). The Russian side conspicuously made no mention of transferring the body, however. The Ossetian separatists finally released the body to the Georgian government on March 22. It had apparent signs of torture and violence. Following a medical examination, Georgia's Ministry of Interior ruled that Tatunashvili had been murdered (Allnews.ge, March 24).
Nevertheless, throughout this emotionally charged incident, Tbilisi continued to repeat the need for launching direct dialogue with Ossetian and Abkhazian separatists (Civil Georgia, March 13). This stance by the Georgian government raised questions domestically about the rationale of such a policy. Critics asserted that it risked undermining the hard-fought international status quo on non-recognition of Georgia's two separatist regions (see EDM, March 6).
The Russia-backed separatist "governments" of South Ossetia (Tskhinvali Region) and Abkhazia have repeatedly ruled out any negotiations with the Georgian side, except on the issue of having their "independence" officially recognized by Tbilisi. Moreover, Moscow has made it clear on multiple occasions that it would not hold negotiations on the status of Abkhazia and South Ossetia (see EDM, November 13, 2012).
Moscow has encouraged and even pressed Tbilisi to talk directly Sukhumi and Tskhinvali since unilaterally declaring them "independent" in 2008. By doing so, Russia seeks to undermine the Geneva international talks. Under the Geneva format, the Kremlin enjoys less leverage over Tbilisi because the talks involve Georgia, Russia, the two separatist regions, as well as Georgia's Western partners. Second, by pushing the Georgian government into direct talks with the separatists, Moscow is attempting to falsely frame the situation as an inter-ethnic conflict rather than an inter-state Georgian-Russian conflict, resulting from Russia's ongoing occupation of 20 percent of sovereign Georgian territory. Third, and perhaps most importantly, Tbilisi's direct talks with the separatist regimes would offer these regimes the aura of political (and hence, international) legitimacy, thus contradicting and jeopardizing Georgia's own policy of non-recognition.
Tbilisi states that the situation with Russia is deadlocked (1tv.ge, December 28, 2017). And this is how the government justifies its current pursuit of direct talks with the separatists. It is certainly difficult to argue with the Georgian government's notion that the situation is indeed deadlocked and, in fact, has been for years. However, if the Georgian government thinks that by making these allegedly cooperative steps, it will encourage Russia to make some compromises, it is in all likelihood once again setting itself up for a bitter disappointment. After all, despite Tbilisi's conciliatory steps, Moscow is still refusing to reciprocate and pledge the non-use of force, even though the two sides are close to adopting a joint statement on this issue (Kommersant, March 20; Civil Georgia, March 22).
Arguably, the Georgian government currently faces another policy miscalculation when it comes to the occupied regions and Moscow, in general. So far, Tbilisi's rapprochement course with Russia, started in 2012, has not yielded any results to solve the problem of Abkhazia and South Ossetia. The new initiative most likely will share the same fate. It remains to be seen what longer-term impact it may have on Georgia's domestic, regional and international situations.