Georgia's Reset and Russia's Response (Part Three)
Publication: Eurasia Daily Monitor Volume: 10 Issue: 112
By: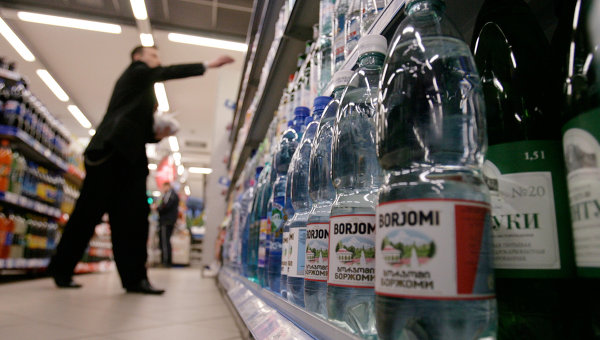 Prime Minister Bidzina Ivanishvili supervises Georgia's policy toward Russia through his special envoy, veteran diplomat Zurab Abashidze. This appointment has led to the establishment of a bilateral negotiating channel between Abashidze and Russia's Deputy Foreign Affairs Minister and State Secretary Grigory Karasin. In the absence of diplomatic relations between the two governments, the Abashidze-Karasin channel is becoming quasi-institutionalized.
On June 5, in Prague, the third Abashidze-Karasin meeting discussed re-opening Russia's market to Georgian export goods, restoring at least some Russian visa facilities for Georgian citizens (including guest workers), and re-instating direct airline flights between Russia and Georgia. These are the Georgian government's foremost priorities. For its part, Georgia has offered the olive branch of participating in the 2014 Winter Olympics in Russia's Sochi (Interfax, Civil Georgia, June 5, 6).
According to Karasin, Russia could grant some limited visa facilitations, but could not reinstitute visa freedom for Georgians unless the Georgian government undertakes to restore diplomatic relations. This indicates that Moscow is interested in restoring diplomatic relations on its own terms, even using the visa argument as pressure on Tbilisi to restore those relations. Such resumption would convey an appearance of "normalization" for the outside world, but would not remedy the causes of the 2008 break in relations.
Moscow has welcomed Tbilisi's amendments that soften the terms of the Georgian law on the occupied territories. However, Moscow regards those amendments as an intermediate step toward abrogating that law. Karasin accordingly insisted that abrogation would be the only correct decision for Georgia to take.
Russia had closed its market to Georgian wines and mineral water (Georgia's top exports to Russia) in 2006 to undermine Georgia's economy, invoking sanitary measures by the consumer protection agency RosPotrebNadzor (see EDM, November 10, 2006). The Kremlin chose this "asymmetrical" response after Georgia detained a group of six Russian military intelligence agents who had long operated in Georgia's interior territory. Following the regime change in Georgia, the Kremlin is beginning slowly to relent on the embargo.
The Abashidze-Karasin talks have resulted in Russian promises to authorize several Georgian wineries to start limited deliveries to Russia as of this June. Moscow will dole out authorizations to more Georgian wineries, slowly and case-by-case, probably depending on the Georgian government's receptiveness to broader Russian interests.
Georgian grape growers and wine producers never fully recovered from the impact of Russia's embargo. Their export diversification efforts have met with only partial successes. They are a significant political constituency, and the Georgian Dream government wants to retain their electoral support by re-opening access to the Russian market. At least some Georgian wine producers optimistically expect to regain their former positions in Russia. They cite historical tradition and predict relatively easy marketing for an initial volume of 1 million bottles annually, according to the Georgian agriculture ministry's National Wine Agency chief, Levan Davitashvili (Interfax, June 5, 6).
However, Georgian wine producers will face tough competition against wines that have successfully entered the Russian market from Europe and other continents in recent years. One million bottles annually would work out to one glass of wine being sold to Russia by every resident of Georgia next year; far from a game changer yet. Even if that initial volume of one million bottles multiplies (as it might) tenfold over time, it would still be a far cry from the 50 million bottles that Georgia was selling to Russia annually, prior to the embargo.
Borjomi and other Georgian mineral and fresh water brands, long established in Russia, registered sales of $32 million in 2005 (the last full year before the 2006 embargo) and proceeded to diversify export markets, recording $59 million in overall sales in 2012. Following the regime change in Georgia, the family of the late tycoon Badri Patarkatsishvili sold the majority of shares in the Borjomi Beverages production company to the Russian oligarchic Alfa Group. The latter has recently opened its Borjomi distribution company in Russia and it aims to regain a 3.5-percent market share there (Civil Georgia citing Kommersant, April 12; Interfax, June 5).
Thus, Georgia would only achieve modest gains from re-entering Russia's market with wines and mineral water. These could neither add significantly to the national revenue nor generate significant employment in Georgia. Politically, the re-opening of Russia's market could in no way be represented as a Russian concession to Georgia, nor as an achievement of Georgia's new government. Russia joined the World Trade Organization (WTO) as a member in 2012 and is legally obligated to lift the embargoes it had earlier imposed on Georgia. This commitment is included in the terms of Russia's accession to the WTO, as negotiated with Georgia's former government, the United States and other WTO members.
The Kremlin had hit Georgia with visa restrictions, trade embargoes, and transportation blockages long before the 2008 military invasion (already during Eduard Shevardnadze's presidency, Russia had abolished visa freedom for Georgians and was restricting deliveries of Georgian goods periodically).
It is therefore counterproductive for Georgian officials, from Ivanishvili on down and including the experienced Abashidze, to describe those Russian measures as the Saakashvili administration's legacy to the country (Rustavi-2 TV, April 26; RIA Novosti, June 5). Such remarks unwittingly exonerate the Kremlin of responsibility for its own actions. Moreover, such comments vindicate the blackmail retroactively by suggesting that Georgia had somehow earned the Russian sanctions. This complicates the government's own negotiating position unnecessarily, for the mere sake of hitting at the internal political opposition.
Tbilisi has entered the talks with Karasin from the position of a net demandeur. The Georgian government feels that it needs significantly improved relations with Russia to alleviate social problems at home and retain voter support. The government acts as if it needs these talks, and solutions to the issues raised therein, far more than Moscow does. This corresponds with the actual state of affairs and the disproportion in resources of the two sides. These talks can turn increasingly into leverage in Moscow's hands, unless Tbilisi conducts the bilateral talks with uncommon skill, without allowing domestic political partisanship to undermine the effective representation of national interests.