Helping Putin Russify Non-Russians Would Be a Horrific Mistake
Publication: Eurasia Daily Monitor Volume: 17 Issue: 90
By: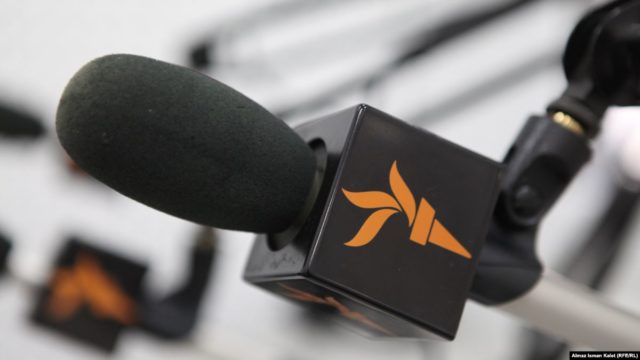 Author's Note: What follows corrects an article I wrote for Jamestown on Tuesday. I was misinformed by several sources I trusted and am glad to say that my conclusions about what is taking place at RFE/RL were incorrect. My argument that we must not do anything to help Vladimir Putin Russify non-Russians, however, remains unchanged. –Paul Goble
Changes in the top management of the United States' international broadcasting services over the last several weeks have attracted enormous attention and criticism from various quarters. But rumors have been swirling about a second change that could prove equally consequential. Some who closely follow developments at Radio Free Europe/Radio Liberty have suggested that the management plans to eliminate the North Caucasus Service or fold its staff into the Russian Service. As those suggesting that this is the direction things are moving have noted, this would be disastrous both practically and symbolically.
I am pleased to report that their fears are overblown, that some of what I wrote was incorrect, and that the North Caucasus Service is not going to be disbanded or become part of the Russian Service. That is not a decision RFE/RL management can take on its own: It would require Congressional action, something highly unlikely.
For the two decades he has been in power, Vladimir Putin has shown various levels of antagonism to the Russian Federation's non-Russian nationalities, beginning with a war against Chechnya at the dawn of his rule, continuing with efforts to destroy the non-Russian republics, as well as undermining their languages and cultures to render them, at best, a folkloric echo of what the Kremlin leader deems "unique" and superior Russian culture (see EDM, January 21, June 16). And Kadyrov, who serves as Putin's local enforcer while allowing the man in the Kremlin a certain "plausible deniability," has created a brutal police state in Chechnya, killing many of his opponents there and in Europe and threatening still more into emigration or silence (see EDM, November 29, 2012).
In this situation, RFE/RL's North Caucasus Service has been one of the few sources for reliable and accurate information about Chechnya and its neighbors, attracting a significant following in those republics. Moreover, this arm of RFE/RL regularly provided insights, to the rest of the former Soviet space and the West as well about perhaps the most restive region still within the borders of the Russian Federation. Any move against it would send an unfortunate message and undermine what has been a long-standing US commitment to the principles of human rights and national self-determination.
As Americans know well, without the bright light of close journalistic observation, tragedies and politically motivated killings are more likely to occur; at the same time, US broadcasts to the rest of the world have helped other peoples fight the abuses they suffer by showing them they are not forgotten and that others, including the people and the government of the United States, support them and their aspirations for a better future. Radio Free Europe played a key role in the victory of the peoples of Eastern Europe and the Baltic countries over Soviet occupation and Communism, while Radio Liberty played an equally important one in helping to break up the Soviet Union and even served as a breeding ground for a new generation of leaders. That was especially true because these broadcasts were delivered by members of those national communities, a tradition the North Caucasus service has continued.
The importance of the North Caucasus Service has been underscored by threats from Chechen strongman Ramzan Kadyrov against its former director Aslan Dukayev (RFE/RL, April 21). Following broadcasts that the Chechen strongman did not like, Dukayev had to seek protection in Prague, where the outlet is based, and ultimately decided to resign from his position. Such threats show that the service is not only doing its job but remains critically important; not backing down in the face of them is absolutely essential.
Some staffers and others have expressed concern that the service, which originally broadcast in three language and now distributes news in Chechen, will be reduced still further, especially given the importance of the Russian-language Internet portal Kavkaz.Realii its writers contribute to. Most residents of the North Caucasus know Russian, of course, and that site has attracted many readers. But at the same time, news that comes to people in a language other than their own is inherently different than that which is delivered in their mother tongue. That has been a long and honored tradition at RFE/RL and other US international broadcasters. And that is especially true in a place where Russian news under Moscow's or Grozny's control is often anything but reliable.
In 2013, the Broadcasting Board of Governors honored the North Caucasus Service of RFE/RL for its contributions. Victor Ashe, a BBG governor, said at the time that "its journalists work in 'one of the most violent and dangerous regions in the world [and the Service] is the only international broadcaster to provide objective news and analysis in the Chechen, Circassian and Avar languages' " (Usagm.gov, May 17, 2013). The Circassian and Avar broadcasts are no more, but RFE/RL echoes Ashe's words to this day in describing the North Caucasus Service as it presently exists: It is, the radio portal says, "the only international, Chechen-language broadcaster providing an independent alternative to the tightly controlled official press in this notoriously arbitrary region of Russia" (Rferl.org, accessed June 23).
The portal adds that "the Service's correspondents are regularly subjected to threats and intimidation. Assassinations and bombings are common, and anyone viewed as a potential threat to the local leadership or crossing 'red lines' can be imprisoned." Additionally, the Service "is dedicated to covering human rights and other highly sensitive topics," including repression against women and gays and the Chechen diaspora, at a time when Freedom House describes the media situation in the Russian Federation as "not free," with the country ranking 174th among 198 countries overall.
It is precisely for those reasons and because of the United States' commitment to human and ethnic rights that it is vitally important for the North Caucasus Service continue as a separate and proud part of US international broadcasting. Not surprisingly, many who care deeply about this are fearful that this might not always be the case. After all, twice before, in the early 1960s and then again in the late 1970s, Radio Liberty broadcasting to the North Caucasus in the languages of its nations was eliminated (Kavkazr.com, March 1, 2018).
But for the present, their worst fears are unlikely to prove true. And while no one likes to be wrong, as I was in what I wrote on Tuesday, I am thrilled in this case: The fact that the North Caucasus Service was established by Congress and cannot be eliminated without Congressional action should go a long way to reassure those who worry for the future of a service that, along with many others at RFE/RL, is doing so much important work and has so much more important work to do. Anything less than that would be giving a victory to Putin and Kadyrov that neither of those opponents of democracy, freedom and the non-Russian nations in that region deserve.