Igor Dodon, Moldova's Strawman Dictator (Part Two)
Publication: Eurasia Daily Monitor Volume: 17 Issue: 96
By: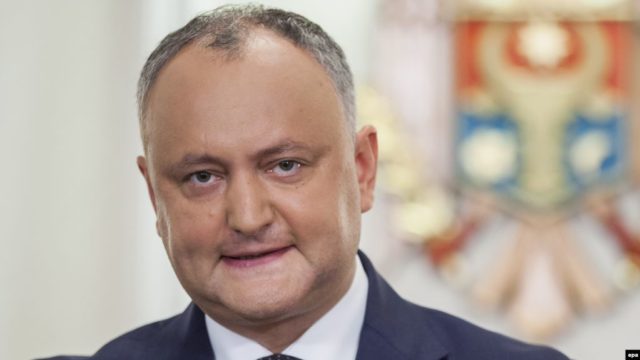 Unlike Moldova's former de facto ruler, Vladimir Plahotniuc (or president Vladimir Voronin before that), President Igor Dodon seems to have no intention and certainly lacks the capacity to institute a "power vertical." The Socialist Party operates grass-roots organizations that won majorities in only 3 district administrations, and pluralities in 11 other districts, out of the total of 32 districts in the 2019 local elections. Even in the districts they won, however, the Socialists depend on unreliable local coalitions in most cases. This hardly looks like an impressive power base for President Dodon's reelection bid. The party's silver lining is its first-ever victory in Chisinau's mayoral election. The Socialist mayor, Ion Ceban, has cast himself as a technocrat and kept his distance from the party.
The Socialist Party remains Dodon's main vehicle for voter mobilization in the upcoming presidential race. This is Moldova's largest parliamentary party by far, having taken first place in the 2014 and 2019 elections, and expecting a similar result in the upcoming pre-term parliamentary elections. This is a mass-based party composed largely of poorer Moldovans lacking advanced education. Irrespective of its russophile core, this party holds undeniable popular legitimacy by dint of numbers alone in a parliamentary republic. Although the state president is legally barred from an active role in a political party, Dodon informally and quite openly acts as the Socialist Party's leader. The president and the party are each other's key electoral asset; this is why Dodon hopes for the upcoming presidential election and pre-term parliamentary elections to be held on the same November 1 date (see EDM, May 20, 21, June 25).
Nevertheless, the Socialist Party's liabilities (shared with those of Dodon himself) outweigh its strengths. The party and the president have missed every opportunity to build alliances with other parties, except in short-term situational combinations. The Socialists are currently exposed to inroads from other leftist parties into the Socialist electorate. The leftist competitors are the fugitive billionaire Ilan Shor's "Shor Party" and the Moscow-parachuted Balti city mayor Renato Usatii's Our Party. These two "project parties" are eroding Dodon's and the Socialist Party's quasi-monopoly on the political representation of the russophile left. The upstart parties will probably cut at least a few percentage points from Dodon's and the Socialists' electoral scores.
The Socialist Party is a clear liability to President Dodon on the international stage. Notwithstanding his party's mass social base and high electoral scores, which most European Socialists today could only envy, the Moldovan party is completely isolated from Europe's Socialist parties. The reason behind this is the Moldovan Socialists' embrace of conservative-sounding tenets on religious and gender issues, synchronized with the "conservative" values mimicked by Russia's current authorities. Since Europe's Socialist parties have moved in the opposite direction on that agenda, they keep Moldova's Socialist Party at arm's length. Nor can Dodon's party communicate with Russia-friendly European parties of the right, because those would abhor the Moldovan party's Red trappings.
President Dodon and other Socialist leaders cannot change that situation because it is those symbols and those values that hold their party together and collect the votes in Moldova. In contrast to the Socialists' isolation in Europe, the ACUM ("NOW") bloc maintains close ties with European political forces—the European People's Party first and foremost—in Brussels and some national capitals. This makes a major difference for ACUM in terms of Moldova's domestic political balance.
The oft-heard statement that Dodon and the current government are "internationally isolated" is, however, an oversimplification. It is basically true with regard to official visits and other bilateral events at the political level. Most of these are placed on hold anyway because of the pandemic. The European Union, moreover, is not ostracizing Moldova's authorities. It has, in fact, adopted a wait-and-see attitude, expecting Chisinau to meet the reform-based conditions for the release of EU financial assistance (pandemic-related assistance is being allocated additionally and is not conditioned—see EDM, April 20).
Meanwhile, Dodon clings to a Russia-first strategy for his reelection, as he cannot see other options at this time. Dodon attended the victory anniversary celebrations on June 25, on Moscow's Red Square. He had requested in advance an official bilateral meeting with Russian President Vladimir Putin, but it was not granted. Instead, Dodon claimed to have held a "brief talk" with Putin, and was actually seen at Putin's right during one group event. Dodon requested and received Moscow's consent to re-negotiate the €200 million ($225 million) loan that Moldova's Constitutional Court recently invalidated (see EDM, May 5). And he has invited Putin and Russian Prime Minister Mikhail Mishustin to attend an investment forum in Moldova, scheduled to be held in the run-up to the presidential election (Moldpress, June 23–27).
On balance, Dodon lacks the skills and cultural knowledge for developing international relationships beyond his Russian comfort zone. Moldova, however, is not a priority for Russia. The Kremlin must have concluded that Dodon is losing control when the Constitutional Court invalidated the Russian loan offer. The governing coalition's loss of the parliamentary majority must have further diminished Moscow's confidence in Dodon—all the more so as Plahotniuc, wanted by Russia on criminal charges, seems to be winning the battle against Dodon in Chisinau.