India and Kyrgyzstan Deepen Their Military Cooperation
Publication: Eurasia Daily Monitor Volume: 15 Issue: 83
By: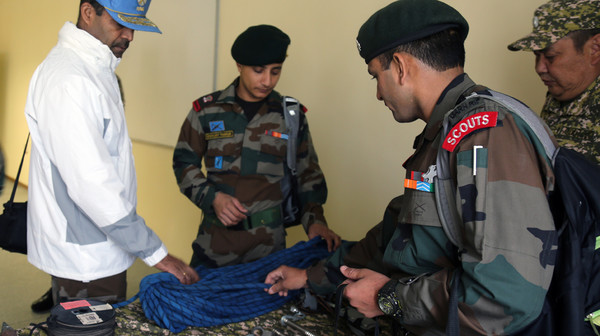 On May 14, Indian and Kyrgyzstani alpine special forces troops began a two-week joint training exercise at Kyrgyzstan's Military Base 20636. The exercise included both lectures and practical classes on tactical, mountain and fire training, as well as survival techniques in mountainous conditions (AKIPress, May 21). The exercise is the second joint Indian-Kyrgyzstani military drill of 2018 and the latest in a series of discrete increasing bilateral military contacts over the past seven years. A core concern of both militaries is the development of military capabilities to battle terrorist groups in mountainous regions.
The recent joint training followed in the wake of the bilateral Khanjar-V ("Blade") exercise, the fifth iteration of joint training between the two countries' militaries. The two-week long Khanjar-V drill began on March 16, at the Indian Army's Counter Insurgency Jungle Warfare School, in Vairengte, Mizoram (India Blooms News Service, March 29). The scenarios included inserting airborne troops from helicopters to destroy a terrorist encampment.
The first Khanjar exercise was conducted in December 2011, in Nahan, India. The scope of the operation was extremely modest, with only 20 Kyrgyzstani service members participating (Kant.kg, March 18, 2015). Three years later, the two-week long Khanjar-II joint operation was held at Tokmok, in Kyrgyzstan, on March 10–25, 2015 (Embassyofindia.kg, accessed May 31, 2018). The exercise took place in the Shamsi Gorge region, just outside the Kyrgyz Republic's capital city of Bishkek. The participants included members of the Kyrgyzstani "Scorpion" special forces alongside servicemen of military unit number 01525 and 50 Indian special-purpose fighters, for a total of roughly 100 service members (K-News, March 11, 2015).
Three months after the bilateral exercise in Shamsi Gorge, Indian Prime Minister Narendra Modi visited Kyrgyzstan, on July 11–12, 2015, at the end of an eight-day six-country tour of Central Asia, on his way back from Russia after the BRICS/Shanghai Cooperation Organization (SCO) summits. Speaking to journalists following his talks with then-president of Kyrgyzstan Almazbek Atambayev, Modi emphasized the two countries' shared concerns about terrorism and extremism, remarking, "We both seek a peaceful and secure neighborhood at a time of challenges in our region. And, we have [a] shared interest in combating extremism and terrorism that has become a threat without borders." Noting that bilateral defense ties were strong, he continued, "The special forces of the armed forces of the two countries held the 'Khanjar 2015' joint exercise in Kyrgyzstan in March, which reflected continuity in exercises held in India in 2011" (Press Trust of India, July 12, 2015).
During Modi's 2015 visit, New Delhi and Bishkek signed four key agreements on cooperation in defense and cultural fields. Modi said that during his discussions with the Kyrgyzstani government, "We have decided to hold joint military exercises on an annual basis" (IANS, July 13, 2015).
Khanjar-III was subsequently held in March–April 2016, in Gwalior, India, which was followed eight months later by a state visit of then-president Atambayev to India. The topics under discussion pointedly included further military cooperation (Mea.gov.in, December 20, 2016).
Following the reciprocal visits by Modi and Atambayev, military cooperation between the two countries was regularized and expanded. By the end of 2016, bilateral collaboration included the construction of the Kyrgyz-Indian Mountain Training Center, in Balykchi, in Kyrgyzstan's Issyk-Kul district. The Center's mission is to provide instruction and training to personnel of the Armed Forces of the Kyrgyz Republic and also host joint mountain training exercises (Oneindia News, March 2, 2017). India additionally built a military hospital and IT centers at a number of Kyrgyzstani military institutions (For.kg, December 20, 2016).
The core of bilateral Indian-Kyrgyzstani military cooperation remains the annual Khanjar bilateral exercises. The 2017 Khanjar-IV two-week joint exercise began on February 19, at Kyrgyzstan's Kok Jhangak military base, roughly 100 miles from Osh (Embassyofindia.kg, February 17, 2017).
The primary impetus for the bilateral military cooperation remains the joint training of special forces troops for operations in remote mountainous regions, a problem that both countries share: India in the Himalayas and Kyrgyzstan along its borders with Tajikistan and Uzbekistan. A second shared underlying premise is to broaden international contacts while lessening diplomatic isolation: India is seeking to check both China and Pakistan, while Kyrgyzstan wishes to blunt the influence of its giant neighbor to the east. Both countries also have close ties to Russia, into which they might wish to let a little sunlight; India is Russia's largest arms export market, while Kyrgyzstan is sensitive to issues with Russia regarding state sovereignty. Notably, Russia maintains bases in the country, from a naval facility on Lake Issyk-Kul to an airbase at Kant—with a third military facility apparently being planned (see EDM, May 24, 2018).
The symbolic implications of Kyrgyzstan and India's cooperation extend well beyond their relatively modest military commitments. Specifically, both countries are preparing to confront the vexing issues of rising Eurasian transnational terrorism, seeking, in the words of Prime Minister Modi, "a peaceful and secure neighborhood" at a time of regional "challenges."