Is De-Oligarchization of Georgia Possible?
Publication: Eurasia Daily Monitor Volume: 19 Issue: 134
By: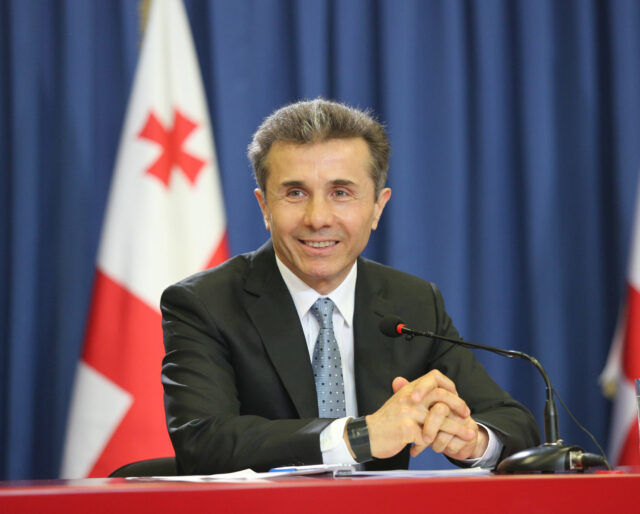 In her July 13 speech in the European Parliament (EP), Lithuanian parliamentarian Rasa Jukneviciene stressed, when talking about the problems of Georgian democracy, that the main challenge goes by the name of one rich man. "Georgia seems to be in the captivity of one person," Jukneviciene noted. "If Georgia­n Dream [GD] does not understand what de-oligarchization means, which is mentioned in the proposal of the European Commission, I will help them to understand—it means the 'de-Bidzinization' or 'de-Ivanishvilization' of Georgia." Jukneviciene was referring, of course, to the founder of GD and former prime minister of Georgia, billionaire Bidzina Ivanishvili (Facebook.com/Formula; Formulanews.ge, July 14)
In early June 2022, the European Union made historic decisions about Georgia's future. On June 9, the EP adopted the resolution titled "Violations of Media Freedom and Safety of Journalists in Georgia" (Europarl.europa.eu, July 6). The document lambasted GD authorities over their handling of press freedom, fell just short of calling for official EU candidate status for Georgia and called for sanctions against Ivanishvili.
The resolution also called on the Georgian authorities to resolutely uphold the highest standards of democracy, rule of law, judicial independence, fair trials and fundamental rights, including media freedom. The document sharply criticized the government of Irakli Garibashvili for failing to ensure human rights, including the rights of journalists and members of the LGBTQ community (see EDM, July 20).
Additionally, the EP expressed concern over "the destructive role played by the sole oligarch, Bidzina Ivanishvili, in Georgia's politics and economy and the level of control he exerts over the government and its decisions, including those on the politically motivated persecution of journalists and political opponents."
The EP added that it is "deeply worried by Ivanishvili's exposed personal and business links to the Kremlin, which determine the position of the current government of Georgia toward sanctions on Russia."
The EP resolution also called on the European Commission to consider imposing personal sanctions on Ivanishvili "for his role in the deterioration of Georgia's political processes" (Netgazeti.ge; Bm.ge, June 9).
On June 17, the European Commission recommended that Georgia be granted official candidate status once 12 priorities have been addressed: de-polarization; full functioning of all state institutions; judicial reform; strengthening anti-corruption efforts; strengthening the fight against organized crime; undertaking stronger efforts to guarantee a free, professional, pluralistic and independent media environment; strengthening the protection of human rights of vulnerable groups; consolidating efforts to enhance gender equality; ensuring the involvement of civil society in decision-making processes at all levels; adopting legislation that ensures Georgian courts proactively take into account European Court of Human Rights judgments; strengthening the public defender (ombudsperson); and implementing a commitment to "de-oligarchization" by eliminating the excessive influence of vested interests in Georgian economic, political and public life (Radiotavisupleba.ge, June 17; Rustavi2.ge, July 2; Newsge.com, July 13).
When referring to the problem of Georgia's de-oligarchization, the European Commission, unlike the EP, did not mention Ivanishvili. Thus, the EU body provoked a heated discussion in Georgia about the need to adopt a law on de-oligarchization, following the example of Ukraine, where such a law was approved by Kyiv in November 2021.
The discussion showed that the ruling party and opposition understand the process of de-oligarchization quite differently: According to GD leaders, Ivanishvili left politics long ago, does not interfere in political processes and does not influence government decisions.
Oppositionists fear that the law, which can be passed by the Georgian Parliament, will not create problems for Ivanishvili but instead will be directed against businesspeople who support the opposition and finance opposition media
Georgian experts are convinced that de-oligarchization in Georgia, as in many post-Soviet countries, will face a number of objective, and subjective, difficulties. As Tornike Sharashenidze, professor at the Georgian Institute of Public Affairs (GIPA), admitted in a July 22 interview with this author, it will be extremely difficult to obtain any evidence that Ivanishvili intervenes in some form in government activities. "Speaking of Moldova and Ukraine, I am not very familiar with Moldova's success stories. Did they really decrease the influence of oligarchs in politics by using legal instruments?" Sharashenidze posited. Speaking about Ukraine, he recalled that President Volodymyr Zelenskyy signed the decree to deprive some Ukrainian oligarchs of citizenships. Sharashenidze explained why: "Definitely, because they do not want to be affected by the anti-oligarch law. Therefore, I am not familiar with any success stories in regard to fighting oligarchs in Ukraine or Georgia or other post-Soviet states" (Author's interview, July 22).
In response to this author's question—"Is Ivanishvili the only oligarch in Georgia?"—Sharashenidze claimed that it depends how one defines "oligarch." The academic stipulated, "If you mean someone who owns the money, media sources and is in politics, there are other oligarchs in Georgia—not just Ivanishvili" (Author's interview, July 22).
But, according to the GIPA professor, if we are referring to someone who influences government decisions, then, yes, Ivanishvili is the only oligarch in Georgia. Even so, Sharashenidze contended, "But once again: it will be very difficult to obtain any evidence that he runs the government and influences government decision-making" (Author's interview, July 22).
This is precisely why civil society and nongovernmental organizations (NGOs) in Georgia are extremely cautious about the ruling party's initiative to adopt the "universal law" on de-oligarchization. Pro-Western NGOs and civic activists fear that the government may "instrumentalize" this law against businesspeople helping the opposition rather than against Ivanishvili. As Nika Simonishvili, chair of the Georgian Young Lawyers' Association, explained, the adoption of the law on de-oligarchization without an independent judicial system means the law could be used as an additional weapon against political opponents. "Such danger exists, especially because we have precedents of using the court and prosecutor's office for political purposes," Simonishvili pointed out. He further contended that GD does not consider Ivanishvili—who wields informal influence over the government—to be an oligarch. The party only refers to the representatives of opposition parties as oligarchs, which even more clearly shows GD's true intentions (Author's interview, July 22).
Ultimately, it will be quite difficult for Georgia to comply with the European Commission's de-oligarchization condition, primarily because state institutions (including the courts) in a weak democracy do not enjoy the trust of civil society.