Ukraine Evicts Russian Occupation Administration from Kharkiv Region
Publication: Eurasia Daily Monitor Volume: 19 Issue: 135
By: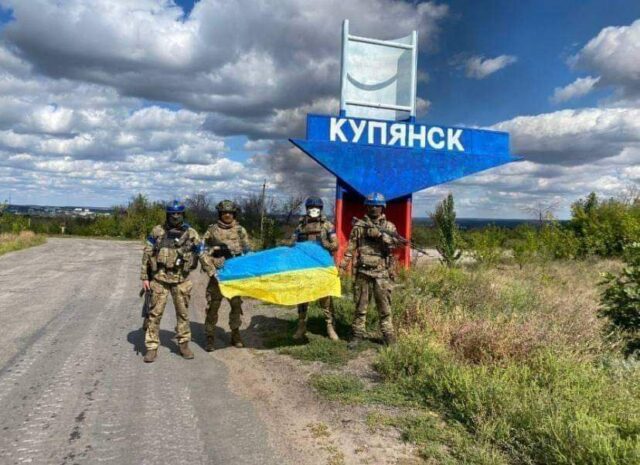 The Ukrainian forces' offensive in Kharkiv region has liberated almost all its Russian-occupied territory. The Ukrainians have regained 8,500 square kilometers from September 6 through September 14, according to the latest report by the Ukrainian Defense Ministry in Kyiv (Ukrinform, September 14). That amounts to more than one quarter of the Kharkiv region's area of 31,400 square kilometers. Russian forces seized that part of the region between late February and early March 2022 and installed an occupation administration, which has now been evicted.
At present, Russian forces still hold some strips of terrain inside Ukraine along the Russian-Ukrainian border. Other sections have reverted to the control of Ukrainian army and border troops. The Russians never managed to capture the city of Kharkiv, Ukraine's second-largest metropolis, featuring a significant proportion of Russian speakers and holding slightly more than one half of Kharkiv region's pre-2014 population of 2.6 million.
The Kremlin had set out to transform the captured part of Kharkiv region into Russia's own image, as it is doing in the still-occupied regions of Kherson and Zaporizhzhia. On that same blueprint, a military-civil administration was also installed in the Russian-controlled territory of Kharkiv region. This type of government is subordinated to the Russian military commandants and implements Moscow's policies in the occupied territories (see EDM, July 28, Part One and Part Two).
Moscow appointed Vitaly Ganchev as head (glava) of the military-civil administration in Kharkiv region: interim in March 2022 and definitively in early June (TASS, June 3). Native to this region (albeit with a Bulgarian surname), Ganchev was a police major who moved to the Luhansk "people's republic" in 2014 and advanced to lieutenant-colonel there. The town of Kupyansk, second largest in the occupied territory, served as administrative center. The largest town, Izium, was deemed too close to the then–front line and was even contested at times; whereas Kupyansk lay well behind the front line. In breach of international law, Ganchev's administration ordered a full gerrymandering of the Ukrainian administrative-territorial units (districts and towns) in the occupied territory (TASS, July 6).
Visits by senior Moscow officials in June and early July 2022 signaled the start of the Russian transformation of this Ukrainian territory. Those visitors included Sergey Kirienko, first deputy head of the Russian Presidential Administration; Andrey Turchak, first vice-chairman of the Russian Federation Council and secretary of the General Council of the United Russia party; and United Russia's Artem Turov, first deputy chairman of the Russian State Duma's Commonwealth of Independent States Affairs Committee and active exponent of Russian irredentism. They graced with their presence the opening of a "humanitarian" branch of United Russia in this territory (2day.kh.ua, July 2).
In the wake of those visits, the military-civil administration took the following steps:
Introduced a new flag and coat-of-arms for Kharkiv region, featuring the two-headed Russian imperial eagle and other imperial-era imagery;
Prepared for the new school year by introducing Russian history textbooks (Suspilne, July 12);
Announced the switch of pension payments to rubles (TASS, July 21);
Promised to go ahead with Russian passportization of the local population (TASS, July 30) and handed out the first Russian passports (TASS, August 20);
Distributed the first Russian license plates for local car owners (kh.ua, August 31);
Announced (not to be outdone by its Kherson and Zaporizhzhia counterparts) the intention to stage a referendum on this territory's accession to the Russian Federation, with Ganchev professing full confidence in the outcome (Russian TV Channel One, TASS, September 5).
In "external" policy, Ganchev signed two parallel cooperation agreements in July 2022 with Leonid Pasechnik and Denis Pushilin, heads of the Luhansk and Donetsk "people's republics" ("LNR"/"DNR"), respectively. Ganchev then called for speeding up the transportation of grain and sunflower seed from storage sites in his territory to Russia, allegedly to free up storage for the incoming harvest (Obektiv, August 1; 2day.kh.ua, August 2).
Following the pattern observed in Kherson and Zaporizhzhia, a "Kharkiv regional government" was instituted on August 19. This body is nominally subordinated to the head of the military-civil administration but, in reality, is more powerful. While the "head" is usually (though not always) an obscure local figure, the "government's" members are, for the most part, experienced officials from Russia with influential connections there. Moscow selected Andrey Alekseyenko as chairman of the Council of Ministers of Kharkiv region (TASS, August 19). Alekseyenko was the first deputy governor of Russia's Krasnodar Territory (2017–2021) and mayor of the eponymous city (October 2021–August 2022). An influx of Russian carpetbaggers would probably have followed had it not been for the Ukrainian liberation of this territory.
The military-civil administration and nascent "government" decided to flee on September 9, the fourth day of the Ukrainian offensive. On that date, Ganchev called on the population to be prepared for evacuation to Russia and the "LNR" (TASS, September 9). This appeal seems to have been met with a poor response. No more than a trickle of evacuees was observed on the roads as Russia's political project collapsed in Kharkiv region.