Is Turkmenistan's President Berdimuhamedov Grooming His Son to Succeed Him?
Publication: Eurasia Daily Monitor Volume: 18 Issue: 56
By: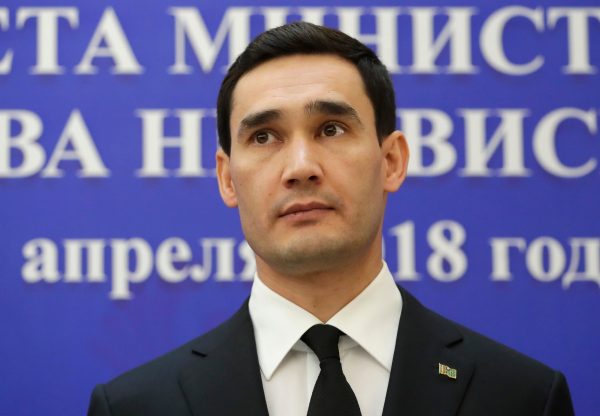 Three decades after the implosion of the Soviet Union, Kremlinology remains a useful tool for evaluating political developments in many former Soviet republics—perhaps nowhere more so than Turkmenistan, where opacity is such that even Russian specialists find it difficult to discern the reality behind political events there. On February 11, President Gurbanguly Berdimuhamedov (63) appointed his 39-year-old son, Serdar, to serve as deputy prime minister, igniting speculation in the expert community as to whether Turkmenistan's leader was preparing to step down and transfer power (TURKMENinform, February 12). If this is, in fact, Berdimuhamedov's intention, then the transfer of power would create the post-Soviet space's second hereditary political dynasty, after Azerbaijan.
Serdar Berdimuhamedov's promotion is a significant development in Turkmenistani politics, as the post of deputy prime minister in this post-Soviet Central Asian republic has been a springboard to the presidency, particularly given that the country has no separate post of prime minister. Rather, the head of state (president) himself heads the Cabinet of Ministers, thus elevating the post of deputy prime minister to effectively the second most important after the president. The elder Berdimuhamedov notably followed this path prior to the death of independent Turkmenistan's first president, Saparmurat ("Turkmenbashi") Niyazov. Further ingratiating him with one of the country's major political power institutions, Serdar's appointment as deputy prime minister will also provide him a seat on Turkmenistan's powerful Security Council.
The president's son's sharp political rise began in November 2016, when he became a member of Turkmenistan's rubberstamp Mejilis (parliament). He had previously headed the national state agency for hydrocarbon resources management and, before that, had been deputy minister of agriculture. In January 2019, Serdar Berdimuhamedov was appointed deputy governor (khyakim) of the Akhal province (velayat), becoming head of the region six months later—an important posting as the velayat also includes the capital Ashgabat (Platon.asia, February 22).
Another advantage for the Berdimuhamedovs, which assisted Gurbanguly in securing him the presidency in the first place, is that he and his son, like Niyazov, are members of the most influential Turkmen tribe, the Teke. Tribal identity in Turkmen society is more important than ethnic and even religious considerations. Gurbanguly Berdimuhamedov's belonging to the Teke tribe, accordingly, was a guarantee for the late Turkmenbashi's relatives that their positions would remain high. And this effectively guaranteed their support in the succession, which could again prove essential for Berdimuhamedov and his offspring in the future (Lenta, March 7). The fact that Serdar shares this tribal affiliation is, thus, no small consideration.
However Serdar Berdimuhamedov's appointment eventually plays out, Turkmenistan's political reality at present is that his father, the president, seemingly retains complete control over the state apparatus, including the country's armed forces and security services. The latter's behind-the-scenes support has frequently proven essential (including in other countries across Eurasia), not only during Soviet times but since 1991 as well. Turkmenistan's supine Mejilis, meanwhile, poses no threat to presidential power, dutifully passing legislation after it has been vetted and discussed in the People's Council, consisting of deputies elected by local councils at the regional level. As the president chairs the People's Council, Gurbanguly Berdimuhamedov effectively has a determinative position over the legislative branch as well as the executive, erasing the line between the two and neutralizing the parliament as a source of potential opposition.
In securing Serdar's high-level appointments, President Berdimuhamedov may be reacting to post-Soviet Central Asia's varied succession stories, beginning with his predecessor. Niyazov did not prepare for succession, which bypassed his son Murat, once considered a likely heir to the presidency, but who was left with nothing and now lives abroad. Primogeniture is a significant (albeit hardly overwhelming) factor in politics throughout Central Asia, with the exception of Kyrgyzstan. So when Uzbekistani leader Islam Karimov died in 2016, his family lost everything because he failed to make provisions for them, with his eldest daughter Gulnara serving a prison term for corruption. And when Nursultan Nazarbayev voluntarily stepped down from the presidency of Kazakhstan, his daughter Dariga retained a modicum of governmental power in the Senate leadership. Though she did not succeed her father, fate was far more kind to her than to Karimova. Such uncertainty of fates in securing presidential families' security and prosperity could well be an element influencing Berdimuhamedov's efforts to increasingly raise his son's profile.
True to the opaque nature of the Turkmenistani government, on March 13, President Berdimuhamedov signed a decree approving Serdar's new duties as deputy chairperson of the Cabinet of Ministers, which had been submitted to the government on February 11. Neither the decree nor a listing of the position's responsibilities were published (Gundogar, March 13).
If Berdimuhamedov actually transfers power to his son, Serdar will be inheriting a country in economic decline. In February 2012, six years after Berdimuhamedov came to power and following his "nearly unanimous" first reelection, the state press declared that his new presidential term would officially be termed the "Era of Might and Happiness" (Lenta, February 29, 2012). But for the past three years, a food crisis has enveloped Turkmenistan, reportedly leaving most people unable to purchase staples in state-operated stores (see EDM, July 9, 2018 and May 19, 2020). Any prognosis for a succession scenario must, therefore, factor in as potential wildcards an increasingly impoverished, hungry population; while the nation's armed forces and security services maintain a studied silence on recent events. And adding to Turkmenistan's uncertain economic future is the global rise in renewable energy production and the consequent decline in fossil fuel usage, including natural gas, Turkmenistan's primary export. In February, Royal Dutch Shell halved its outlook for global gas demand growth to 1 percent annually. Moreover, the hydrocarbon giant predicted that demand for "blue gold" could peak as soon as the 2030s (The Wall Street Journal, March 27, 2021). For Turkmenistan, already facing hardball price negotiations with both China and Gazprom, such a future will make finding funding for expensive infrastructure projects, such as the Turkmenistan–Afghanistan–Pakistan–India (TAPI) or subsea Caspian pipelines, even more problematic (see EDM, April 18, 2019, April 23, 2019, January 27, 2021).
If Serdar soon does succeed his father, delivering more "might and happiness" to the Turkmenistani people amidst food shortages, inflation and declining energy revenues will surely prove challenging.