IS YUSHCHENKO BACKTRACKING ON THE NOTORIOUS GAS DEAL?
Publication: Eurasia Daily Monitor Volume: 3 Issue: 34
By: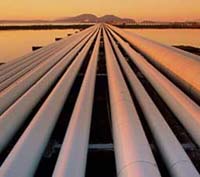 Ukrainian President Viktor Yushchenko finally has noticed the internal and international critique of the January 4 and February 2 gas deals with Moscow that he authorized and has been praising. Signaling a possible turnabout, Yushchenko's press service announced on February 14, "The President said that all attempts to obtain the necessary information about the RosUkrEnergo [gas trading] company have remained fruitless. … The government can, if necessary, seek other ways of cooperating with Russia on the Ukrainian gas market. The President shares the concerns voiced by the public, political and business representatives, and international institutions, including the European Union. … Ukraine['s] business reputation is being damaged by the controversy involving RosUkrEnergo" (Interfax-Ukraine, February 14). Although the president did not speak up himself, and his press service did not mention Washington's serious concerns, the words attributed to him suggest that the gas deal may now be on hold.
An embarrassed Yushchenko could hardly avoid taking a stand after Russian President Vladimir Putin told the press in Moscow that the "Ukrainian side" has a 50% stake in the shadowy RosUkrEnergo and advised journalists to inquire in Kyiv about those stakeholders' identities. According to Putin, he had suggested to Yushchenko that Naftohaz Ukrainy create a joint venture with Gazprom to handle gas supplies to Ukraine directly, without RosUkrEnergo as intermediary; but, he said, the Ukrainian government wanted RosUkrEnergo to be the supplier, and Moscow went along with this in the agreements (Kremlin.ru, RIA-Novosti, February 7).
Since the day of signing, Yushchenko has characterized those agreements as promoting market economics and Ukraine's interests, although the deal would in fact leave Ukraine for many years at the discretion of Gazprom's transit monopoly, RosUkrEnergo's supply monopoly, and the joint venture UkrGazEnergo with a large share of Ukraine's internal gas market. These arrangements, if implemented, would defeat Ukraine's declared goals of supply diversification, cementing instead its dependence on Russia. Nevertheless, Yushchenko defended the package of mostly secret agreements as a professional achievement of his negotiators, claimed detailed familiarity with the documents, and credited Putin with a fair understanding of Russian and Ukrainian national interests (see EDM, January 5, 6, 9, 10, 12, 13, 31, February 3; Financial Times, January 13; Wall Street Journal, January 25).
On February 3, Yushchenko telephoned Putin to share in his satisfaction with the signing of the agreement to create the joint venture UkrGazEnergo; and as late as February 11, the Ukrainian president's weekly radio address praised the two gas agreements (Interfax, February 1, 3; Ukrainian Television Channel One, Ukrainian Radio First Program, February 11). It was only at this juncture, after the agreements' signing, that Yushchenko and the head of the Presidential Secretariat, Oleh Rybachuk, promised that full information would be made available to experts and the public. This is not being done, however, notwithstanding the fact that the agreements' content has by now leaked to the press.
Aside from commercial terms, the most contentious issue in these agreements is the Gazprom offshoot RosUkrEnergo's involvement, which is now double: 1) exclusive supplier of Central Asian gas, and 2) parity owner with Naftohaz in the newly created UkrGazEnergo, on Ukraine's internal market, as exclusive supplier of gas to Ukraine's industry. Prime Minister Yuriy Yekhanurov, Fuel and Energy Minister Ivan Plachkov, and Naftohaz chairman Oleksiy Ivchenko have interchangeably claimed to be unconcerned by RosUkrEnergo's repute, or to have been pressured into accepting it as partner despite that repute, or even to be unaware of the identity of its real or nominal beneficiaries on the "Ukrainian" side. Yushchenko only asked Ukraine's Security Service to determine whether official Ukrainian structures were involved in RosUkrEnergo, and he professed to be content with the negative answer to his narrow query (Zerkalo nedeli, February 10).
As to RosUkrEnergo's 50% "Ukr" side, Yekhanurov attempted to take the issue in stride, declaring on February 8 that any Ukrainian stake would, if identified, be auctioned by Ukraine's State Property Fund at a starting price of one hryvnia (a fraction of one U.S. dollar) (Interfax-Ukraine, February 9). In immediate response, the Washington-based Project on Transitional Democracies announced an all-cash bid for that one hryvnia stake: if it can be acquired, then "PTD representatives would be able to attend the secret board meetings in Switzerland and St. Petersburg with FSB and mafia bosses who have stolen the future of Ukraine," according to a PTD press release (February 9). Finally on February 14 — the day when Yushchenko at last acknowledged that problem — Yekhanurov declared in parliament that Ukraine is willing to replace RosUkrEnergo with another company as intermediary (Channel Five TV [Kyiv], February 14).
That proposal would amount to far less than a half-measure, however. With the heating season's end, Ukraine gains a respite and a chance to scrap these two agreements. Assisted by the European Union, it can hold new talks with Russia on a time-limited, transparent agreement, while launching in parallel its first serious initiative toward supply diversification.