Jaish-e-Muhammad's Charity Wing Revitalizes Banned Group in Pakistan
Publication: Terrorism Monitor Volume: 9 Issue: 41
By: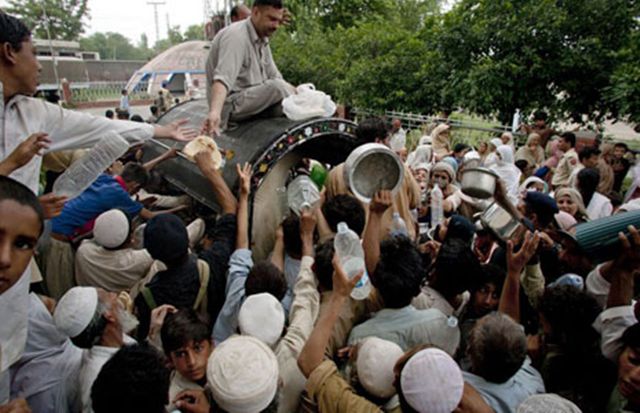 Often tagged as the second most lethal India-centric terror group based in the Pakistani Punjab, Jaish-e-Muhammad (Army of [the Prophet] Muhammad – JeM) is once again raising its head under the guise of charity in an apparent attempt to revitalize its fledgling stature in the jihadi landscape of South Asia.
JeM has inherited its terror lineage from three jihadi movements: Harkat ul-Jihadi Islami (HuJI), Harkat ul-Mujahideen (HuM) and Harkat ul-Ansar (HuA). It was the HuM which had actually plotted JeM founder Maulana Masood Azhar's safe release from an Indian prison by orchestrating the infamous Kandahar hijacking incident in December 1999. After a seven-day standoff on a Kandahar airfield, roughly 150 passengers, mostly Indian nationals, were released from Indian Airlines Flight IC 184 when the Indian government agreed to the release of Masood Azhar and two other militants.
Soon after his release Azhar formed Jaish-e-Mohammed in Karachi, splitting away from the HuM due to financial and ideological reasons in late January 2000 along with two other terrorist ideologues, Yousuf Ludhianvi and Mufti Samzai. It was learned later that the sectarian outlook of Masood Azhar created a rift with HuM chief Fazlur Rahaman Khalil, making JeM closer to the anti-Shi'a Lashkar-e-Jhangvi group of Punjab.
A veteran of both the Afghan and Somali conflicts, Masood Azhar directed JeM's cadres in perpetrating a series of attacks in Indian Kashmir between 2000 and 2003 as well as striking India's parliament in 2001 in collusion with Lashkar-e-Taiba (LeT). JeM introduced suicide bombing to Kashmir in an April 2000 attack. Following a ban on the organization in 2002, JeM morphed into Tehrik-e-Khuddam-ul-Islam (TKI) and Tehrik ul-Furqaan (TF), headed by Masood Azhar and Abdul Jabbar respectively. The then President Pervez Musharraf imposed a ban on both KUI and JUF in November 2003, following which JeM terrorists plotted assassination attempts on Musharraf in December 2003 and again in January 2004 (Daily Times [Lahore], January 23, 2004).
Within no time, the seemingly disbanded and defunct JeM restarted operations under the banner Al-Rahmat Trust (ART), headed by Maulana Masood Azhar himself as chief and Maulana Ghulam Murtaza, once head of HuM's Punjab chapter. ART was founded in 2001 and was once managed by Masood Azhar's father, Allah Baksh Shabbir, as an educational and religious charity.
In an August 2011 interview, ART coordinator Maulana Ashfaq Ahmed indicated that ART fundraising was in full swing in the Punjab and Khyber-Pakhtunkhwa provinces (Express Tribune [Karachi], August 19). What is more alarming is that most of JeM's operational arms and publications like Al-Qalam and Muslim Ummah are hitting the newsstand with fresh ABC (Audit Bureau of Circulation) certifications issued by the Ministry of Information and Broadcasting that allow the publications to solicit advertisements.
These publications are thus allowed to solicit donations for causes like building mosques or providing relief during the recent natural calamities. Among other things, Al-Rahmat Trust claims to have taken up the responsibility of monthly funding for around 850 homes of the martyrs and brothers imprisoned in India and the prisons of other countries (Rangonoor.com, May 28, 2010).
A newly updated list of proscribed militant organizations in Pakistan lists JeM and its offshoot TKI as two names of the same organization (Dawn [Karachi], November 6). Surprisingly, the list misses JeM's charity arm al-Rahmat Trust, which openly carries out fund raising activities using legitimate banking channels and by seeking donations for the construction of at least 313 mosques in Pakistan. According to ART's online magazine Al-Qalam, the group has already built 13 mosques and another 24 are under construction. [1] The group also calls on people to donate for social services, to support the households of martyrs and mujahideen, to sponsor Islamic preaching and to struggle for the release of Muslim captives, among other causes. ART was sanctioned by the US Treasury Department on November 4, 2010 as a front organization for the JeM, which received earlier designations as a Foreign Terrorist Organization by the U.S. State Department in 2001 and 2008.
It is important to note that Al-Rahmat Trust has been instrumental in the recruitment and sponsorship of militants fighting in Afghanistan, Pakistan and Indian-administered Kashmir. The JeM/ART is one of the influential Pakistan based terror organizations that have inspired militancy in Muslim youth, especially in the British and American diaspora. In the past JeM has had active ties to a number of high-profile terrorist suspects, including Rashid Rauf (the Trans-Atlantic airline bomb plot), Shaykh Ahmad Omar (the Daniel Pearl case), James Cromitie (the Bronx Synagogue plot) and two of the July 2005 London suicide bombers, Shehzad Tanweer and Siddique Khan. Another instance of JeM's outreach can be found in the case of the five American youths detained in the Sargodha district of Punjab Province while trying to join either JeM or LeT (Dawn, December 11, 2009).
Masood Azhar's speeches and Friday sermons often touch topics such as atrocities perpetrated against Muslims in the Western world and India. [2] Known for giving fiery anti-Western and anti-Indian tirades in the style of Jama'at ud-Da'wah amir Hafeez Saeed, Masood Azhar and his Al-Rahamat Trust are now working hard to revive Pakistan's madrassas as places to recruit and indoctrinate a new generation of Islamic militants.
JeM is one of several terrorist organizations that formed the Muttahida Jihad Council (MJC) in Pakistan to battle Indian troops in Kashmir. In one recent meeting convened by the MJC, the JeM central representative, Mufti Asghar, warned India not to think of the temporary lull in JeM activities as proof of India's successful of use of power (South Asian News Agency, October 28). In view of the ART's recent activities, which are certainly overlooked by Pakistani authorities, JeM's possible resurgence in any guise in that country could prove damaging for India, especially in Kashmir where security forces currently claim to have largely neutralized JeM.
Animesh Roul is the Executive Director of Research at the New Delhi-based Society for the Study of Peace and Conflict (SSPC).
Notes:
1. One such ART flier posted on the Al-Qalam website (https://www.alqalamonline.com) seeks donations to be deposited in an account held by Ghulam Muraza at the National Bank of Pakistan's Bahawalpur Branch.
2. For example, Masood Azhar's speech on Dr. Aafia Siddiqui (currently serving an 86-year sentence for firing a rifle at her U.S. interrogators in Afghanistan) and why the Muslims are being humiliated around the world can be seen on YouTube, May 8, 2010, https://www.youtube.com/watch?v=9OHA9anqQY8.