Karabakh Conflict Takes a Dangerous Turn
Publication: Eurasia Daily Monitor Volume: 18 Issue: 79
By: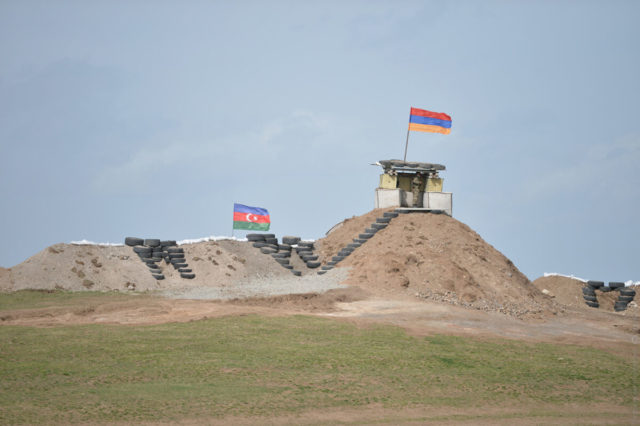 In mid-May 2021, the Karabakh conflict between Armenia and Azerbaijan began to take on a dangerous new dimension. In contrast to the last 25 years—when fighting between the two countries mainly took place on territory internationally recognized as Azerbaijan's (with a notable exception last summer—see EDM, July 14, 2020)—now, there is a real danger that clashes could erupt on both sides of the state border and bring to a bloody end the unsteady ceasefire. In the intense fighting last autumn (September 27–November 9, 2020), Baku succeeded in eliminating the buffer zone Yerevan had established around Karabakh, and today Azerbaijan has forces arrayed along nearly the entire length of the shared border, directly opposite Armenian units. This situation is particularly fraught because this geopolitically important boundary has not been delimited and demarcated by the two countries. Consequently, the danger of misunderstandings and miscalculations that could trigger the resumption of a broader war is serious. Over the last few days, some members of the international community, including Russia, the United States and France, have been actively working to prevent that from happening (RIA Novosti, May 18).
The current crisis started on May 12–13, when Azerbaijani soldiers moved deeper into the border region. Baku has insisted that they were simply shifting positions on Azerbaijani territory, but Yerevan denounced the move as an incursion into Armenian territory to a depth of as much as two kilometers. Since that time, Azerbaijani forces have continued to move about, withdrawing in some sectors by several hundred meters and moving forward by the same amount in others, which Baku explains as simple relocations, while Yerevan claims were the result of Armenian and Russian pressure (Yerkramas, May 15). In any case, Yerevan has appealed to Moscow, Paris and other Western capitals for additional assistance in forcing the Azerbaijanis to withdraw and in organizing talks between Armenia and Azerbaijan about the demarcation of the border—something it earlier said it would not participate in until bilateral diplomatic relations were established (Kavkazsky Uzel, December 30, 2020).
The Armenian defense ministry contends it now has the situation under control, that it restored Armenian control around the disputed Black Lake, and that it is in a position to force Azerbaijani forces to withdraw from other sectors (Novosti-Armeniya, SM News, May 18). But many analysts, as well as Armenians living in the region, doubt such assertions. Several days ago, Armenian villagers near the border, just as they did in December, have called on Yerevan to arm them so that they can defend Armenia. In their view, the Armenian military has proven incapable of the task. And to broadcast their displeasure with the government, the locals have even blocked roads in the area, a display of anger that is complicating the approaching parliamentary elections in that country (Yerkramas, May 15; News.am, May 18).
Since the latest escalation in border tensions, Yerevan and Baku have been holding multi-day talks under Russian auspices. Officials from Moscow suggested on Monday (May 17) that both sides had reached an agreement; but the fact that more talks are scheduled for tomorrow indicates that statement was, at best, an overly optimistic assessment (Izvestia, Armeniasputnik.am, May 17). Nevertheless, at least for public consumption, Armenian and Azerbaijani leaders are on the same page about the need to delimitate their shared borders, and they have indicated they will jointly work with Moscow in doing so (News.ru, May 18; Izvestia, Armeniasputnik.am, May 17; Moscow-baku.ru, May 15).
The issue of the Armenian-Azerbaijani border, especially in the vicinity of Azerbaijan's de-occupied/liberated territories, is not a new one, but it has arisen again, with particular force, for three reasons. First, as noted above, Armenian and Azerbaijani forces are now located directly opposite one another. Second, Moscow's call for the opening of cross-border transportation lines—especially in Armenia's Syunik Oblast, a land bridge between Azerbaijan proper and Azerbaijan's Nakhichevan Autonomous Republic that Azerbaijanis refer to as the Zengezur corridor—stands at the center of the Moscow-brokered ceasefire. This is a potentially volatile situation given that Baku likely has the resources to unilaterally build roads and railways through the Syunik/Zengezur corridor, while Yerevan cannot afford to do so across Nakhchivan without outside help (see EDM, April 5; Windowoneurasia2.blogspot.com, March 7; Kavkazsky Uzel, March 5). And third, behind all this exists the issue of Turkish influence in the South Caucasus. If this corridor is reopened, Turkey will be connected overland with mainland Azerbaijan and Central Asia—something Armenia, Russia and Iran are all concerned about (see EDM, January 25; News.am, May 17).
Delimiting and demarcating the Armenian-Azerbaijani border not only in Syunik (Zengezur) but elsewhere is going to be extremely difficult. The two sides are still far apart on where the border line should be located, and there is no common or recent map from which they can work. Two competing Soviet-era maps are available, although both are more than 30 years old. Up to now, Armenia has relied on one and Azerbaijan on the other. Armenia uses a Soviet topographic map produced by Moscow geographers because it shows Armenian sovereignty extending to 80 percent of the disputed Black Lake and all the territory Yerevan says Baku has violated over the last week. In turn, Azerbaijan prefers to rely on a Soviet military map, which shows far more of the lake as well as all the territory Azerbaijani forces have moved into to be part of Azerbaijan (Armeniasputnik.am, May 18). In short, in the words of Aleksandr Skakov, the deputy director of the Moscow Institute of Oriental studies, "there is no one Soviet map that would allow for defining the borders" (Kavkazsky Uzel, May 15; Windowoneurasia2.blogspot.com, May 16).
Coming to an agreement about the border is not going to be easy, even with both sides now committed to talks. Perhaps, the best short-term solution would be for the armies of the two countries to pull back from the disputed areas and allow the geographers and diplomats to do their work. But it remains to be seen whether such a mutual withdrawal would even be possible in the current overheated atmosphere, especially as Russian forces are the only ones who appear ready to fill such a vacuum. As the events of last week show, almost any move can trigger the potential for local violence or a broader war—even with the international community compelled to try to prevent that from happening.